US not-for-profit clinical research centre City of Hope has launched two Phase Ib clinical trials to evaluate a combination of cytokine and immunotherapy to treat advanced cancers.
Free Case Study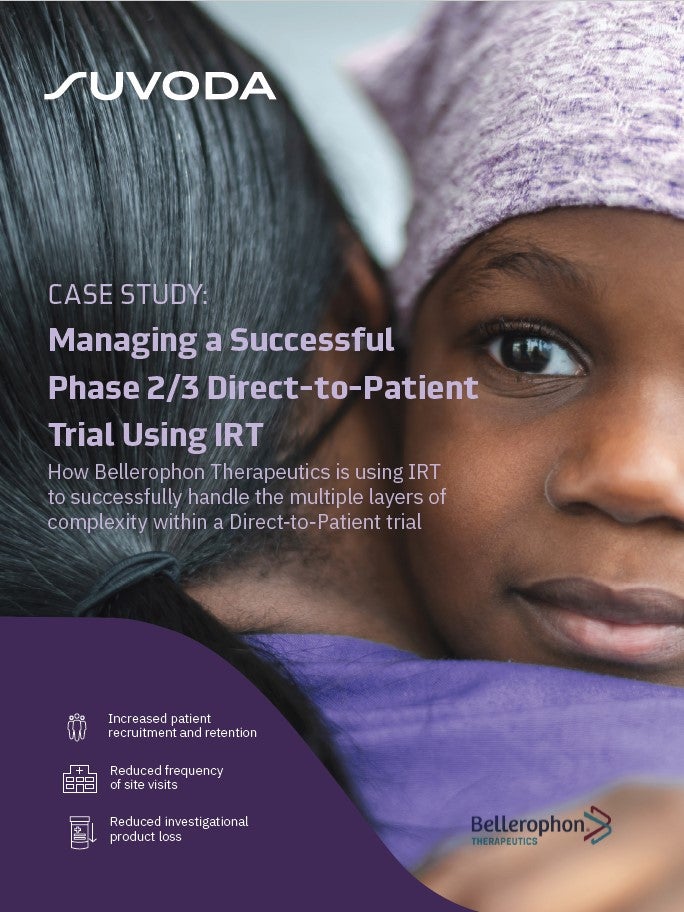 Direct-to-Patient Trials: How IRT Plays an Important Role in Bellerophon's Direct-to-Patient Trials
As the industry strengthens its focus on patient centricity, Direct-to-Patient clinical trials have emerged as a popular trial design that have the potential to increase patient recruitment and retention. IRT plays a crucial role in the success of a Direct-to-Patient trial. Because drug supplies are being managed and shipped from distribution facilities directly to patients' homes, a sponsor must have a high-quality system in place to accurately track the chain of custody, ensure patient-blinding and handle other logistical challenges. What You Will Learn Benefits and challenges associated with the Direct-to-Patient model Bellerophon's top considerations when implementing this trial design How IRT can equip study teams to successfully track chain of custody, ensure patient blinding, and handle logistical challenges
by Suvoda
The trials will be backed by biopharmaceutical firm Brooklyn ImmunoTherapeutics, which will also supply the experimental cytokine therapy IRX-2.
IRX-2 is an allogeneic, reproducible, cell-derived biologic with multiple active human cytokines that act on different parts of the immune system to boost immune response.
One of the Phase Ib trials will assess IRX-2 in combination with Bristol-Myers Squibb's nivolumab for the treatment of patients with advanced hepatocellular cancer.
"This combination therapy attempts to turbo boost the immune system so that it can attack cancer."
The second trial will involve IRX-2 plus Merck's pembrolizumab in advanced gastric and gastroesophageal junction adenocarcinoma patients.
The trials are designed to investigate the safety and efficacy of the combinations, and will each enrol approximately 20 patients who did not experience adequate response to other cancer treatments.
City of Hope Medical Oncology & Therapeutics Research department assistant clinical professor Daneng Li said: "We're trying to turn potentially cold tumours, those with strong fortresses nearly impenetrable to the immune system, into hot tumours that have walls equipped with ladders for immune T cells so that more patients can derive benefit from treatment with immunotherapy."
In case the initial group of subjects do not experience significant side effects, the trials will be transitioned into the expansion part.
City of Hope affiliate Translational Genomics Research Institute (TGen) will conduct DNA, RNA and protein sequencing of tumour tissue from the participants to identify any biomarkers that could enable targeted therapy.
City of Hope Medical Oncology & Therapeutics Research department assistant clinical professor Joseph Chao added: "This combination therapy attempts to turbo boost the immune system so that it can attack cancer. We are releasing the brakes and adding gas."
Free Case Study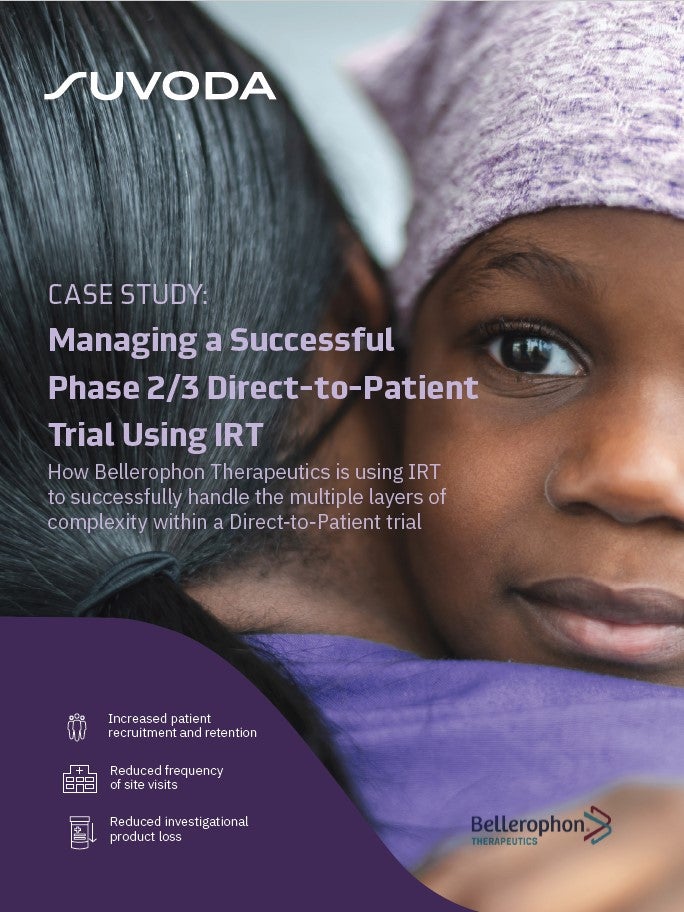 Direct-to-Patient Trials: How IRT Plays an Important Role in Bellerophon's Direct-to-Patient Trials
As the industry strengthens its focus on patient centricity, Direct-to-Patient clinical trials have emerged as a popular trial design that have the potential to increase patient recruitment and retention. IRT plays a crucial role in the success of a Direct-to-Patient trial. Because drug supplies are being managed and shipped from distribution facilities directly to patients' homes, a sponsor must have a high-quality system in place to accurately track the chain of custody, ensure patient-blinding and handle other logistical challenges. What You Will Learn Benefits and challenges associated with the Direct-to-Patient model Bellerophon's top considerations when implementing this trial design How IRT can equip study teams to successfully track chain of custody, ensure patient blinding, and handle logistical challenges
by Suvoda