Abide Therapeutics has started dosing patients in a Phase Ib clinical trial of its investigational candidate ABX-1431 to treat patients suffering from neuromyelitis optica (NMO), an autoimmune disorder of the central nervous system.
Free Case Study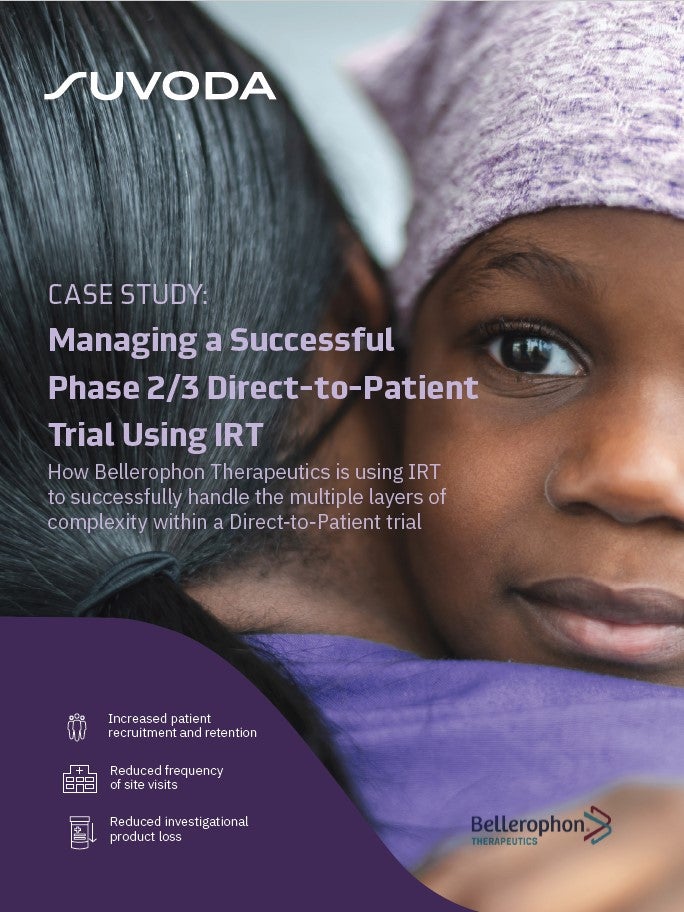 Direct-to-Patient Trials: How IRT Plays an Important Role in Bellerophon's Direct-to-Patient Trials
As the industry strengthens its focus on patient centricity, Direct-to-Patient clinical trials have emerged as a popular trial design that have the potential to increase patient recruitment and retention. IRT plays a crucial role in the success of a Direct-to-Patient trial. Because drug supplies are being managed and shipped from distribution facilities directly to patients' homes, a sponsor must have a high-quality system in place to accurately track the chain of custody, ensure patient-blinding and handle other logistical challenges. What You Will Learn Benefits and challenges associated with the Direct-to-Patient model Bellerophon's top considerations when implementing this trial design How IRT can equip study teams to successfully track chain of custody, ensure patient blinding, and handle logistical challenges
by Suvoda
ABX-1431 is being developed as a potent, selective and small-molecule inhibitor of monoacylglycerol lipase (MGLL) to regulate the activity of endocannabinoid neurotransmitter system for the treatment of neurological disorders, pain and neuroinflammation.
Being conducted at two trial sites in the UK, the placebo-controlled, cross-over Phase Ib trial is designed to evaluate the effect of the investigational candidate on chronic central pain caused due to NMO and related neuroinflammatory disorders.
The trial will monitor the potential therapeutic impact caused by modulation of the dysregulated neurotransmission and any resulting relief from severe, chronic pain.
Abide Therapeutics president and CEO Alan Ezekowitz said: "Restoring neurotransmitter balance represents a common thread of the mode of action of ABX-1431, and this study in NMO patients provides an opportunity to test the ability of the drug to provide relief to patients with a painful central demyelinating condition."
In a placebo-controlled Phase I trial, ABX-1431 was found to be generally well-tolerated without serious adverse events.
Celgene exercised its option in September last year to obtain ex-US rights for ABX-1431 and is responsible for development costs of Phase II and subsequent clinical trials for all indications.
Abide holds the US rights and is currently studying ABX-1431 in multiple Phase 1b trials for different diseases associated with endocannabinoid modulation.
Free Case Study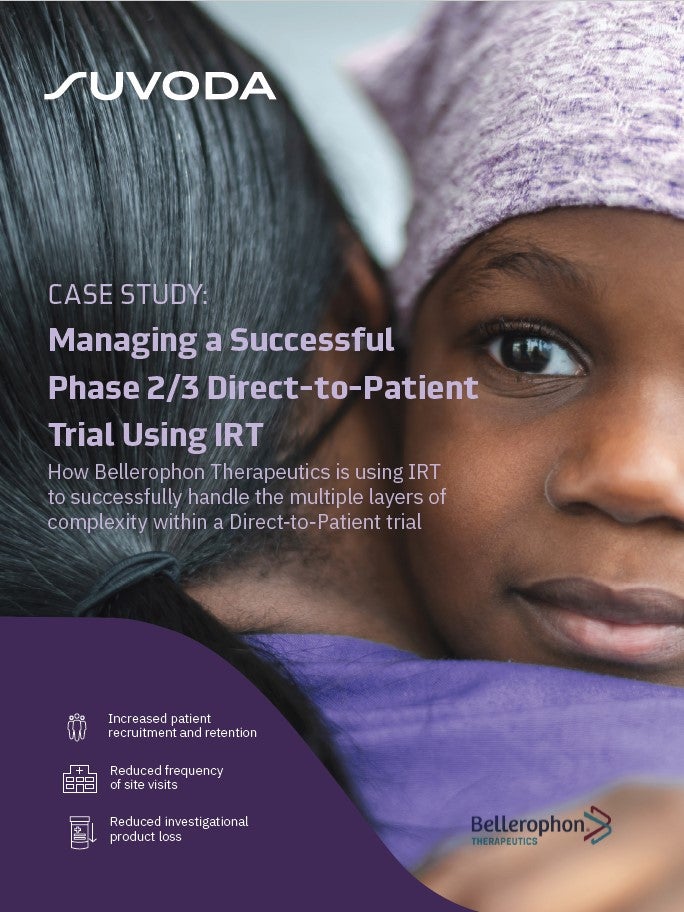 Direct-to-Patient Trials: How IRT Plays an Important Role in Bellerophon's Direct-to-Patient Trials
As the industry strengthens its focus on patient centricity, Direct-to-Patient clinical trials have emerged as a popular trial design that have the potential to increase patient recruitment and retention. IRT plays a crucial role in the success of a Direct-to-Patient trial. Because drug supplies are being managed and shipped from distribution facilities directly to patients' homes, a sponsor must have a high-quality system in place to accurately track the chain of custody, ensure patient-blinding and handle other logistical challenges. What You Will Learn Benefits and challenges associated with the Direct-to-Patient model Bellerophon's top considerations when implementing this trial design How IRT can equip study teams to successfully track chain of custody, ensure patient blinding, and handle logistical challenges
by Suvoda