Can-Fite BioPharma, an advanced clinical stage drug development company, has reached an agreement with the European Medicines Agency (EMA) to design a global Phase III trial for piclidenoson (CF101), a new A3 adenosine receptor agonist (A3AR) small molecule and orally bioavailable drug, to treat rheumatoid arthritis.
Free Case Study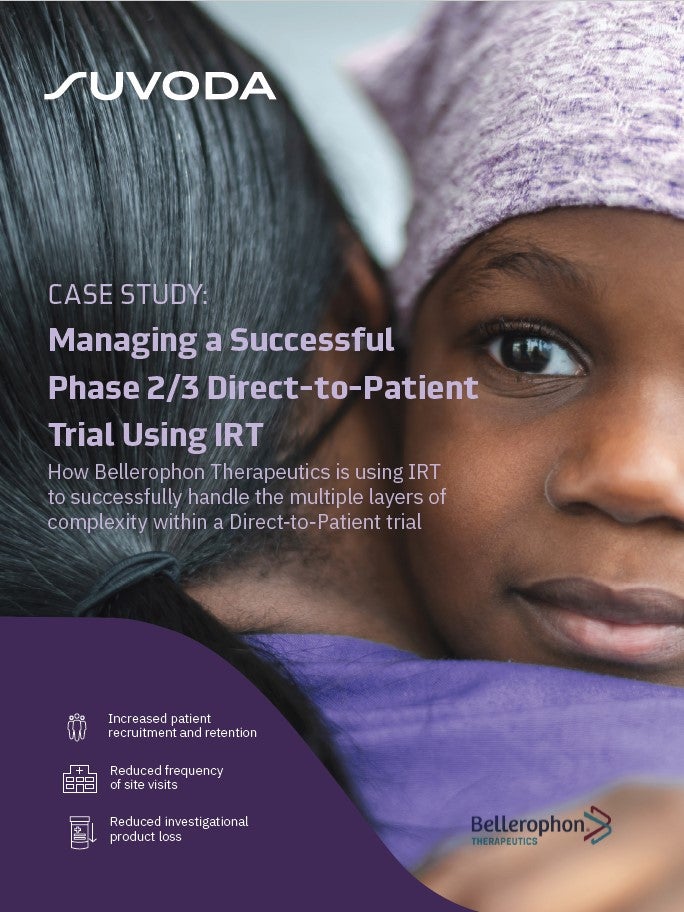 Direct-to-Patient Trials: How IRT Plays an Important Role in Bellerophon's Direct-to-Patient Trials
As the industry strengthens its focus on patient centricity, Direct-to-Patient clinical trials have emerged as a popular trial design that have the potential to increase patient recruitment and retention. IRT plays a crucial role in the success of a Direct-to-Patient trial. Because drug supplies are being managed and shipped from distribution facilities directly to patients' homes, a sponsor must have a high-quality system in place to accurately track the chain of custody, ensure patient-blinding and handle other logistical challenges. What You Will Learn Benefits and challenges associated with the Direct-to-Patient model Bellerophon's top considerations when implementing this trial design How IRT can equip study teams to successfully track chain of custody, ensure patient blinding, and handle logistical challenges
by Suvoda
EMA, a decentralised agency of European Union (EU) that acts as a health regulatory body, suggested that piclidenoson should be developed as an alternative to methotrexate (MTX), the most widely prescribed rheumatoid arthritis drug worldwide.
The regulatory body also suggested that the proposed Phase III trial will serve as the first of two studies required for drug approval.
Rheumatoid arthritis is a chronic, systematic, autoimmune inflammatory disease that shows as joint pain, stiffness and swelling and according to Visiongain, a market research firm, the global rheumatoid arthritis market is forecasted to reach $38.5bn by next year.
"Our studies will be conducted worldwide and we are confident that this development programme maximises piclidenoson's potential for success in Phase III."
The trial is planned to be initiated by the second or third quarter of this year and during that time, Can-Fite will evaluate the efficacy and safety of piclidenoson compared to MTX in the treatment of early rheumatoid arthritis patients.
The trial will be randomised, double-blind, active and placebo-controlled, and conducted in around 500 patients worldwide.
Can-Fite noted that during the trail, piclidenoson at 1mg and 2mg or placebo will be given twice daily, and MTX or placebo will be given once weekly.
The trial's primary endpoint will be low disease activity as measured by Disease Activity Scores at week 12.
It will also assess secondary endpoints, which include American College of Rheumatology (ACR) score 20, 50 and 70 and the correlation between A3AR expression at baseline and patients' response to piclidenoson.
In order to establish longer-term clinical efficacy and safety, the trial will continue for a period of 24 weeks.
Can-Fite BioPharma CEO Dr Pnina Fishman said: "Our successful meeting with the EMA represents an important milestone in our registration plan for piclidenoson, which will encompass two pivotal Phase III studies that will be submitted to the regulatory authorities.
"Our studies will be conducted worldwide and we are confident that this development programme maximises piclidenoson's potential for success in Phase III."
Free Case Study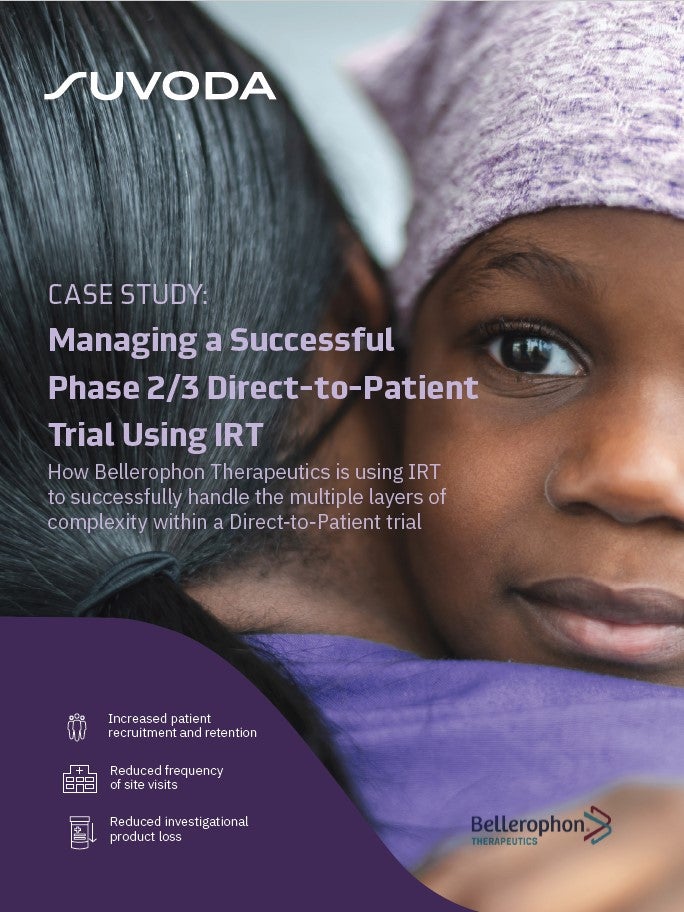 Direct-to-Patient Trials: How IRT Plays an Important Role in Bellerophon's Direct-to-Patient Trials
As the industry strengthens its focus on patient centricity, Direct-to-Patient clinical trials have emerged as a popular trial design that have the potential to increase patient recruitment and retention. IRT plays a crucial role in the success of a Direct-to-Patient trial. Because drug supplies are being managed and shipped from distribution facilities directly to patients' homes, a sponsor must have a high-quality system in place to accurately track the chain of custody, ensure patient-blinding and handle other logistical challenges. What You Will Learn Benefits and challenges associated with the Direct-to-Patient model Bellerophon's top considerations when implementing this trial design How IRT can equip study teams to successfully track chain of custody, ensure patient blinding, and handle logistical challenges
by Suvoda