US-based, clinical-stage, biotechnology company Edge Therapeutics has treated its first patient in the Phase III Nimodipine microparticles to enhance recovery while reducing toxicity after the subarachnoid hemorrhage (NEWTON II) trial of EG-1962, to treat aneurysmal subarachnoid hemorrhage (aSAH).
Free Case Study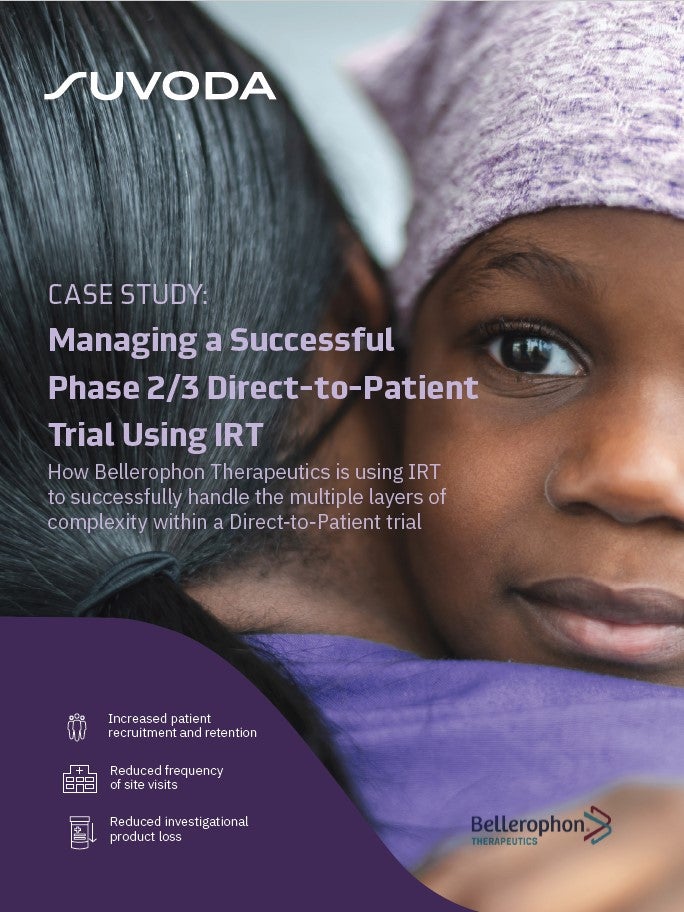 Direct-to-Patient Trials: How IRT Plays an Important Role in Bellerophon's Direct-to-Patient Trials
As the industry strengthens its focus on patient centricity, Direct-to-Patient clinical trials have emerged as a popular trial design that have the potential to increase patient recruitment and retention. IRT plays a crucial role in the success of a Direct-to-Patient trial. Because drug supplies are being managed and shipped from distribution facilities directly to patients' homes, a sponsor must have a high-quality system in place to accurately track the chain of custody, ensure patient-blinding and handle other logistical challenges. What You Will Learn Benefits and challenges associated with the Direct-to-Patient model Bellerophon's top considerations when implementing this trial design How IRT can equip study teams to successfully track chain of custody, ensure patient blinding, and handle logistical challenges
by Suvoda
EG-1962 is a polymeric, nimodipine microparticle, composed of nimodipine suspended in a diluent of sodium hyaluronate.
It uses the company's patented Precisa development platform and is indicated to treat designed aSAH.
The multi-centre, multi-national, randomised, double-blind, placebo-controlled, parallel-group Phase III NEWTON II trial has been designed to determine the safety and efficacy of EG-1962 when compared with the standard of care oral nimodipine to treat aSAH.
"Delayed cerebral ischemia and the subsequent neurological deterioration is a devastating complication of subarachnoid hemorrhage."
During the trial, patients will be administered with a single 600mg intraventricular injection of EG-1962 and placebo capsules or tablets for 21 days.
University of Illinois Hospital and Health Sciences System neurovascular surgery department of neurosurgery professor and study investigator Sepideh Amin-Hanjani said: "Delayed cerebral ischemia and the subsequent neurological deterioration is a devastating complication of subarachnoid hemorrhage.
"We hope NEWTON II will duplicate the promising results of the Phase I/II NEWTON study so we may be able to provide a more effective, safe and convenient treatment option for patients than oral nimodipine."
aSAH is characterised by a burst brain aneurysm caused due to the weakening and gradual rupture of a blood vessel of the brain.
Phase I/II NEWTON trials have demonstrated a positive outcome of EG-1962 administered in a maximum tolerated dosage of 800mg.
Patients exhibited improvements with a reduction in vasospasm, delayed cerebral ischemia and minimal rescue therapies, resulting in a reduced hospital stay.
Free Case Study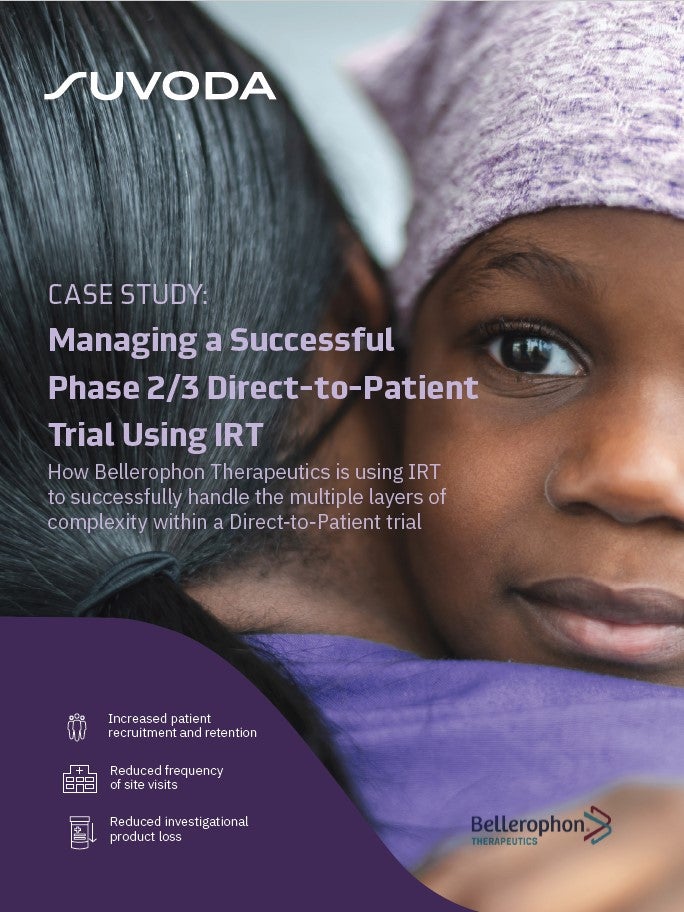 Direct-to-Patient Trials: How IRT Plays an Important Role in Bellerophon's Direct-to-Patient Trials
As the industry strengthens its focus on patient centricity, Direct-to-Patient clinical trials have emerged as a popular trial design that have the potential to increase patient recruitment and retention. IRT plays a crucial role in the success of a Direct-to-Patient trial. Because drug supplies are being managed and shipped from distribution facilities directly to patients' homes, a sponsor must have a high-quality system in place to accurately track the chain of custody, ensure patient-blinding and handle other logistical challenges. What You Will Learn Benefits and challenges associated with the Direct-to-Patient model Bellerophon's top considerations when implementing this trial design How IRT can equip study teams to successfully track chain of custody, ensure patient blinding, and handle logistical challenges
by Suvoda