US-based Immune Pharmaceuticals has begun enrolling patients in a Phase II clinical trial of bertilimumab, a potential treatment for ulcerative colitis (UC).
Free Case Study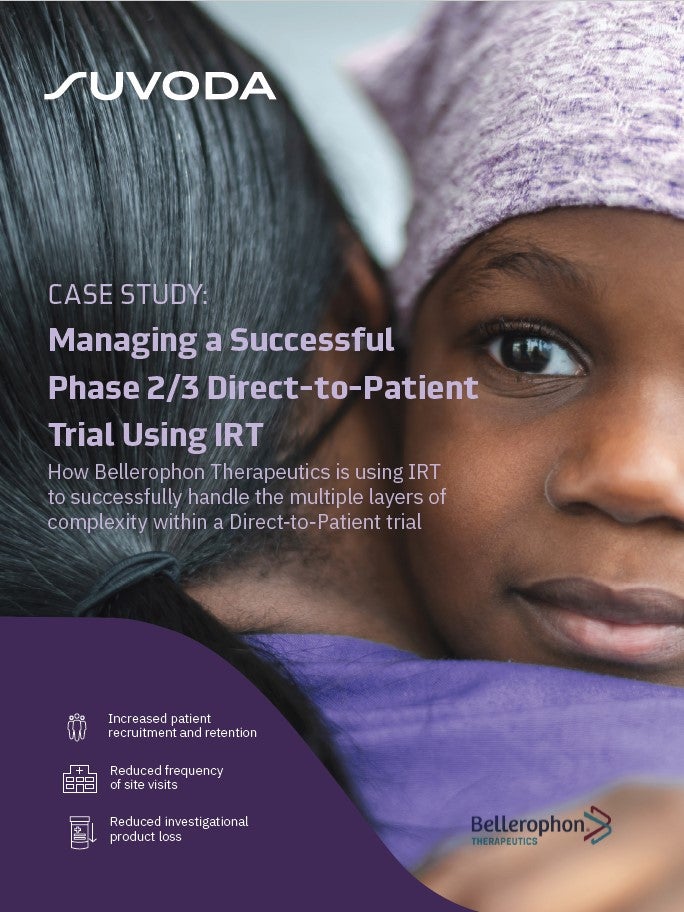 Direct-to-Patient Trials: How IRT Plays an Important Role in Bellerophon's Direct-to-Patient Trials
As the industry strengthens its focus on patient centricity, Direct-to-Patient clinical trials have emerged as a popular trial design that have the potential to increase patient recruitment and retention. IRT plays a crucial role in the success of a Direct-to-Patient trial. Because drug supplies are being managed and shipped from distribution facilities directly to patients' homes, a sponsor must have a high-quality system in place to accurately track the chain of custody, ensure patient-blinding and handle other logistical challenges. What You Will Learn Benefits and challenges associated with the Direct-to-Patient model Bellerophon's top considerations when implementing this trial design How IRT can equip study teams to successfully track chain of custody, ensure patient blinding, and handle logistical challenges
by Suvoda
Bertilimumab is a first-in-class, fully human monoclonal antibody.
A total of 42 patients with moderate to severe UC will be enrolled in the Phase II clinical trial.
During the trial, eligible patients will be randomly assigned to one of two treatment groups. One group will be prescribed 10mg/kg bertilimumab, and the other will given a matching placebo.
Patients will be given three IV infusions at two-week intervals. Bertilimumab will be evaluated for safety and efficacy, measured by a reduction in the Mayo Clinic Ulcerative Colitis Disease Index at week eight.
Immune CEO Dr Daniel Teper said: "We recently announced US IND acceptance by the FDA for bertilimumab in bullous pemphigoid, and today, with our first patient enrolment in ulcerative colitis, this represents an important development for our lead product, bertilimumab.
"With our first patient enrolment in ulcerative colitis, this represents an important development for our lead product, bertilimumab."
"We intend to include leading academic medical centres globally, to support the timely completion of our two Phase II clinical trials."
The Phase II trial's secondary end points include assessment of mucosal injury and clinical remission.
The company noted that patients will be selected based on Mayo score and high levels of tissue eotaxin-1, as well as other standardised clinical criteria.
Robarts Research Institute CEO and University of Western Ontario professor Brian Feagan said: "We expect this trial to be an important proof of concept study in moderate to severe UC patients with elevated eotaxin-1.
"In addition to the Mayo Clinic Score of Disease activity, we expect the quantitative measurement of mucosal injury by centrally read endoscopy will provide an objective initial assessment of bertilimumab efficacy."
In Phase I single-dose clinical trials, bertilimumab showed initial safety and tolerability, as well as dose-dependent biological activity.
---
Image: Histopathological image of the active stage of ulcerative colitis. Photo: courtesy of KGH.
Free Case Study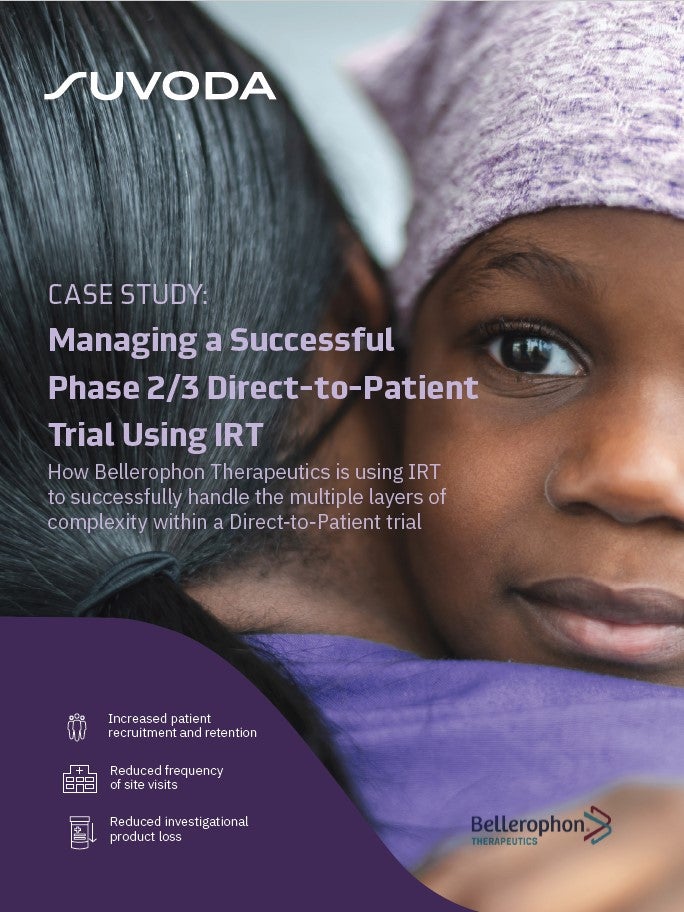 Direct-to-Patient Trials: How IRT Plays an Important Role in Bellerophon's Direct-to-Patient Trials
As the industry strengthens its focus on patient centricity, Direct-to-Patient clinical trials have emerged as a popular trial design that have the potential to increase patient recruitment and retention. IRT plays a crucial role in the success of a Direct-to-Patient trial. Because drug supplies are being managed and shipped from distribution facilities directly to patients' homes, a sponsor must have a high-quality system in place to accurately track the chain of custody, ensure patient-blinding and handle other logistical challenges. What You Will Learn Benefits and challenges associated with the Direct-to-Patient model Bellerophon's top considerations when implementing this trial design How IRT can equip study teams to successfully track chain of custody, ensure patient blinding, and handle logistical challenges
by Suvoda