Immune Design has started a Phase II trial of CMB305, a combination cancer immunotherapy for soft tissue sarcoma.
Free Case Study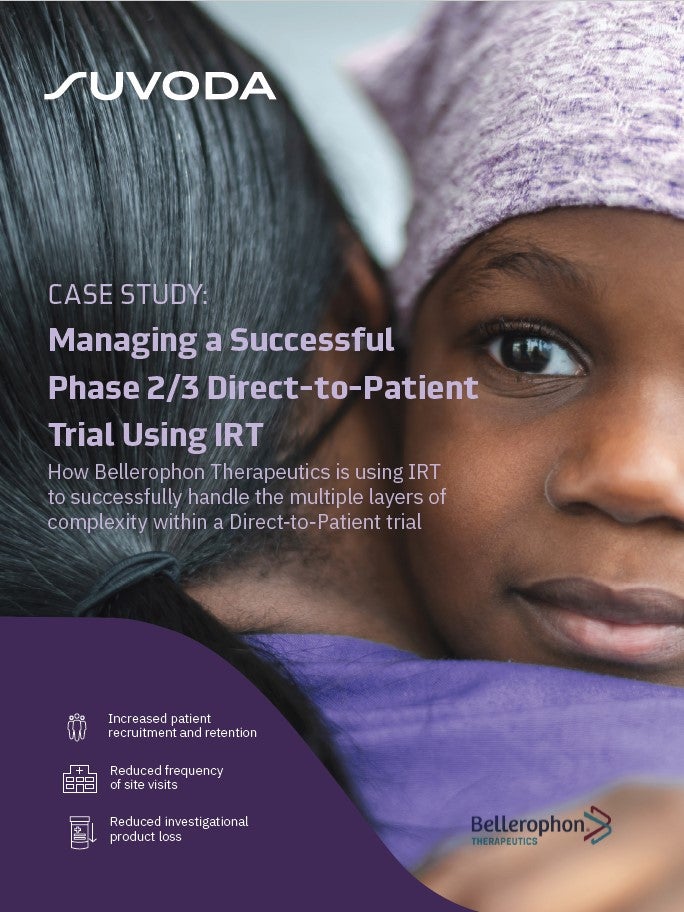 Direct-to-Patient Trials: How IRT Plays an Important Role in Bellerophon's Direct-to-Patient Trials
As the industry strengthens its focus on patient centricity, Direct-to-Patient clinical trials have emerged as a popular trial design that have the potential to increase patient recruitment and retention. IRT plays a crucial role in the success of a Direct-to-Patient trial. Because drug supplies are being managed and shipped from distribution facilities directly to patients' homes, a sponsor must have a high-quality system in place to accurately track the chain of custody, ensure patient-blinding and handle other logistical challenges. What You Will Learn Benefits and challenges associated with the Direct-to-Patient model Bellerophon's top considerations when implementing this trial design How IRT can equip study teams to successfully track chain of custody, ensure patient blinding, and handle logistical challenges
by Suvoda
The open label trial will evaluate CMB305 combined with atezolizumab, Genentech's investigational cancer immunotherapy, in around 80 patients.
Trial patients will have locally advanced, relapsed, or metastatic synovial sarcoma, or myxoid / round-cell liposarcoma expressing the NY-ESO-1 cancer testis antigen.
"We are excited to work with leading sarcoma investigators to advance CMB305 into its first randomised Phase II trial."
The safety and efficacy of CMB305 combined with atezolizumab will be evaluated, in comparison to standard atezolizumab results.
The trial is being carried out after a clinical collaboration with Genentech, which will provide atezolizumab for the trial.
CMB305 is designed to synergistically induce and expand cytotoxic T lymphocytes (CTLs) targeting NY-ESO-1, which is found in a broad range of tumours.
Immune Design president and chief executive officer Carlos Paya said: "This trial provides our first opportunity to validate the fundamental hypothesis that combining cutting-edge technologies, designed to trigger in vivo anti-tumour CTLs with antagonists of the PD-1/PD-L1 axis, should be additive, if not synergistic, and thus could enhance the potential therapeutic benefit to patients.
"We are excited to work with leading sarcoma investigators to advance CMB305 into its first randomised Phase II trial, and to explore the potential of these two approaches."
Genentech's atezolizumab is designed to target PD-L1 expressed on tumour cells and tumour-infiltrating immune cells.The aim is to prevent PD-L1 from binding to PD-1 and B7.1 on the surface of T cells.
The company noted that by inhibiting PD-L1, atezolizumab may enable the activation of T cells.
CMB305 is a combination of LV305 and G305, two potentially synergistic agents.
LV305 is a hybrid vector from the ZVex discovery platform. It specifically targets dendritic cells (DCs) and delivers RNA for NY-ESO-1, allowing the DCs to express the entire tumour antigen, and potentially induce CTLs to target NY-ESO-1 in tumours.
In contrast, G305 is designed to boost the CTL response by inducing antigen-specific CD4 helper T cells.
It consists of a recombinant NY-ESO-1 protein, formulated with a proprietary synthetic molecule called glucopyranosyl lipid A (GLA).
Free Case Study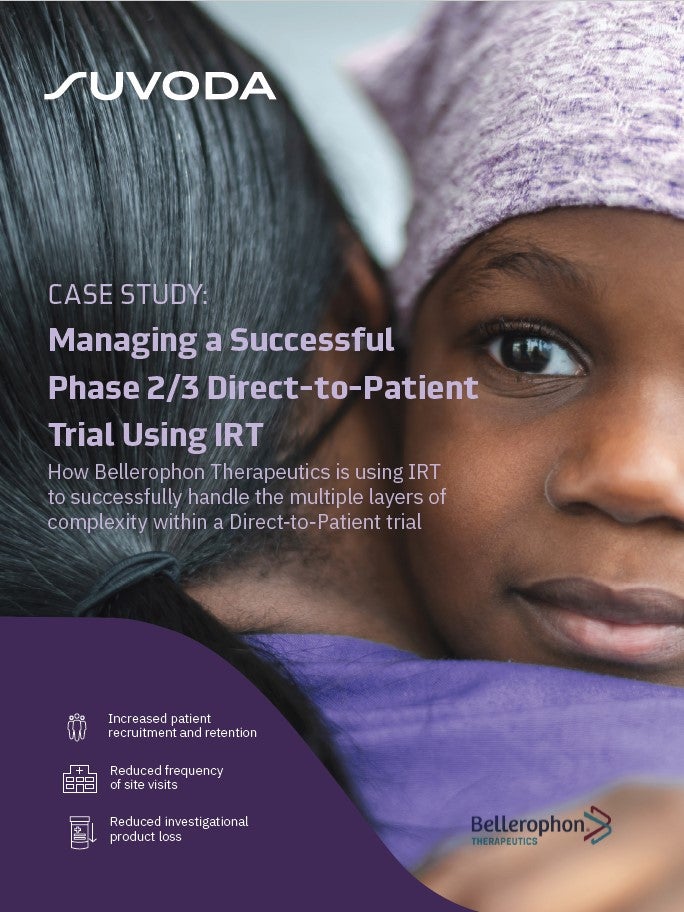 Direct-to-Patient Trials: How IRT Plays an Important Role in Bellerophon's Direct-to-Patient Trials
As the industry strengthens its focus on patient centricity, Direct-to-Patient clinical trials have emerged as a popular trial design that have the potential to increase patient recruitment and retention. IRT plays a crucial role in the success of a Direct-to-Patient trial. Because drug supplies are being managed and shipped from distribution facilities directly to patients' homes, a sponsor must have a high-quality system in place to accurately track the chain of custody, ensure patient-blinding and handle other logistical challenges. What You Will Learn Benefits and challenges associated with the Direct-to-Patient model Bellerophon's top considerations when implementing this trial design How IRT can equip study teams to successfully track chain of custody, ensure patient blinding, and handle logistical challenges
by Suvoda