US-based biotechnology firm ImmunoMet Therapeutics has started its Phase I clinical trial for IM156, a potent oxidative phosphorylation (OXPHOS) inhibitor to treat patients with solid tumours.
Free Case Study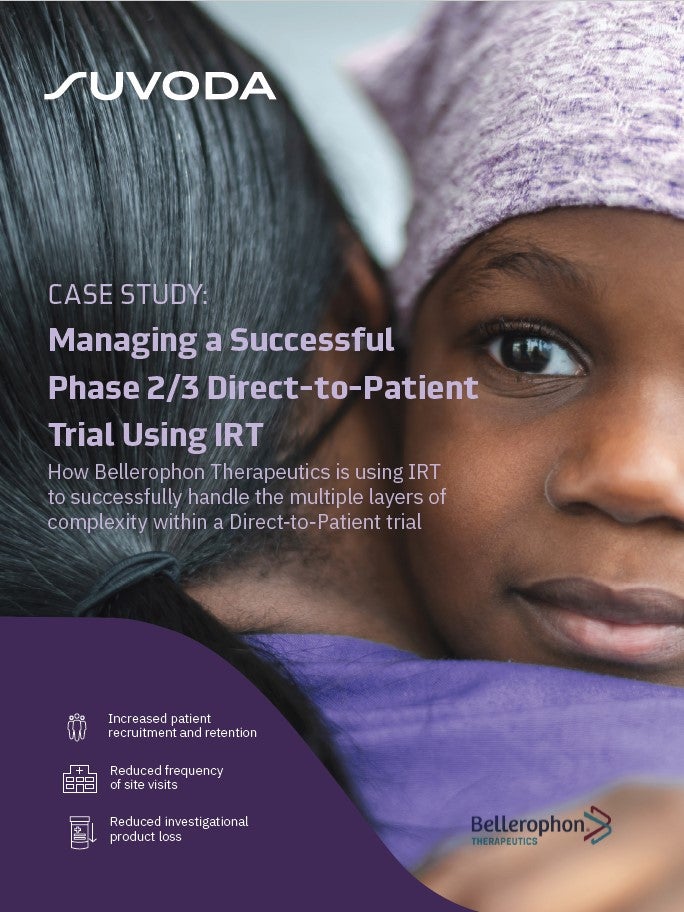 Direct-to-Patient Trials: How IRT Plays an Important Role in Bellerophon's Direct-to-Patient Trials
As the industry strengthens its focus on patient centricity, Direct-to-Patient clinical trials have emerged as a popular trial design that have the potential to increase patient recruitment and retention. IRT plays a crucial role in the success of a Direct-to-Patient trial. Because drug supplies are being managed and shipped from distribution facilities directly to patients' homes, a sponsor must have a high-quality system in place to accurately track the chain of custody, ensure patient-blinding and handle other logistical challenges. What You Will Learn Benefits and challenges associated with the Direct-to-Patient model Bellerophon's top considerations when implementing this trial design How IRT can equip study teams to successfully track chain of custody, ensure patient blinding, and handle logistical challenges
by Suvoda
IM156 is an orally administered small molecule from the biguanide class, and claimed to have the potential to treat both drug-resistant cancers those with molecular signatures of sensitivity to OXPHOS inhibition.
The dose escalation trial is designed to evaluate the safety and tolerability of IM156 in these patients, while its primary endpoints are to determine the maximum therapeutic dose and the randomised Phase II study dose.
ImmunoMet chief operating officer Benjamin Cowen said: "The initiation of our Phase 1 clinical study for our lead product, IM156, is a major milestone for ImmunoMet.
"We look forward to the opportunity of providing cancer patients with a potential new treatment for resistant tumours, which is still an area of significant unmet need in oncology."
"Treatment for resistant tumours is still an area of significant unmet need in oncology."
A total of 18-36 patients will be enrolled in the trial at Yonsei Medical Centre (South Korea), a Sister Centre of MD Anderson Cancer Centre.
The trial's secondary endpoints are to determine pharmacodynamics, pharmacokinetics, and preliminary efficacy in solid tumour patients.
Due to transformation to mitochondrial OXPHOS from glycolysis, resistant tumour cells are very sensitive to OXPHOS inhibition and IM156 has shown strong in-vitro and in-vivo efficacy in certain cancers, including Glioblastoma (GBM), gastric and diffuse large B cell lymphoma (DLBCL).
ImmunoMet is focused on using cellular metabolism to develop new anti-tumour and immuno-oncology therapies.
Free Case Study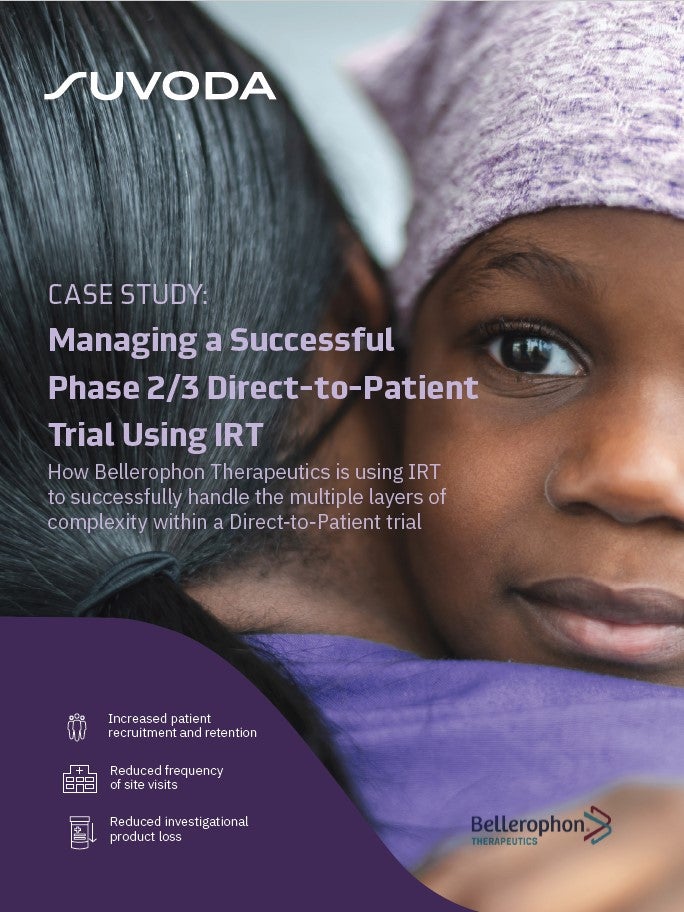 Direct-to-Patient Trials: How IRT Plays an Important Role in Bellerophon's Direct-to-Patient Trials
As the industry strengthens its focus on patient centricity, Direct-to-Patient clinical trials have emerged as a popular trial design that have the potential to increase patient recruitment and retention. IRT plays a crucial role in the success of a Direct-to-Patient trial. Because drug supplies are being managed and shipped from distribution facilities directly to patients' homes, a sponsor must have a high-quality system in place to accurately track the chain of custody, ensure patient-blinding and handle other logistical challenges. What You Will Learn Benefits and challenges associated with the Direct-to-Patient model Bellerophon's top considerations when implementing this trial design How IRT can equip study teams to successfully track chain of custody, ensure patient blinding, and handle logistical challenges
by Suvoda