PhaseBio Pharmaceuticals has started a Phase IIa clinical trial of PE0139, a potential treatment for hyperglycemia associated with diabetes.
Free Case Study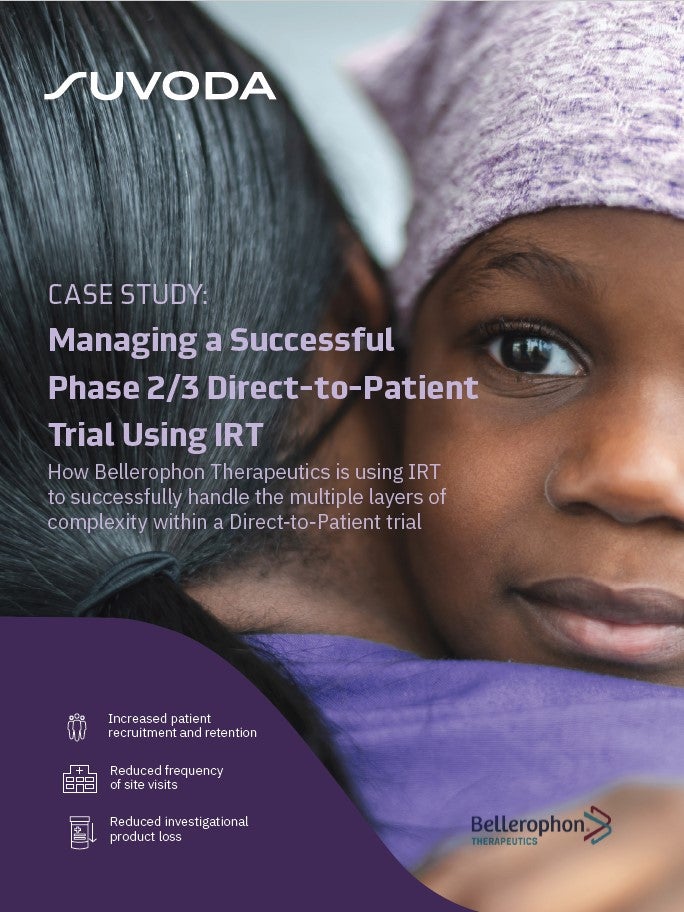 Direct-to-Patient Trials: How IRT Plays an Important Role in Bellerophon's Direct-to-Patient Trials
As the industry strengthens its focus on patient centricity, Direct-to-Patient clinical trials have emerged as a popular trial design that have the potential to increase patient recruitment and retention. IRT plays a crucial role in the success of a Direct-to-Patient trial. Because drug supplies are being managed and shipped from distribution facilities directly to patients' homes, a sponsor must have a high-quality system in place to accurately track the chain of custody, ensure patient-blinding and handle other logistical challenges. What You Will Learn Benefits and challenges associated with the Direct-to-Patient model Bellerophon's top considerations when implementing this trial design How IRT can equip study teams to successfully track chain of custody, ensure patient blinding, and handle logistical challenges
by Suvoda
PE0139 is a fusion of a fully mature, native insulin molecule with the company's polypeptide biopolymer.
PhaseBio develops treatments for metabolic and cardiopulmonary disorders.
"PE0139 was well tolerated in a Phase I study, and demonstrated a flat PK profile."
The trial will evaluate the safety and tolerability of PE0139, as well as the pharmacokinetic (PK) and pharmacodynamic response in adult patients.
Patients tested will have type 2 diabetes mellitus. Up to 50 patients will be given a once-weekly subcutaneous injection of PE0139 for six weeks.
The trial will be multicentre, randomised, and placebo controlled.
PhaseBio chief executive officer Jonathan Mow said: "This Phase IIa study represents a key milestone for PhaseBio as we advance the development of PE0139, which has the potential to be the first once-weekly insulin to market.
"PE0139 was well tolerated in a Phase I study, and demonstrated a flat PK profile essential for once-weekly dosing.
"We look forward to continuing to evaluate PE0139 with the goal of providing better treatment options for people with diabetes."
In non-clinical models of diabetes, PE0139 caused a longer reduction in blood glucose compared to insulin glargine.
In further non-clinical trials, PE0139 showed a strong synergistic action with PB1023, PhaseBio's weekly GLP-1 receptor agonist.
Free Case Study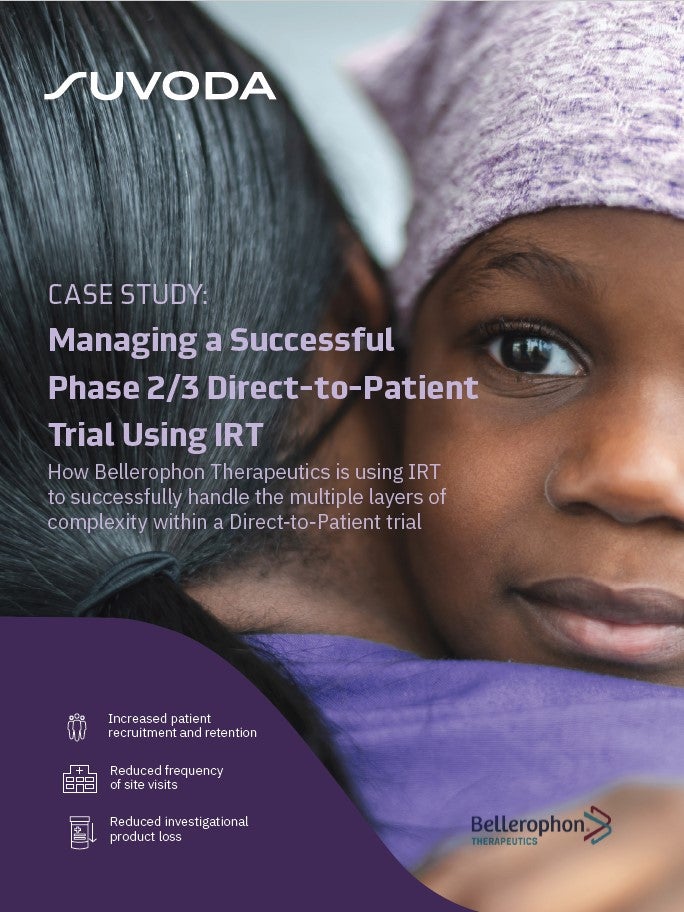 Direct-to-Patient Trials: How IRT Plays an Important Role in Bellerophon's Direct-to-Patient Trials
As the industry strengthens its focus on patient centricity, Direct-to-Patient clinical trials have emerged as a popular trial design that have the potential to increase patient recruitment and retention. IRT plays a crucial role in the success of a Direct-to-Patient trial. Because drug supplies are being managed and shipped from distribution facilities directly to patients' homes, a sponsor must have a high-quality system in place to accurately track the chain of custody, ensure patient-blinding and handle other logistical challenges. What You Will Learn Benefits and challenges associated with the Direct-to-Patient model Bellerophon's top considerations when implementing this trial design How IRT can equip study teams to successfully track chain of custody, ensure patient blinding, and handle logistical challenges
by Suvoda