Profectus BioSciences has started a Phase I trial of its VesiculoVax-vectored vaccine to treat Ebola.
Free Case Study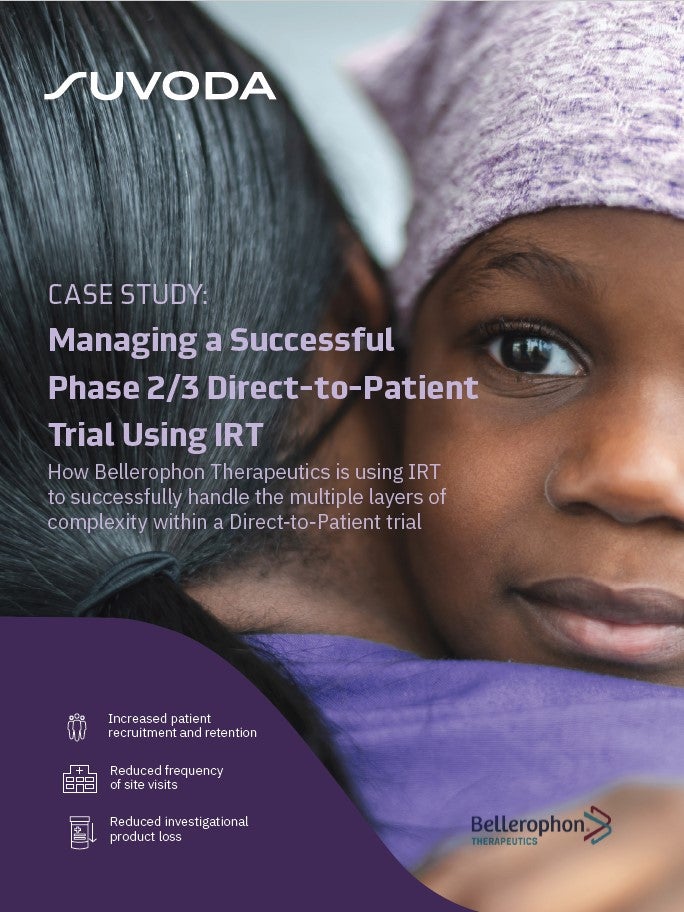 Direct-to-Patient Trials: How IRT Plays an Important Role in Bellerophon's Direct-to-Patient Trials
As the industry strengthens its focus on patient centricity, Direct-to-Patient clinical trials have emerged as a popular trial design that have the potential to increase patient recruitment and retention. IRT plays a crucial role in the success of a Direct-to-Patient trial. Because drug supplies are being managed and shipped from distribution facilities directly to patients' homes, a sponsor must have a high-quality system in place to accurately track the chain of custody, ensure patient-blinding and handle other logistical challenges. What You Will Learn Benefits and challenges associated with the Direct-to-Patient model Bellerophon's top considerations when implementing this trial design How IRT can equip study teams to successfully track chain of custody, ensure patient blinding, and handle logistical challenges
by Suvoda
Ebola is a filovirus that causes periodic outbreaks of a highly contagious and infectious human disease associated with severe hemorrhagic fever, with a mortality rate that ranges between 50% and 90%.
Transmitted from wild animals, the virus spreads in the human population through human-to-human transmission.
The infection affects multiple organs in the body and often causes severe bleeding (hemorrhage).
The Ebola vaccine has already shown promising results in monkeys during preclinical studies.
The Phase I study will evaluate the safety and immunogenicity of the vaccine in humans at doses shown to protect monkeys.
Around 39 people will be enroled into three groups that will receive progressively higher doses of the vaccine by intramuscular injection.
"This first study is designed to quickly establish the safety and immunogenicity of our attenuated VSV-vectored Ebola vaccine."
Profectus BioSciences chief scientific officer John H. Eldridge said: "This first study is designed to quickly establish the safety and immunogenicity of our attenuated VSV-vectored Ebola vaccine.
"The next step, anticipated for mid-next year, will be a trial of our trivalent vaccine to protect against all species of Ebola and Marburg viruses. That will be followed by the testing of a freeze-dried formulation that will allow field use without refrigerated storage."
The evaluation of the filovirus vaccine is being backed by the US Department of Defense Medical Countermeasures Systems-Joint Vaccine Acquisition Program (MCS-JVAP), both directly and through contracts with Battelle, the Biomedical Advanced Research and Development Authority (BARDA), and the National Institutes of Health (NIH).
The firm will manufacture the vaccine to provide pre and post-exposure protection against exposure with all major strains of Ebola virus.
It has received $8.5m in funding from the Department of the Army, US Army Contracting Command, Aberdeen Proving Ground, and the Natick Contracting Division.
---
Image: Electron micrograph of an Ebola virus virion. Photo: courtesy of CDC / Cynthia Goldsmith.
Free Case Study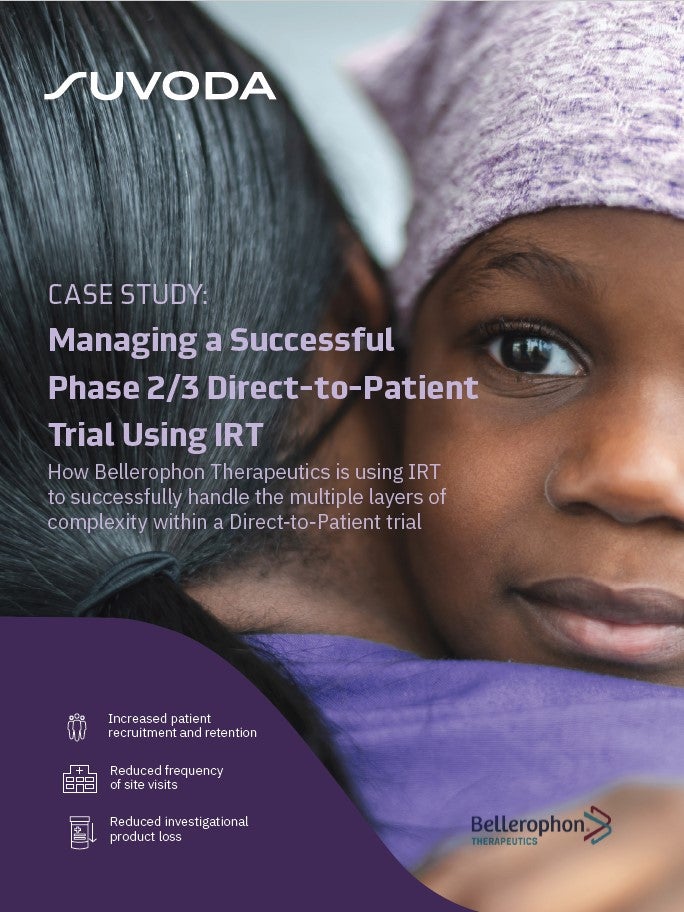 Direct-to-Patient Trials: How IRT Plays an Important Role in Bellerophon's Direct-to-Patient Trials
As the industry strengthens its focus on patient centricity, Direct-to-Patient clinical trials have emerged as a popular trial design that have the potential to increase patient recruitment and retention. IRT plays a crucial role in the success of a Direct-to-Patient trial. Because drug supplies are being managed and shipped from distribution facilities directly to patients' homes, a sponsor must have a high-quality system in place to accurately track the chain of custody, ensure patient-blinding and handle other logistical challenges. What You Will Learn Benefits and challenges associated with the Direct-to-Patient model Bellerophon's top considerations when implementing this trial design How IRT can equip study teams to successfully track chain of custody, ensure patient blinding, and handle logistical challenges
by Suvoda