Clinical-stage biopharmaceutical company vTv Therapeutics has started a Phase II trial of TTP273 to treat type-2 diabetes.
Free Case Study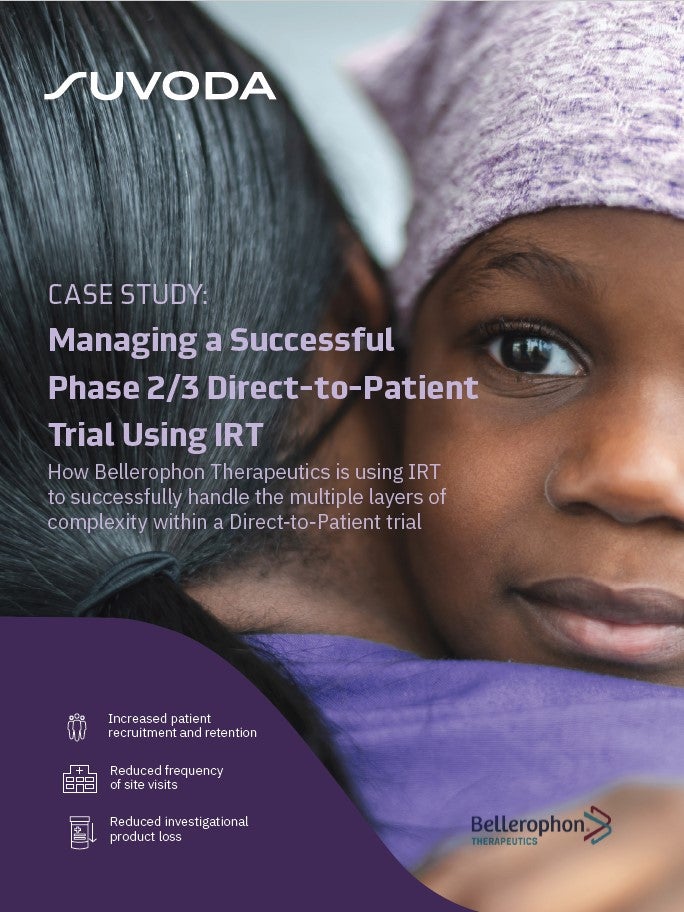 Direct-to-Patient Trials: How IRT Plays an Important Role in Bellerophon's Direct-to-Patient Trials
As the industry strengthens its focus on patient centricity, Direct-to-Patient clinical trials have emerged as a popular trial design that have the potential to increase patient recruitment and retention. IRT plays a crucial role in the success of a Direct-to-Patient trial. Because drug supplies are being managed and shipped from distribution facilities directly to patients' homes, a sponsor must have a high-quality system in place to accurately track the chain of custody, ensure patient-blinding and handle other logistical challenges. What You Will Learn Benefits and challenges associated with the Direct-to-Patient model Bellerophon's top considerations when implementing this trial design How IRT can equip study teams to successfully track chain of custody, ensure patient blinding, and handle logistical challenges
by Suvoda
Type 2 diabetes is a chronic syndrome caused due to dysregulation of blood sugar levels. It is the most common type of diabetes representing 90%-95% of diabetes patients.
The Phase II aLlosteric Oral Glp1 Receptor Agonist (LOGRA) study will evaluate the safety and efficacy of TTP273 in type 2 diabetic patients on stable doses of metformin.
The company has started enrolling patients in the LOGRA trial to assess TTP273, which is an oral, small molecule GLP-1R agonist.
"TTP273 has the potential to provide enhanced glycemic control and weight loss without the burden of injections."
Around 156 patients will be enroled at 26 clinical trial sites throughout the US.
The study's primary endpoint is change in baseline in HbA1c at three months, with secondary endpoints including body weight, plasma glucose, lipids insulin, lactate, C-peptide, glucagon and GLP.
vTv Therapeutics president and CEO Steve Holcombe said: "Earlier studies of this compound showed that TTP273 has the potential to provide enhanced glycemic control and weight loss without the burden of injections or gastrointestinal side effects seen with GLP-1 biologic agents.
"TTP273 is just one of two diabetes treatments in our pipeline reading out this year with our best-in-class orally administered Glucokinase Activator, TTP399, expected to report Phase 2 results in mid-2016."
The Phase 1b trial of TTP273 showed efficacy for postprandial and fasting glucose. All doses of TTP273 were found to be safe and well tolerated with no serious adverse events or evidence of gastrointestinal side effects.
Free Case Study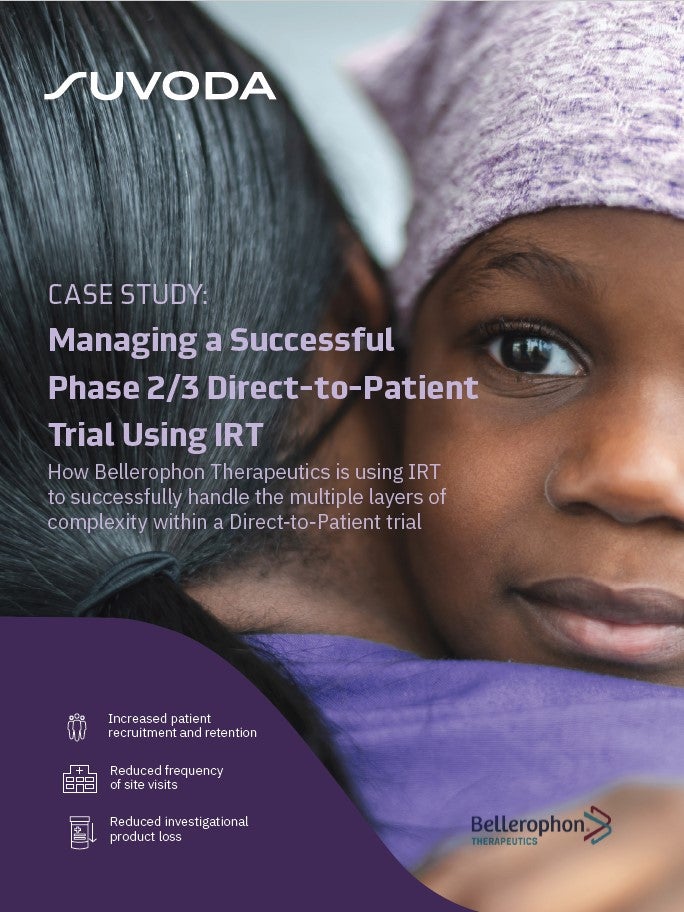 Direct-to-Patient Trials: How IRT Plays an Important Role in Bellerophon's Direct-to-Patient Trials
As the industry strengthens its focus on patient centricity, Direct-to-Patient clinical trials have emerged as a popular trial design that have the potential to increase patient recruitment and retention. IRT plays a crucial role in the success of a Direct-to-Patient trial. Because drug supplies are being managed and shipped from distribution facilities directly to patients' homes, a sponsor must have a high-quality system in place to accurately track the chain of custody, ensure patient-blinding and handle other logistical challenges. What You Will Learn Benefits and challenges associated with the Direct-to-Patient model Bellerophon's top considerations when implementing this trial design How IRT can equip study teams to successfully track chain of custody, ensure patient blinding, and handle logistical challenges
by Suvoda