The Next Practices Group has introduced a new service offering called CTRx Pathways intended to expedite and expand clinical trial enrolment.
Free Case Study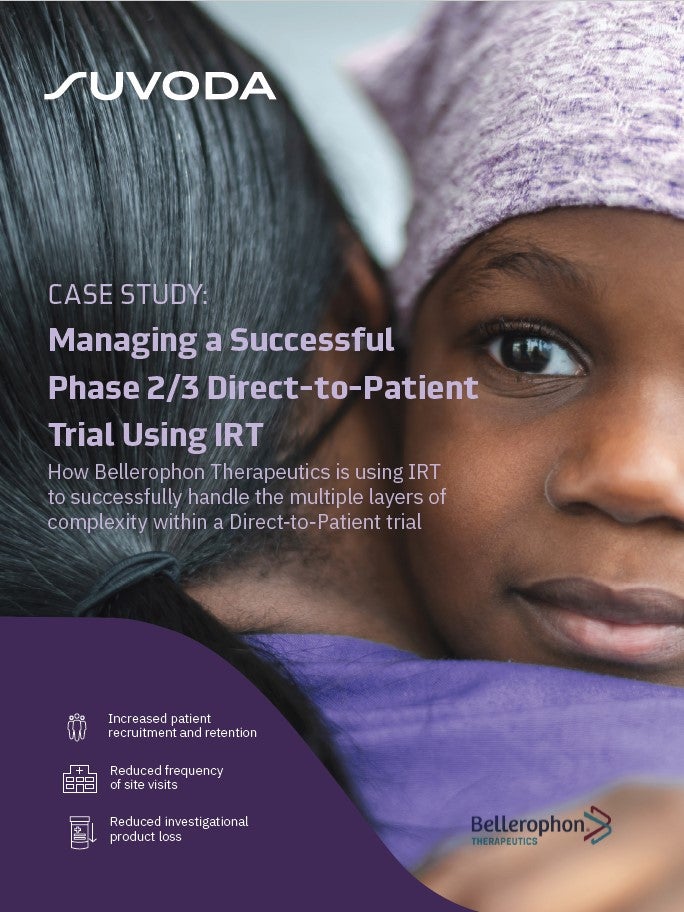 Direct-to-Patient Trials: How IRT Plays an Important Role in Bellerophon's Direct-to-Patient Trials
As the industry strengthens its focus on patient centricity, Direct-to-Patient clinical trials have emerged as a popular trial design that have the potential to increase patient recruitment and retention. IRT plays a crucial role in the success of a Direct-to-Patient trial. Because drug supplies are being managed and shipped from distribution facilities directly to patients' homes, a sponsor must have a high-quality system in place to accurately track the chain of custody, ensure patient-blinding and handle other logistical challenges. What You Will Learn Benefits and challenges associated with the Direct-to-Patient model Bellerophon's top considerations when implementing this trial design How IRT can equip study teams to successfully track chain of custody, ensure patient blinding, and handle logistical challenges
by Suvoda
CTR Pathways is a collection of new media models developed by The Next Practices team along with Johns Hopkins School of Medicine and the Department of Defense under Operation Warp Speed during the Covid-19 pandemic.
Each model integrates the best accessible thinking from a mathematical, paid, earned, shared, owned (PESO) media and marketing standpoint, all intended to create agile media models that eliminate the usual trial enrolment issues.
With the launch, industry and clinical researchers in the US will gain access to the offering.
In the preliminary stage, the service will have five new models that include: New Disease-Based Media Model, New Community Influencer Model, New Decision-Making Engine, New Technology Platform and New Storytizing Software Solutions.
CTRx Pathways is supported by teams who possess expertise in marketing, communications, technology solutions, performance media, analytics, search and other vital disciplines crucial to a clinical trial.
The group noted that the CTRx Pathways models can be used as a supplement to current efforts of contract research organisations (CROs), biopharmaceutical firms, academic centres and study centres.
The Next Practices Group chair Bob Pearson said: "It's time for the old media models to be retired in the world of clinical trials.
"Our version of 'Warp Speed' was to create a series of new models, based on media, marketing and math, that greatly improves the effectiveness of how we enrol trials and builds a system that gets more intelligent with time."
"Our only 'competitor' is the disease we are fighting together, so we built our offering to fit in and power the work of existing teams."
Free Case Study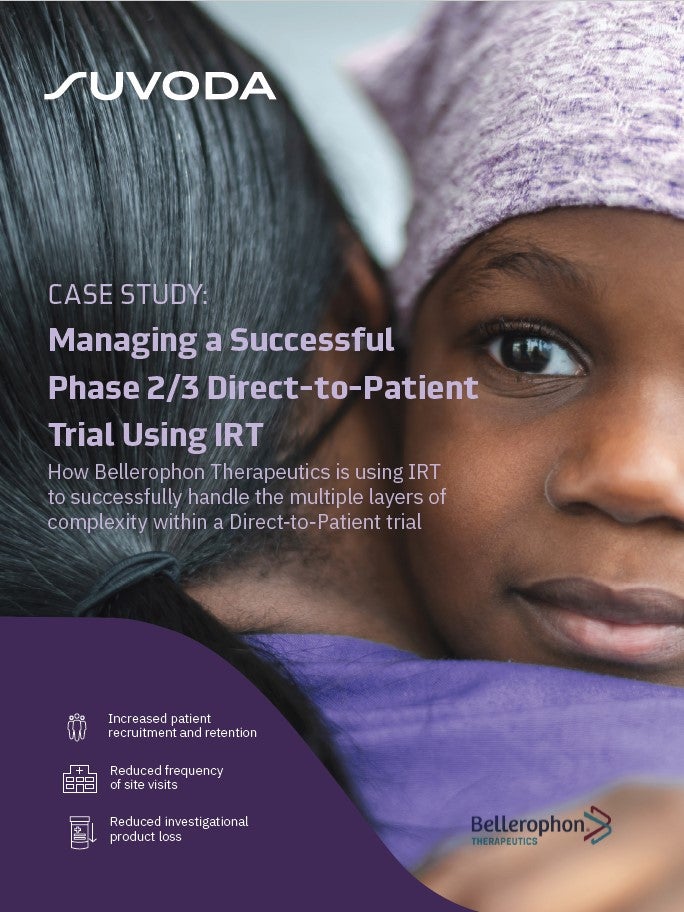 Direct-to-Patient Trials: How IRT Plays an Important Role in Bellerophon's Direct-to-Patient Trials
As the industry strengthens its focus on patient centricity, Direct-to-Patient clinical trials have emerged as a popular trial design that have the potential to increase patient recruitment and retention. IRT plays a crucial role in the success of a Direct-to-Patient trial. Because drug supplies are being managed and shipped from distribution facilities directly to patients' homes, a sponsor must have a high-quality system in place to accurately track the chain of custody, ensure patient-blinding and handle other logistical challenges. What You Will Learn Benefits and challenges associated with the Direct-to-Patient model Bellerophon's top considerations when implementing this trial design How IRT can equip study teams to successfully track chain of custody, ensure patient blinding, and handle logistical challenges
by Suvoda