The US National Institutes of Health (NIH) has commenced a Phase l trial to investigate the combination of 3BNC117 and 10-1074 for the treatment of people living with HIV.
Free Case Study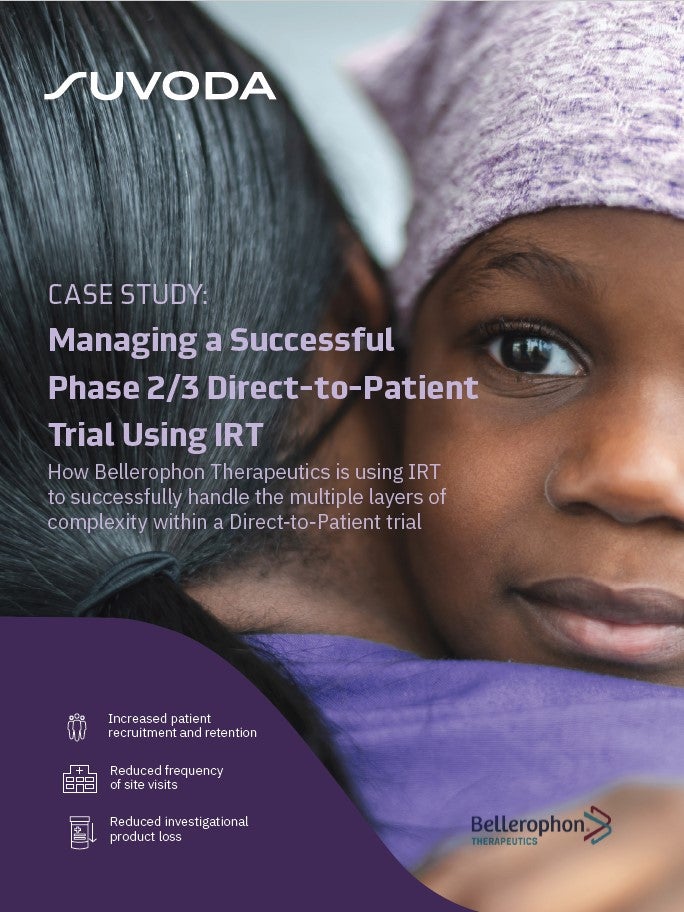 Direct-to-Patient Trials: How IRT Plays an Important Role in Bellerophon's Direct-to-Patient Trials
As the industry strengthens its focus on patient centricity, Direct-to-Patient clinical trials have emerged as a popular trial design that have the potential to increase patient recruitment and retention. IRT plays a crucial role in the success of a Direct-to-Patient trial. Because drug supplies are being managed and shipped from distribution facilities directly to patients' homes, a sponsor must have a high-quality system in place to accurately track the chain of custody, ensure patient-blinding and handle other logistical challenges. What You Will Learn Benefits and challenges associated with the Direct-to-Patient model Bellerophon's top considerations when implementing this trial design How IRT can equip study teams to successfully track chain of custody, ensure patient blinding, and handle logistical challenges
by Suvoda
The 3BNC117 and 10-1074 are two HIV-specific, broadly neutralising antibodies (bNAbs) developed by Rockefeller University, New York, scientist Michel Nussenzweig and his colleagues with support from NIH and Bill & Melinda Gates Foundation.
The randomised, single-group assignment trial intends to enrol two groups of subjects, including 30 people who began antiretroviral therapy (ART) during early HIV infection and who are still taking ART.
Approximately 15 subjects whose HIV infections seem to be advancing at an abnormally slow rate without ART will also be included in the trial.
During the trial, the subjects in the first group will stop taking ART a few days after being randomised to receive either infusions of the combination antibodies or a saline placebo.
"The subjects will receive a total of eight infusions of the combination or placebo over a period of 24 weeks."
The subjects will receive a total of eight infusions of the combination or placebo over a period of 24 weeks.
They will be kept on observation and be allowed to resume ART if HIV levels in their blood increase above 1,000 copies per millilitre, if there is a significant decrease in levels of their protective immune cells called CD4+ T-cells, or if they develop any HIV-related symptoms.
In the second group, the subjects will receive the combination antibody infusions on the same schedule but will remain without ART throughout the study until they experience a significant reduction in CD4+ T-cells, and meet other pre-defined conditions.
Both study groups will be monitored for any side effects or other adverse events.
NIH unit National Institute of Allergy and Infectious Diseases (NIAID) Laboratory of Immunoregulation (LIR) medical officer Dr Michael Sneller and LIR HIV Immunovirology Unit chief Dr Tae-Wook Chun are leading the trial.
Results from the trial are expected to be released by 2021.
Free Case Study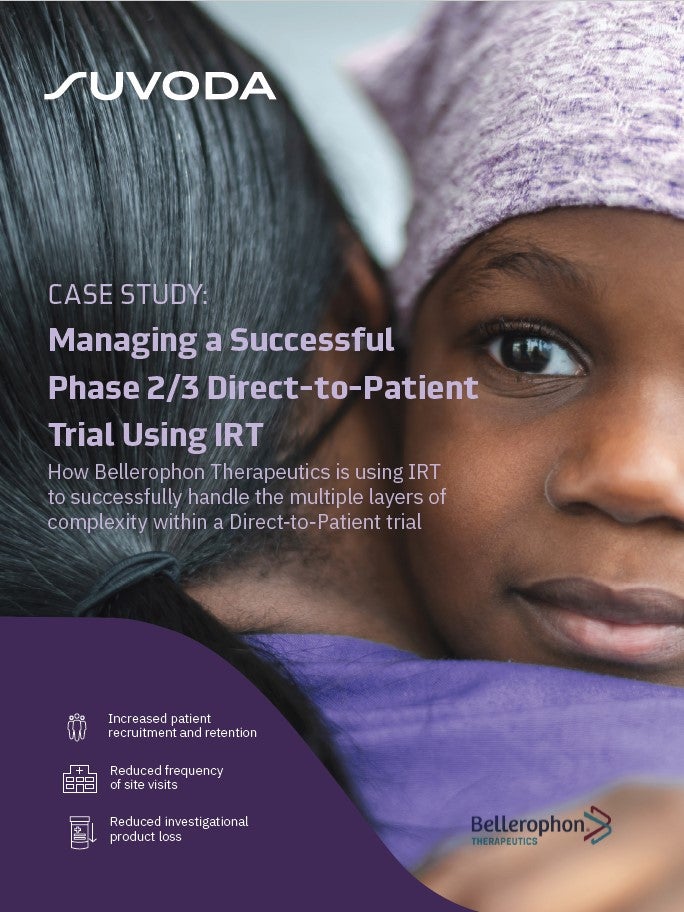 Direct-to-Patient Trials: How IRT Plays an Important Role in Bellerophon's Direct-to-Patient Trials
As the industry strengthens its focus on patient centricity, Direct-to-Patient clinical trials have emerged as a popular trial design that have the potential to increase patient recruitment and retention. IRT plays a crucial role in the success of a Direct-to-Patient trial. Because drug supplies are being managed and shipped from distribution facilities directly to patients' homes, a sponsor must have a high-quality system in place to accurately track the chain of custody, ensure patient-blinding and handle other logistical challenges. What You Will Learn Benefits and challenges associated with the Direct-to-Patient model Bellerophon's top considerations when implementing this trial design How IRT can equip study teams to successfully track chain of custody, ensure patient blinding, and handle logistical challenges
by Suvoda