Humanigen has reported that the National Institutes of Health (NIH) progressed the ACTIV-5/BET-B study of its lenzilumab for Covid-19 from a Phase II exploratory trial to a Phase II/III trial.
Free Case Study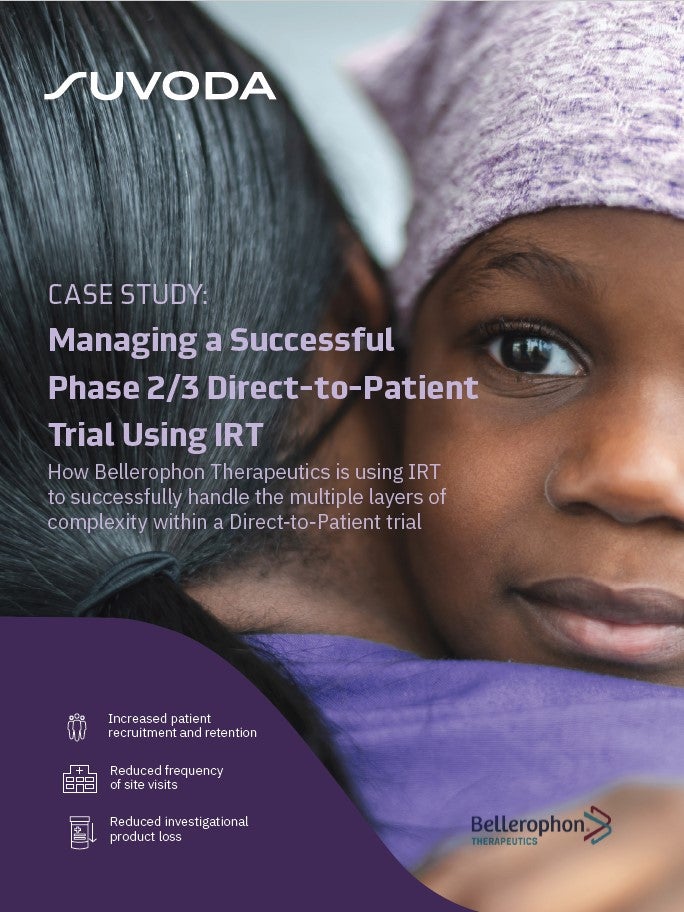 Direct-to-Patient Trials: How IRT Plays an Important Role in Bellerophon's Direct-to-Patient Trials
As the industry strengthens its focus on patient centricity, Direct-to-Patient clinical trials have emerged as a popular trial design that have the potential to increase patient recruitment and retention. IRT plays a crucial role in the success of a Direct-to-Patient trial. Because drug supplies are being managed and shipped from distribution facilities directly to patients' homes, a sponsor must have a high-quality system in place to accurately track the chain of custody, ensure patient-blinding and handle other logistical challenges. What You Will Learn Benefits and challenges associated with the Direct-to-Patient model Bellerophon's top considerations when implementing this trial design How IRT can equip study teams to successfully track chain of custody, ensure patient blinding, and handle logistical challenges
by Suvoda
A monoclonal antibody, lenzilumab can potentially neutralise granulocyte-macrophage colony-stimulating factor (GM-CSF), subsequently enabling better outcomes for hospitalised hypoxic Covid-19 patients.
GM-CSF is a key cytokine that causes a hyperinflammatory cascade or cytokine storm linked to Covid-19 and other indications.
ACTIV-5 BET programme comprises multiple randomised, double-blind, placebo-controlled trials analysing various approved or experimental treatments for Covid-19 using the same evaluations and goals.
In addition to progressing ACTIV-5/BET-B, the NIH updated the primary goal of the trial to survival without ventilation (SWOV) by day 28 in subjects with baseline C-reactive protein (CRP) levels under 150mg/l.
This endpoint was earlier studied in the Phase III LIVE-AIR trial of lenzilumab.
The modified ACTIV-5/BET-B study will enrol a total of 400 subjects at up to 60 trial centres in the US.
Humanigen will supply lenzilumab for the trial, which is sponsored and funded by the NIH, and aid the institute to conclude the study on time.
Humanigen CEO Cameron Durrant said: "ACTIV-5/BET-B may provide prospective validation for lenzilumab in the treatment of Covid-19.
"We believe ACTIV-5/BET-B, along with LIVE-AIR, will provide the sufficient size and statistical power typically required for a BLA to be submitted to FDA."
NIH updated the ACTIV-5/BET-B trial based on data from the Phase III LIVE-AIR trial of lenzilumab to treat and prevent serious and fatal outcomes in hospitalised Covid-19 patients with pneumonia.
In the trial, lenzilumab provided a 1.54-fold relative improvement in the chances of SWOV versus placebo, meeting the primary goal.
Furthermore, the antibody enhanced the relative chances of SWOV by 1.92-fold in the pre-specified subgroup of participants who were given corticosteroids, as well as remdesivir.
It also improved the chances of SWOV by three-fold in subjects with a baseline CRP less than 150mg/l and aged under 85 years.
Humanigen noted that the trial modification could aid the company to use ACTIV-5/BET-B as a confirmatory study to support a biologics licence application in the future.
Last month, South Korea's Ministry of Food and Drug Safety granted approval to Humanigen's partners, Telcon RF Pharmaceutical and KPM Tech, to carry out a Phase I trial of lenzilumab in hospitalised Covid-19 patients.
Free Case Study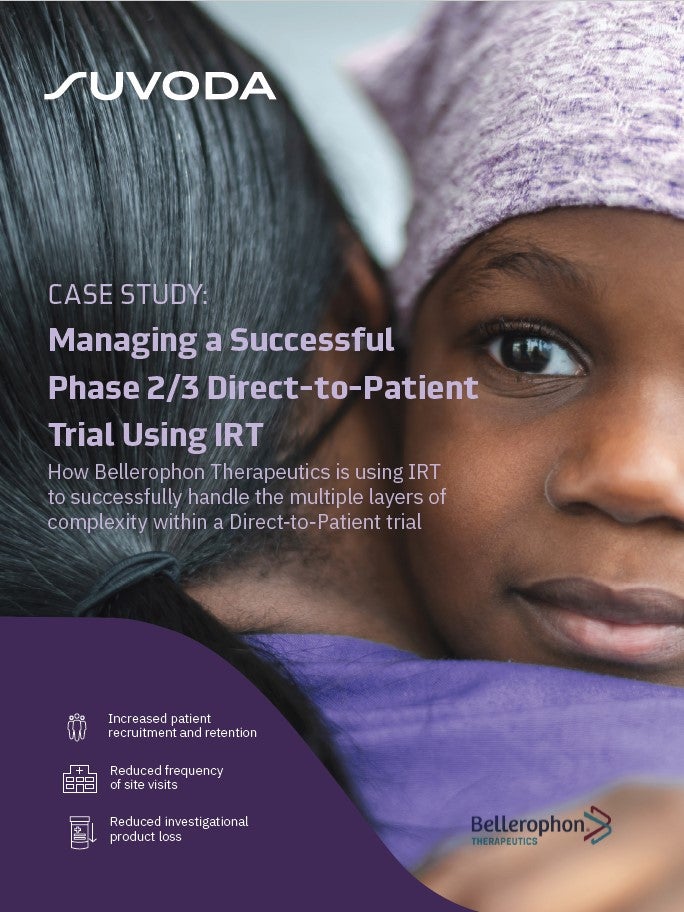 Direct-to-Patient Trials: How IRT Plays an Important Role in Bellerophon's Direct-to-Patient Trials
As the industry strengthens its focus on patient centricity, Direct-to-Patient clinical trials have emerged as a popular trial design that have the potential to increase patient recruitment and retention. IRT plays a crucial role in the success of a Direct-to-Patient trial. Because drug supplies are being managed and shipped from distribution facilities directly to patients' homes, a sponsor must have a high-quality system in place to accurately track the chain of custody, ensure patient-blinding and handle other logistical challenges. What You Will Learn Benefits and challenges associated with the Direct-to-Patient model Bellerophon's top considerations when implementing this trial design How IRT can equip study teams to successfully track chain of custody, ensure patient blinding, and handle logistical challenges
by Suvoda