The National Institutes of Health (NIH) is set to fund the Phase III ACTIV-6 clinical trial to analyse various prescription and over-the-counter medications that are currently available for self-administration to treat Covid-19 symptoms.
Free Case Study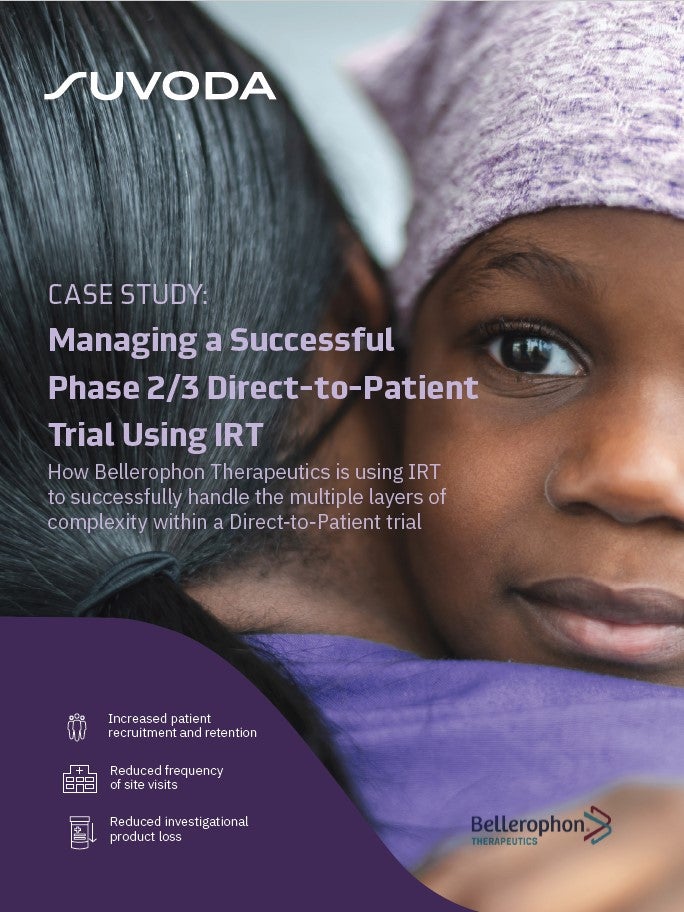 Direct-to-Patient Trials: How IRT Plays an Important Role in Bellerophon's Direct-to-Patient Trials
As the industry strengthens its focus on patient centricity, Direct-to-Patient clinical trials have emerged as a popular trial design that have the potential to increase patient recruitment and retention. IRT plays a crucial role in the success of a Direct-to-Patient trial. Because drug supplies are being managed and shipped from distribution facilities directly to patients' homes, a sponsor must have a high-quality system in place to accurately track the chain of custody, ensure patient-blinding and handle other logistical challenges. What You Will Learn Benefits and challenges associated with the Direct-to-Patient model Bellerophon's top considerations when implementing this trial design How IRT can equip study teams to successfully track chain of custody, ensure patient blinding, and handle logistical challenges
by Suvoda
With an initial investment of $155m from NIH, the large, randomised, placebo‑controlled trial will provide evidence-based treatment options for most adult Covid-19 patients with mild-to-moderate symptoms and do not require hospitalisation.
NIH director Francis Collins said: "While we're doing a good job with treating hospitalised patients with severe disease, we don't currently have an approved medication that can be self-administered to ease symptoms of people suffering from mild disease at home and reduce the chance of their needing hospitalisation.
"ACTIV-6 will evaluate whether certain drugs showing promise in small trials can pass the rigour of a larger trial."
As per the ACTIV-6 protocol, up to seven FDA-approved drugs for other conditions will be explored through an approach called drug repurposing.
The safety and effectiveness of these drugs will be assessed in treating mild to moderate Covid-19.
The trial will enrol up to 13,500 Covid-19-positive subjects aged 30 or above with two or more mild-to-moderate disease symptoms for seven days.
Subjects in the trial will randomly receive either a placebo or one of the treatments sent to them by mail. They will take oral or inhaled doses of the drugs, which will be easy for administration in an at-home setting.
Changes in patients' symptoms over a period of 14 days, and hospitalisations and deaths in 28 days will be analysed by the researchers.
Long-term Covid-19-related symptoms at 90 days on commencing the treatment will also be evaluated.
The American Rescue Plan Act will provide funding, and NIH's National Center for Advancing Translational Sciences will oversee the trial.
Prior to this, NIH reported results from a study that showed that experimental antiviral drug MK-4482 (molnupiravir and EIDD-2801) significantly lowered viral levels and disease damage in the lungs of hamsters treated for SARS-CoV-2 infection.
Free Case Study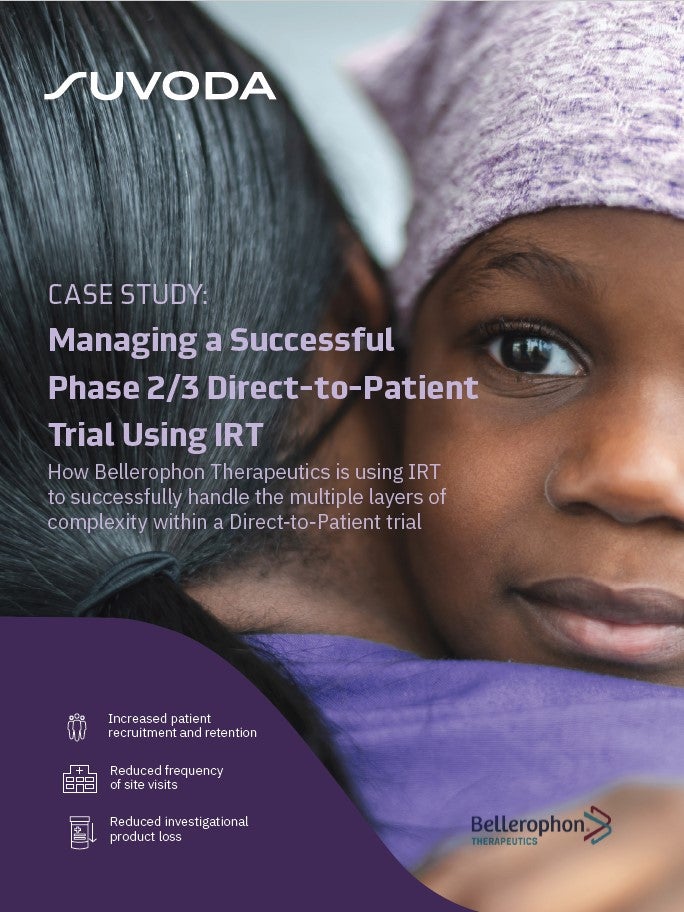 Direct-to-Patient Trials: How IRT Plays an Important Role in Bellerophon's Direct-to-Patient Trials
As the industry strengthens its focus on patient centricity, Direct-to-Patient clinical trials have emerged as a popular trial design that have the potential to increase patient recruitment and retention. IRT plays a crucial role in the success of a Direct-to-Patient trial. Because drug supplies are being managed and shipped from distribution facilities directly to patients' homes, a sponsor must have a high-quality system in place to accurately track the chain of custody, ensure patient-blinding and handle other logistical challenges. What You Will Learn Benefits and challenges associated with the Direct-to-Patient model Bellerophon's top considerations when implementing this trial design How IRT can equip study teams to successfully track chain of custody, ensure patient blinding, and handle logistical challenges
by Suvoda