Biotechnology firm Novavax is set to start the human clinical trial of a Covid-19 vaccine candidate called NVX-CoV2373 in May.
Free Case Study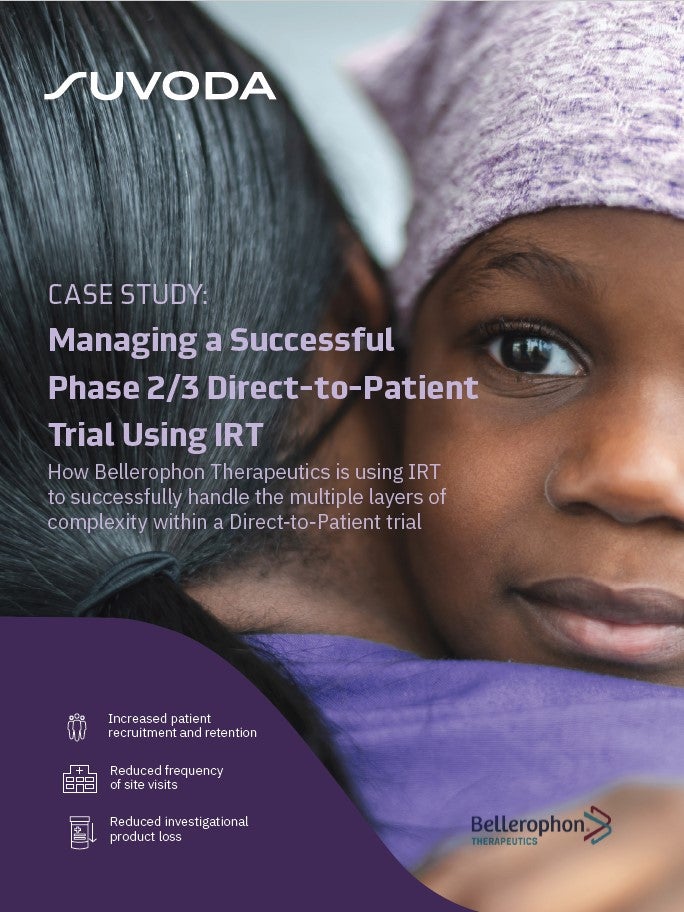 Direct-to-Patient Trials: How IRT Plays an Important Role in Bellerophon's Direct-to-Patient Trials
As the industry strengthens its focus on patient centricity, Direct-to-Patient clinical trials have emerged as a popular trial design that have the potential to increase patient recruitment and retention. IRT plays a crucial role in the success of a Direct-to-Patient trial. Because drug supplies are being managed and shipped from distribution facilities directly to patients' homes, a sponsor must have a high-quality system in place to accurately track the chain of custody, ensure patient-blinding and handle other logistical challenges. What You Will Learn Benefits and challenges associated with the Direct-to-Patient model Bellerophon's top considerations when implementing this trial design How IRT can equip study teams to successfully track chain of custody, ensure patient blinding, and handle logistical challenges
by Suvoda
Made using the company's nanoparticle technology, NVX-CoV2373 is a stable prefusion protein.
Novavax plans to use its Matrix-M adjuvant with the vaccine candidate to boost immune responses and induce high levels of neutralising antibodies.
In animal models, NVX-CoV2373 demonstrated high immunogenicity with measuring spike protein-specific antibodies, which prevent the attachment of the spike protein to the receptor, as well as wild-type virus neutralising antibodies.
Following a single immunisation, the candidate led to high levels of spike protein-specific antibodies that block the activity of ACE-2 human receptor binding domain, and SARS-CoV-2 wild-type virus neutralising antibodies, said Novavax.
Novavax Research and Development president Gregory Glenn said: "Our scientists identified an ideal vaccine candidate selected from a number of constructs and, in partnership with Dr Matthew Frieman, demonstrated that NVX-CoV2373 produces high levels of neutralizing antibodies against SARS-CoV-2 in animal studies.
"In addition, we have worked closely with our colleagues at Emergent BioSolutions to transfer our production technology that allows the manufacture of GMP vaccine for clinical trials. With preliminary CEPI funding, these heroic efforts, combined with the candidate's excellent early results, put us in position to have preliminary human data in July."
Frieman is an associate professor at the University of Maryland School of Medicine.
The clinical development of the vaccine candidate involves a Phase I/II approach.
The Phase I trial will have a placebo-controlled, observer-blinded design and will involve around 30 healthy adults. It will evaluate the dosage amount and number of vaccinations.
Expected to begin mid-May, initial immunogenicity and safety data from the study are expected in July.
Under a contract development and manufacturing services agreement with Emergent BioSolutions, Novavax will have access to the company's deployment capabilities and expertise to support the vaccine development and production.
Free Case Study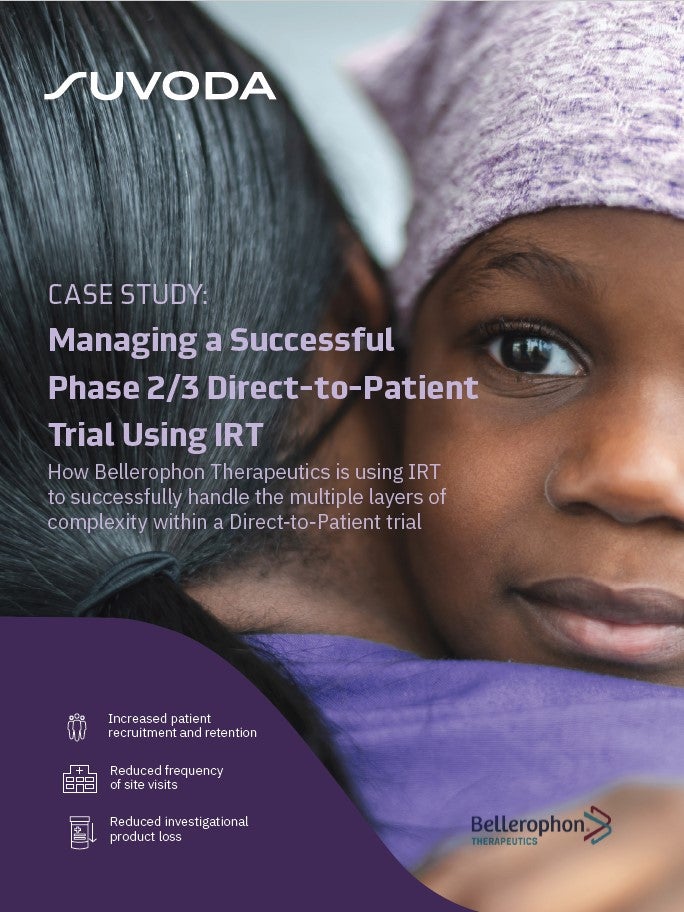 Direct-to-Patient Trials: How IRT Plays an Important Role in Bellerophon's Direct-to-Patient Trials
As the industry strengthens its focus on patient centricity, Direct-to-Patient clinical trials have emerged as a popular trial design that have the potential to increase patient recruitment and retention. IRT plays a crucial role in the success of a Direct-to-Patient trial. Because drug supplies are being managed and shipped from distribution facilities directly to patients' homes, a sponsor must have a high-quality system in place to accurately track the chain of custody, ensure patient-blinding and handle other logistical challenges. What You Will Learn Benefits and challenges associated with the Direct-to-Patient model Bellerophon's top considerations when implementing this trial design How IRT can equip study teams to successfully track chain of custody, ensure patient blinding, and handle logistical challenges
by Suvoda