US-based biotechnology company Novavax has partnered with Nucleus Network Ltd" target="_blank">Nucleus Network to initiate the clinical trials for its Covid-19 vaccine SARS-CoV-2 Recombinant Spike Protein Nanoparticle (NVX-CoV2373).
Free Case Study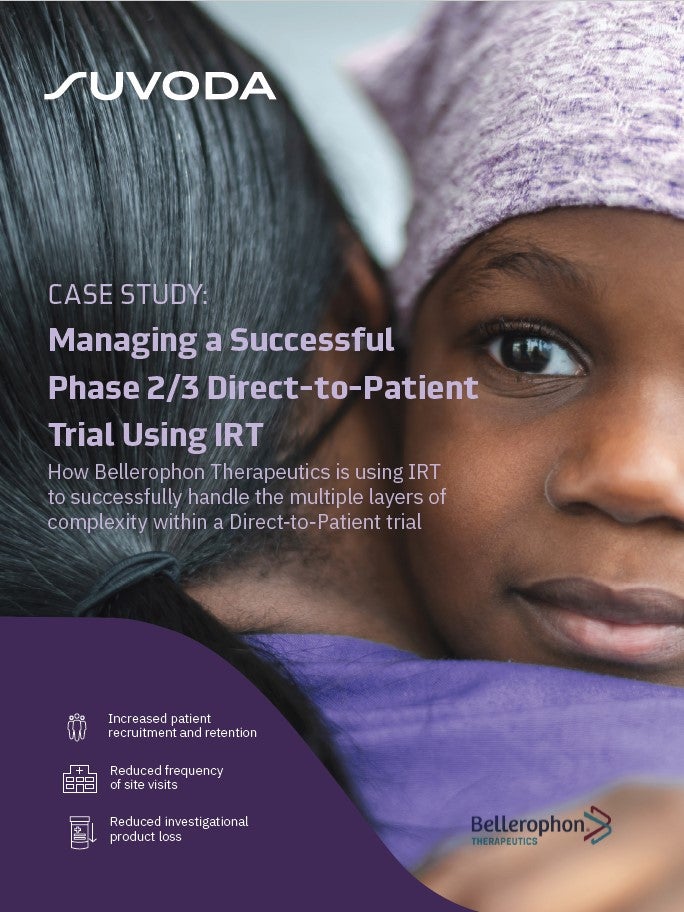 Direct-to-Patient Trials: How IRT Plays an Important Role in Bellerophon's Direct-to-Patient Trials
As the industry strengthens its focus on patient centricity, Direct-to-Patient clinical trials have emerged as a popular trial design that have the potential to increase patient recruitment and retention. IRT plays a crucial role in the success of a Direct-to-Patient trial. Because drug supplies are being managed and shipped from distribution facilities directly to patients' homes, a sponsor must have a high-quality system in place to accurately track the chain of custody, ensure patient-blinding and handle other logistical challenges. What You Will Learn Benefits and challenges associated with the Direct-to-Patient model Bellerophon's top considerations when implementing this trial design How IRT can equip study teams to successfully track chain of custody, ensure patient blinding, and handle logistical challenges
by Suvoda
The Phase I trial of NVX-CoV2373 will begin at Nucleus ' Melbourne and Brisbane clinics in mid-May. The preliminary immunogenicity and safety results from the study are expected to be available in July.
Nucleus Network Ltd" target="_blank">Nucleus Network CEO Cameron Johnson said: "Nucleus has a rich history of Phase I vaccine trials, and a long-standing track-record with Novavax . We are well positioned to implement rapid testing with first-in-human trials over the coming weeks.
"With the capacity to conduct this trial across both our Melbourne and Brisbane clinics, we will be assisting Novavax to undertake Phase I trials and fast track NVX-CoV2373 to potential subsequent development as soon as possible."
Nucleus owns 150 of the total 250 dedicated Phase I beds available in Melbourne and Brisbane, Australia. It has a workforce of more than 400 specialists and offers a multi-site pathway to sponsors to conduct their clinical trials.
Novavax president and CEO Stanley Erck said: "The urgent global race to develop a vaccine against the Covid-19 pandemic drove our rapid identification and selection of an optimal, highly immunogenic vaccine candidate. We are pleased that Nucleus , our long-time partner, was able to accommodate our accelerated timeline."
Previously, Novavax worked on vaccines for severe acute respiratory syndrome (SARS) and Middle East respiratory syndrome (MERS).
This allows the company to leverage its understanding of the viruses and adapt their study to create a vaccine for the SARS-CoV-2 virus, which causes Covid-19.
Free Case Study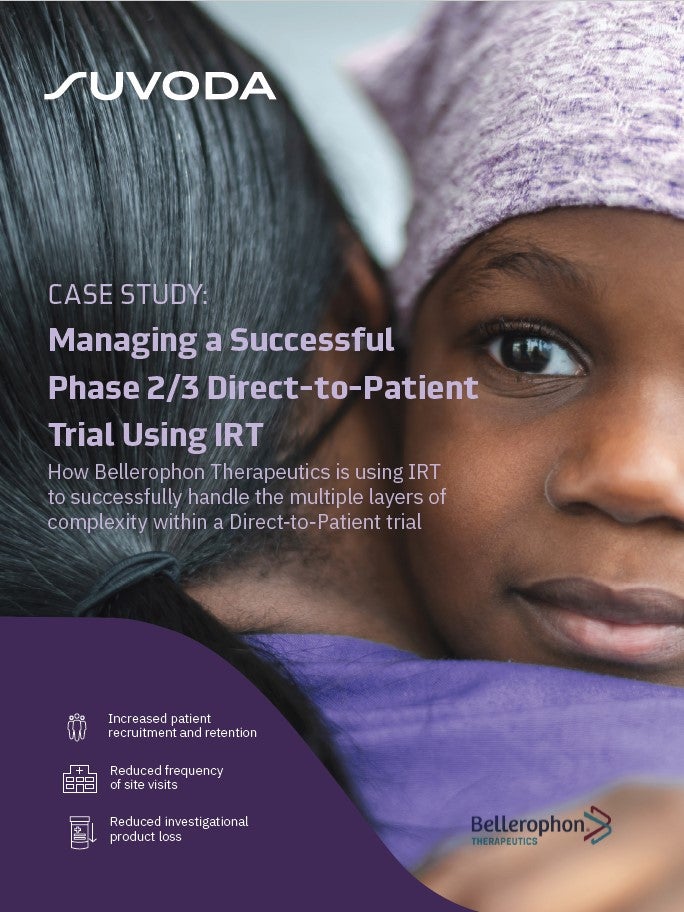 Direct-to-Patient Trials: How IRT Plays an Important Role in Bellerophon's Direct-to-Patient Trials
As the industry strengthens its focus on patient centricity, Direct-to-Patient clinical trials have emerged as a popular trial design that have the potential to increase patient recruitment and retention. IRT plays a crucial role in the success of a Direct-to-Patient trial. Because drug supplies are being managed and shipped from distribution facilities directly to patients' homes, a sponsor must have a high-quality system in place to accurately track the chain of custody, ensure patient-blinding and handle other logistical challenges. What You Will Learn Benefits and challenges associated with the Direct-to-Patient model Bellerophon's top considerations when implementing this trial design How IRT can equip study teams to successfully track chain of custody, ensure patient blinding, and handle logistical challenges
by Suvoda