US-based biotechnology company Novavax has launched a Phase IIb clinical trial of its Covid-19 vaccine candidate, NVX-CoV2373, in South Africa.
Free Case Study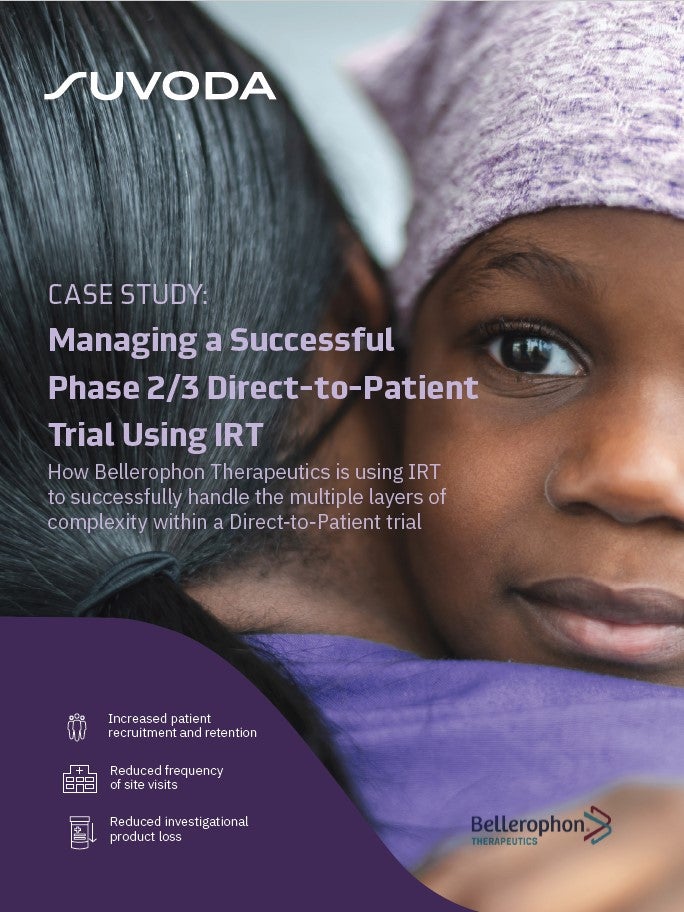 Direct-to-Patient Trials: How IRT Plays an Important Role in Bellerophon's Direct-to-Patient Trials
As the industry strengthens its focus on patient centricity, Direct-to-Patient clinical trials have emerged as a popular trial design that have the potential to increase patient recruitment and retention. IRT plays a crucial role in the success of a Direct-to-Patient trial. Because drug supplies are being managed and shipped from distribution facilities directly to patients' homes, a sponsor must have a high-quality system in place to accurately track the chain of custody, ensure patient-blinding and handle other logistical challenges. What You Will Learn Benefits and challenges associated with the Direct-to-Patient model Bellerophon's top considerations when implementing this trial design How IRT can equip study teams to successfully track chain of custody, ensure patient blinding, and handle logistical challenges
by Suvoda
The trial, conducted in partnership with Wits University Vaccinology professor Dr Shabir Madhi, will assess the efficacy of the vaccine. The study is partially supported by a $15m grant from the Bill & Melinda Gates Foundation.
NVX‑CoV2373 is a stable prefusion protein developed using the company's nanoparticle technology and comprises its Matrix‑M adjuvant.
The randomised, observer-blinded, placebo-controlled Phase IIb study will have two cohorts.
One cohort will investigate efficacy, safety and immunogenicity in around 2,665 healthy adults while the second cohort will assess safety and immunogenicity in nearly 240 medically stable, HIV-positive adults.
This study design is intended to study the vaccine in a diverse, representative population.
If approved in South Africa, Novavax intends to supply the vaccine to the country through its alliance with the Serum Institute of India.
Novavax research and development president Gregory Glenn said: "Because South Africa is experiencing a winter surge of Covid-19 disease, this important Phase IIb clinical trial has the potential to provide an early indication of efficacy, along with additional safety and immunogenicity data for NVX-CoV2373.
"We appreciate the continued support of the Bill & Melinda Gates Foundation and CEPI, and our strong ongoing collaboration with Wits University, all of whom are united with us in our commitment to produce and deliver a safe, effective vaccine across the globe."
In Phase I of a trial performed in Australia, NVX-CoV2373 was found to be generally well-tolerated and induced antibody responses numerically superior to that of human convalescent sera.
The company submitted these findings to the US Food and Drug Administration (FDA) and an independent safety monitoring committee.
Novavax is planning to conduct the Phase II portion of the study in the US and Australia in the near future. This study will enrol 1,500 participants, including older adults.
Free Case Study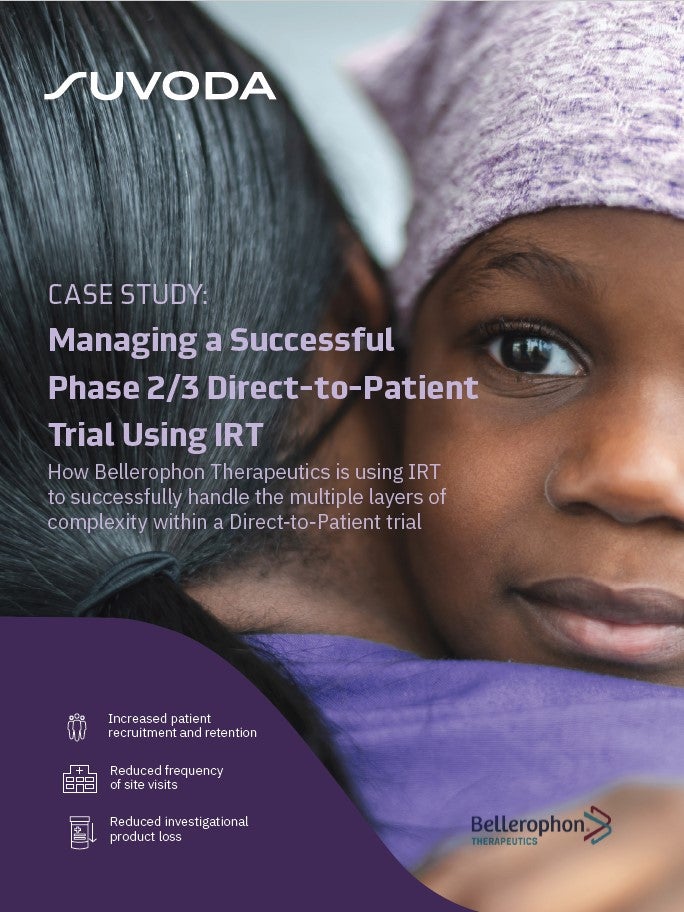 Direct-to-Patient Trials: How IRT Plays an Important Role in Bellerophon's Direct-to-Patient Trials
As the industry strengthens its focus on patient centricity, Direct-to-Patient clinical trials have emerged as a popular trial design that have the potential to increase patient recruitment and retention. IRT plays a crucial role in the success of a Direct-to-Patient trial. Because drug supplies are being managed and shipped from distribution facilities directly to patients' homes, a sponsor must have a high-quality system in place to accurately track the chain of custody, ensure patient-blinding and handle other logistical challenges. What You Will Learn Benefits and challenges associated with the Direct-to-Patient model Bellerophon's top considerations when implementing this trial design How IRT can equip study teams to successfully track chain of custody, ensure patient blinding, and handle logistical challenges
by Suvoda