NRx Pharmaceuticals has reported that its therapy, Zyesami (aviptadil), demonstrated safety in the Phase III ACTIV-3b Critical Care clinical trial.
Free Case Study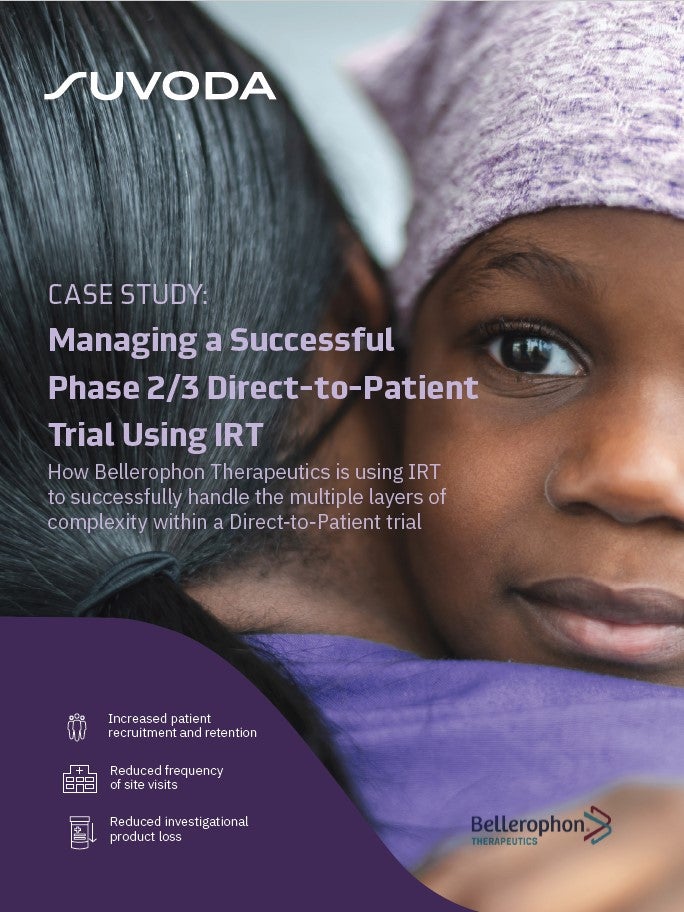 Direct-to-Patient Trials: How IRT Plays an Important Role in Bellerophon's Direct-to-Patient Trials
As the industry strengthens its focus on patient centricity, Direct-to-Patient clinical trials have emerged as a popular trial design that have the potential to increase patient recruitment and retention. IRT plays a crucial role in the success of a Direct-to-Patient trial. Because drug supplies are being managed and shipped from distribution facilities directly to patients' homes, a sponsor must have a high-quality system in place to accurately track the chain of custody, ensure patient-blinding and handle other logistical challenges. What You Will Learn Benefits and challenges associated with the Direct-to-Patient model Bellerophon's top considerations when implementing this trial design How IRT can equip study teams to successfully track chain of custody, ensure patient blinding, and handle logistical challenges
by Suvoda
Sponsored by the US National Institutes of Health (NIH), the placebo-controlled, randomised trial is analysing Zyesami as a monotherapy or in combination with remdesivir (Veklury) in hospitalised Covid-19 patients with acute respiratory failure.
These subjects also need high-flow additional oxygen offered through a nasal cannula, mechanical ventilation or extracorporeal membrane oxygenation.
On analysing data from 348 subjects as part of the third assessment, the Independent Data Safety Monitoring Board (DSMB) of the trial found no new safety issues and recommended the continuation of participant enrolment.
According to the trial leadership, the enrolment has remained stable and the increase in cases due to the Delta variant does not appear to be subsiding.
Most of the subjects enrolled in the trial are unvaccinated, the company noted, adding that the trial has a target enrolment of 640 patients.
The NIH anticipates enrolling the first participant in the trial in February next year.
NRx Pharmaceuticals chairman and CEO professor Jonathan Javitt said: "It is promising to see the number of patients in this study increase while the safety analysis by the NIH continues to show Zyesami is safe to administer to patients with critical Covid-19, who have no other therapeutic alternative.
"We now have safety data on more than 600 patients treated with Zyesami in the ICU or step-down unit, with no reports of unexpected, drug-related, serious adverse events."
This September, the company reported top-line data from a study where Zyesami boosted survival outcomes at one year in highly comorbid individuals with Covid-19.
Free Case Study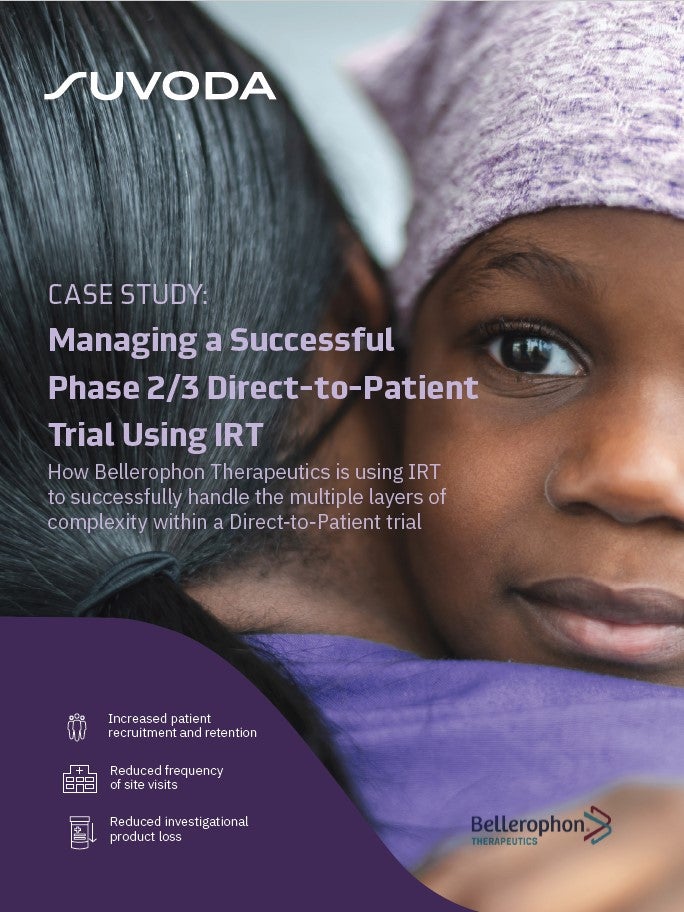 Direct-to-Patient Trials: How IRT Plays an Important Role in Bellerophon's Direct-to-Patient Trials
As the industry strengthens its focus on patient centricity, Direct-to-Patient clinical trials have emerged as a popular trial design that have the potential to increase patient recruitment and retention. IRT plays a crucial role in the success of a Direct-to-Patient trial. Because drug supplies are being managed and shipped from distribution facilities directly to patients' homes, a sponsor must have a high-quality system in place to accurately track the chain of custody, ensure patient-blinding and handle other logistical challenges. What You Will Learn Benefits and challenges associated with the Direct-to-Patient model Bellerophon's top considerations when implementing this trial design How IRT can equip study teams to successfully track chain of custody, ensure patient blinding, and handle logistical challenges
by Suvoda