Nuvalent has dosed the first subject in the Phase I/II ARROS-1 clinical trial of NVL-520 in individuals with advanced ROS1-positive non-small cell lung cancer (NSCLC) and various other advanced solid tumours.
Free Case Study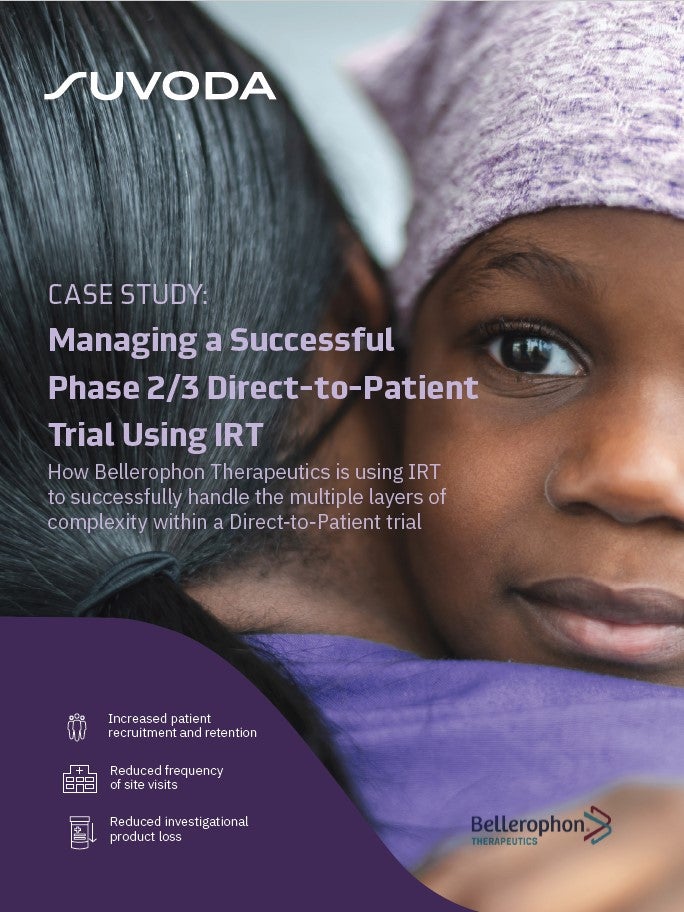 Direct-to-Patient Trials: How IRT Plays an Important Role in Bellerophon's Direct-to-Patient Trials
As the industry strengthens its focus on patient centricity, Direct-to-Patient clinical trials have emerged as a popular trial design that have the potential to increase patient recruitment and retention. IRT plays a crucial role in the success of a Direct-to-Patient trial. Because drug supplies are being managed and shipped from distribution facilities directly to patients' homes, a sponsor must have a high-quality system in place to accurately track the chain of custody, ensure patient-blinding and handle other logistical challenges. What You Will Learn Benefits and challenges associated with the Direct-to-Patient model Bellerophon's top considerations when implementing this trial design How IRT can equip study teams to successfully track chain of custody, ensure patient blinding, and handle logistical challenges
by Suvoda
NVL-520 is a brain-penetrant selective inhibitor of ROS1.
It can potentially address the clinical challenges of emergent therapy resistance, CNS adverse events and brain metastases that could restrict the usage of ROS1 kinase inhibitors presently available.
The open-label, multicentre, dose-escalation and expansion trial will assess NVL-520 as an oral single agent.
The study's Phase I dose-escalation segment is currently enrolling advanced ROS1-positive solid tumour patients who have earlier received a minimum of one prior ROS1 tyrosine kinase inhibitor (TKI) treatment.
Furthermore, this portion of the trial will analyse the overall tolerability and safety of NVL-520 and determine the recommended Phase II dose (RP2D) and assess initial anti-tumour activity and characterise the pharmacokinetic profile.
On selecting a safe and tolerable RP2D, the trial will convert directly to the Phase II multiple cohort expansion segment.
The Phase II segment will study the overall activity of the therapy in people with advanced solid tumours and advanced ROS1-positive NSCLC.
In addition, this portion will evaluate various arms of subjects based on the number and type of previous anti-cancer treatments they were given.
The company noted that the Phase II arms could aid in prospective registration in kinase inhibitor-naïve ROS1-positive NSCLC patients, as well as those who have already received ROS1 kinase inhibitors.
Nuvalent chief medical officer Christopher Turner said: "The initiation of patient dosing with NVL-520 in ARROS-1 is a significant milestone for Nuvalent as we transition from a preclinical to clinical-stage company.
"We are encouraged by the preclinical data generated to date, which provide evidence that NVL-520 represents a differentiated ROS1-selective inhibitor with the potential to overcome the limitations of current tyrosine kinase inhibitor therapies and provide a new therapeutic option for patients in need."
Apart from NVL-520, the company is progressing a strong pipeline, including NVL-655 development to treat ALK-positive NSCLC patients.
Last November, Calithera Biosciences announced the suspension of the Phase II KEAPSAKE trial of telaglenastat for stage IV non-squamous NSCLC due to a lack of clinical benefit.
Free Case Study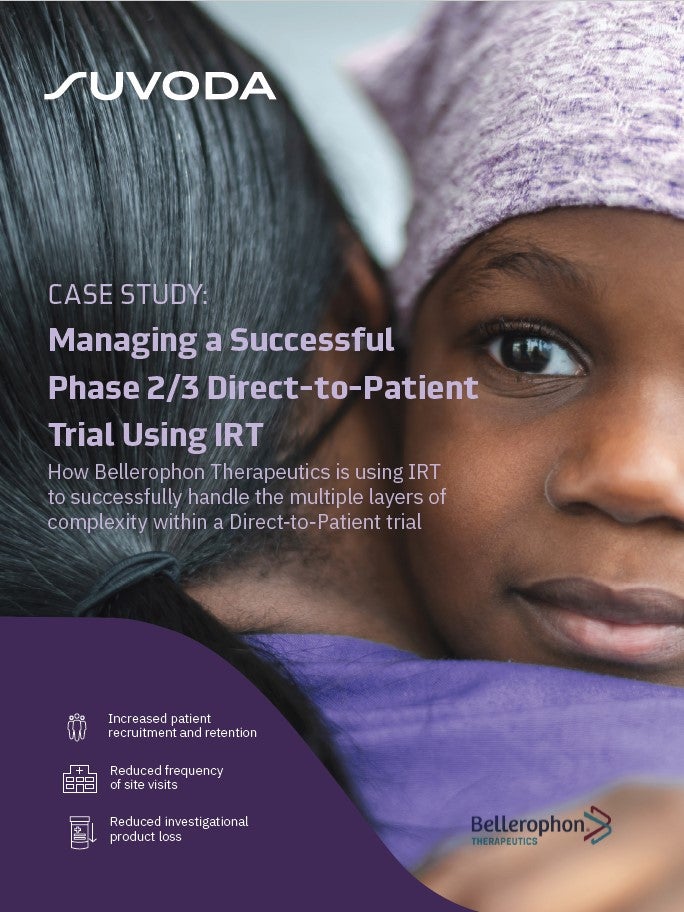 Direct-to-Patient Trials: How IRT Plays an Important Role in Bellerophon's Direct-to-Patient Trials
As the industry strengthens its focus on patient centricity, Direct-to-Patient clinical trials have emerged as a popular trial design that have the potential to increase patient recruitment and retention. IRT plays a crucial role in the success of a Direct-to-Patient trial. Because drug supplies are being managed and shipped from distribution facilities directly to patients' homes, a sponsor must have a high-quality system in place to accurately track the chain of custody, ensure patient-blinding and handle other logistical challenges. What You Will Learn Benefits and challenges associated with the Direct-to-Patient model Bellerophon's top considerations when implementing this trial design How IRT can equip study teams to successfully track chain of custody, ensure patient blinding, and handle logistical challenges
by Suvoda