Nuvectis Pharma has commenced the Phase I clinical trial of an oral drug candidate, NXP800, in subjects with advanced cancers.
Free Case Study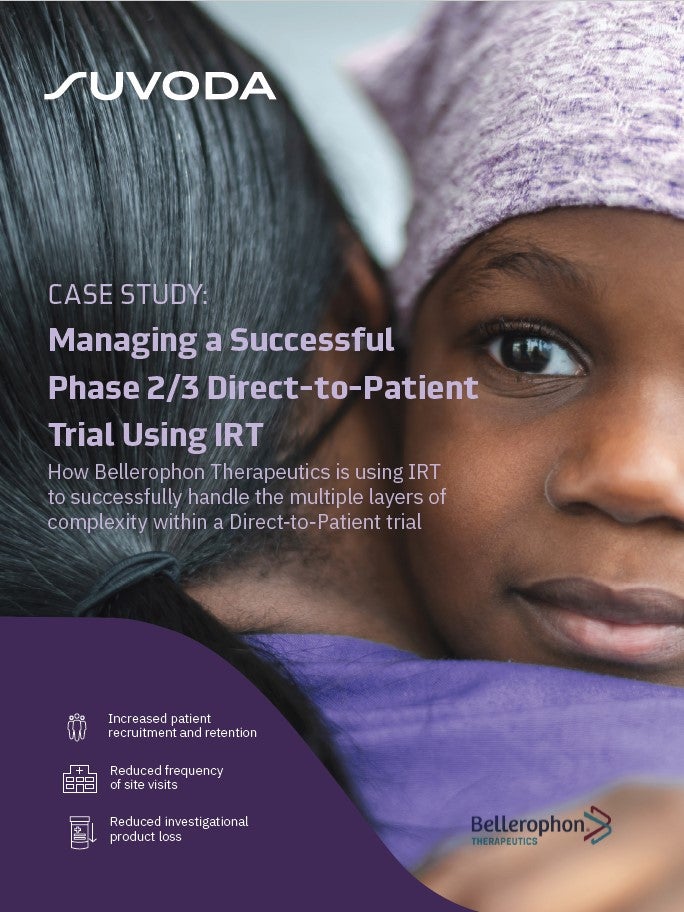 Direct-to-Patient Trials: How IRT Plays an Important Role in Bellerophon's Direct-to-Patient Trials
As the industry strengthens its focus on patient centricity, Direct-to-Patient clinical trials have emerged as a popular trial design that have the potential to increase patient recruitment and retention. IRT plays a crucial role in the success of a Direct-to-Patient trial. Because drug supplies are being managed and shipped from distribution facilities directly to patients' homes, a sponsor must have a high-quality system in place to accurately track the chain of custody, ensure patient-blinding and handle other logistical challenges. What You Will Learn Benefits and challenges associated with the Direct-to-Patient model Bellerophon's top considerations when implementing this trial design How IRT can equip study teams to successfully track chain of custody, ensure patient blinding, and handle logistical challenges
by Suvoda
An inhibitor of pathway regulatory by heat shock factor 1 (HSF1) transcription factor, the drug candidate was discovered at The Institute of Cancer Research (ICR), London in the UK.
Nuvectis licenced the exclusive global rights for drug development and marketing from oncology investment fund, CRT Pioneer Fund.
The Nuvectis-sponsored trial plans to dose the first subjects with the novel drug soon.
It will have two parts, a Phase Ia dose-escalation portion and a Phase Ib dose-expansion segment.
Phase Ia part will assess the safety and tolerability of NXP800 in advanced solid tumour patients to detect a dose and dosing regimen for Phase Ib.
In the Phase Ib segment, the safety and anti-tumour activity of the drug will be analysed in biomarker-selected subjects, in clear cell ovarian cancer in the initial stage and endometrioid ovarian carcinoma.
The company plans to carry out Phase Ia trial in the UK while Phase Ib will be conducted in the US and the UK.
Furthermore, an ICR team will evaluate the molecular effects of NXP800 and its processing by the body. Biomarkers assessed in this approach will generate a 'pharmacological audit trail' of the behaviour of the oral drug.
ICR London chief executive professor Kristian Helin said: "We're delighted to see this innovative inhibitor of HSF1 signalling enter its first clinical trial.
"NXP800 is the 12th ICR-discovered drug we've taken into clinical trials for cancer patients since 2005, in collaboration with industrial partners like Nuvectis."
In August last year, ICR and Nuvectis announced plans to start a Phase I trial of NXP800 in individuals with advanced cancer.
Free Case Study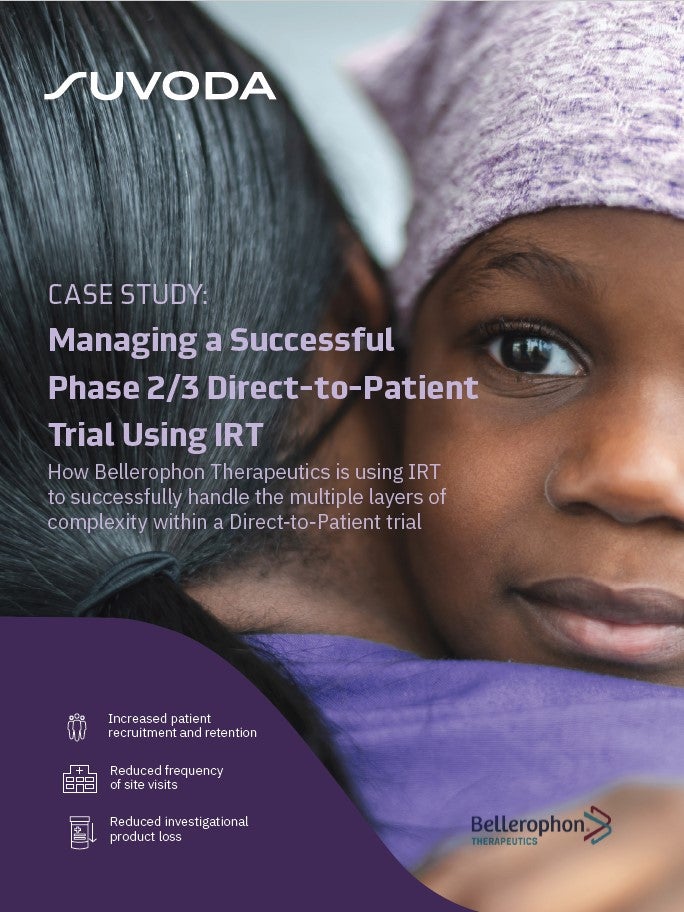 Direct-to-Patient Trials: How IRT Plays an Important Role in Bellerophon's Direct-to-Patient Trials
As the industry strengthens its focus on patient centricity, Direct-to-Patient clinical trials have emerged as a popular trial design that have the potential to increase patient recruitment and retention. IRT plays a crucial role in the success of a Direct-to-Patient trial. Because drug supplies are being managed and shipped from distribution facilities directly to patients' homes, a sponsor must have a high-quality system in place to accurately track the chain of custody, ensure patient-blinding and handle other logistical challenges. What You Will Learn Benefits and challenges associated with the Direct-to-Patient model Bellerophon's top considerations when implementing this trial design How IRT can equip study teams to successfully track chain of custody, ensure patient blinding, and handle logistical challenges
by Suvoda