Nykode Therapeutics has concluded the subject enrolment in the Phase II VB C-02 clinical trial of its cancer vaccine candidate, VB10.16, plus atezolizumab to treat advanced cervical cancer.
Free Case Study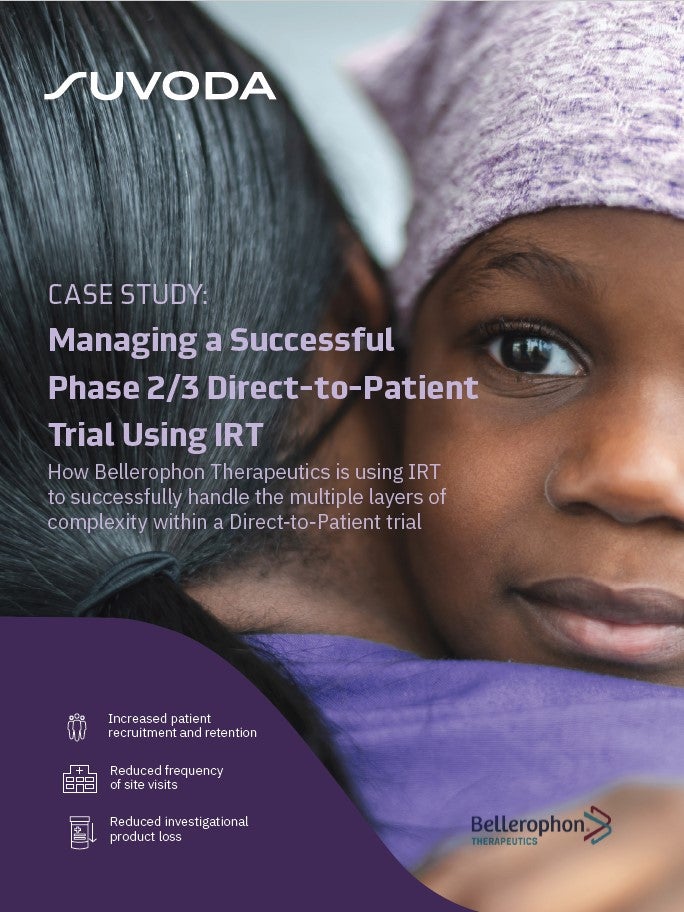 Direct-to-Patient Trials: How IRT Plays an Important Role in Bellerophon's Direct-to-Patient Trials
As the industry strengthens its focus on patient centricity, Direct-to-Patient clinical trials have emerged as a popular trial design that have the potential to increase patient recruitment and retention. IRT plays a crucial role in the success of a Direct-to-Patient trial. Because drug supplies are being managed and shipped from distribution facilities directly to patients' homes, a sponsor must have a high-quality system in place to accurately track the chain of custody, ensure patient-blinding and handle other logistical challenges. What You Will Learn Benefits and challenges associated with the Direct-to-Patient model Bellerophon's top considerations when implementing this trial design How IRT can equip study teams to successfully track chain of custody, ensure patient blinding, and handle logistical challenges
by Suvoda
Interim efficacy and safety results from the trial are anticipated in the first half of this year.
An off-the-shelf therapeutic HPV16 cancer vaccine, VB10.16 can potentially elicit robust human papillomavirus 16 (HPV16)-specific T cell responses to treat cancers that are positive for HPV16.
Atezolizumab is a checkpoint inhibitor of Roche.
The multicentre, open-label trial enrolled advanced or recurrent, non-resectable HPV16-positive cervical cancer patients.
Nealy 20 study centres have enrolled 50 participants in six European countries as part of the trial.
Earlier, the company had reported positive interim safety results from this trial.
Nykode Therapeutics CEO Michael Engsig said: "After successfully enrolling 50 patients across trial sites in six countries, we look forward to reporting interim efficacy and safety data from the first patients in the first half of 2022.
"In parallel, we are exploring the possibility of evaluating VB10.16 in other HPV-driven cancers, including head and neck cancer."
Apart from the VB10.16 vaccine, the company has a cancer neoantigen vaccine, VB10.NEO.
Licensed exclusively to Genentech, VB10.NEO is currently being analysed in Phase Ib trial to treat locally advanced and metastatic tumours, as well as a Phase I/IIa trial to treat melanoma, lung, head and neck, renal and bladder cancers. 
Nykode commenced a Phase I/II trial of its two Covid-19 vaccine candidates last year.
Last December, the company dosed the first subject in Phase I/II VB-D-01 trial of its T cell-specific Covid-19 vaccine candidate in unvaccinated individuals.
Free Case Study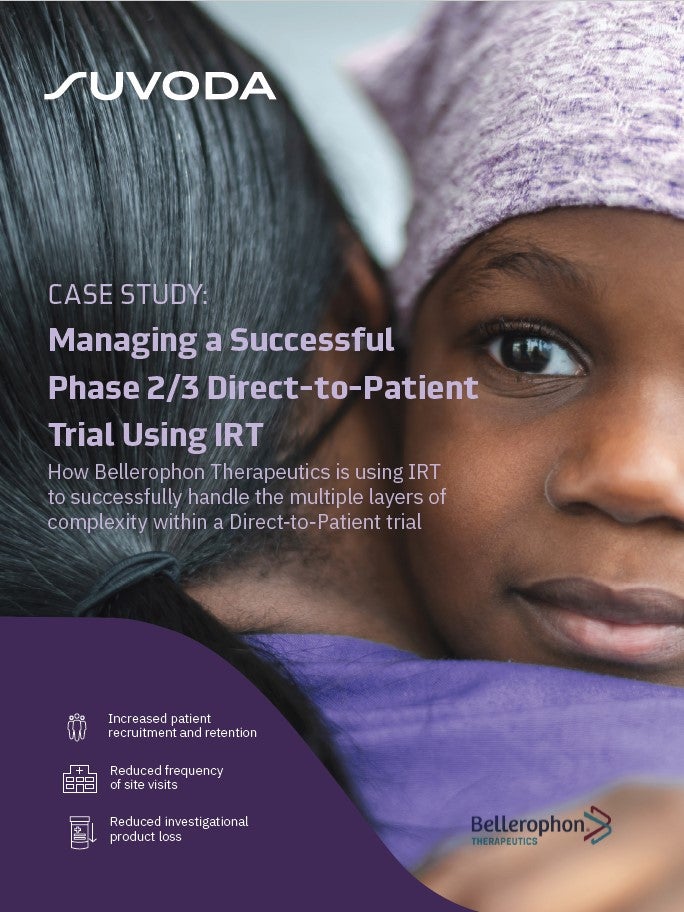 Direct-to-Patient Trials: How IRT Plays an Important Role in Bellerophon's Direct-to-Patient Trials
As the industry strengthens its focus on patient centricity, Direct-to-Patient clinical trials have emerged as a popular trial design that have the potential to increase patient recruitment and retention. IRT plays a crucial role in the success of a Direct-to-Patient trial. Because drug supplies are being managed and shipped from distribution facilities directly to patients' homes, a sponsor must have a high-quality system in place to accurately track the chain of custody, ensure patient-blinding and handle other logistical challenges. What You Will Learn Benefits and challenges associated with the Direct-to-Patient model Bellerophon's top considerations when implementing this trial design How IRT can equip study teams to successfully track chain of custody, ensure patient blinding, and handle logistical challenges
by Suvoda