ObvioHealth is to launch a decentralised clinical trial to evaluate Anatara Lifesciences ' Gastrointestinal ReProgramming (GaRP) product in Australia.
Free Case Study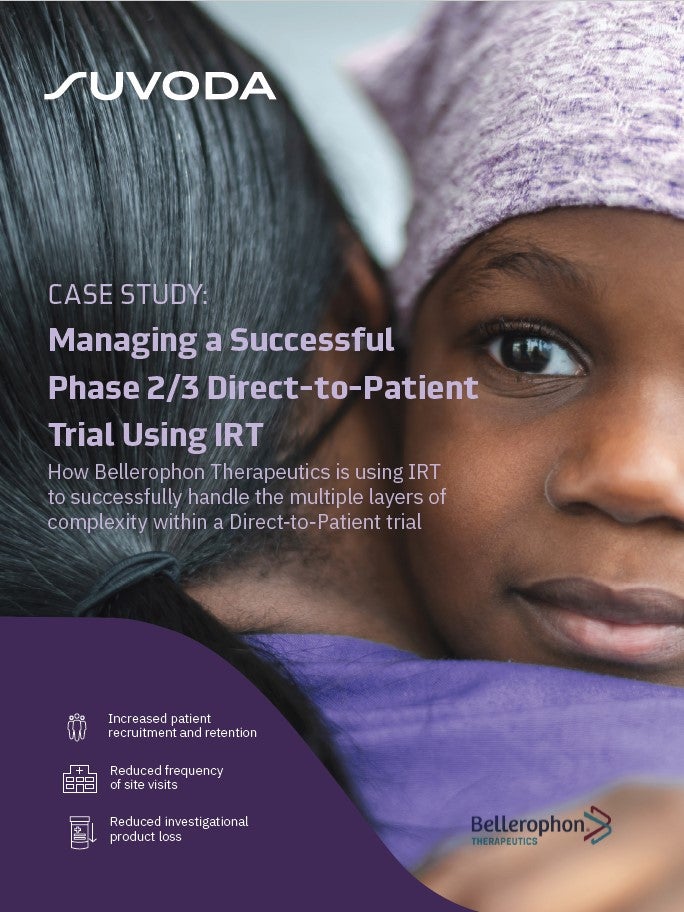 Direct-to-Patient Trials: How IRT Plays an Important Role in Bellerophon's Direct-to-Patient Trials
As the industry strengthens its focus on patient centricity, Direct-to-Patient clinical trials have emerged as a popular trial design that have the potential to increase patient recruitment and retention. IRT plays a crucial role in the success of a Direct-to-Patient trial. Because drug supplies are being managed and shipped from distribution facilities directly to patients' homes, a sponsor must have a high-quality system in place to accurately track the chain of custody, ensure patient-blinding and handle other logistical challenges. What You Will Learn Benefits and challenges associated with the Direct-to-Patient model Bellerophon's top considerations when implementing this trial design How IRT can equip study teams to successfully track chain of custody, ensure patient blinding, and handle logistical challenges
by Suvoda
The trial will evaluate the safety and efficacy of the product for participants with irritable bowel syndrome–diarrhoea (IBS-D) subtype.
GaRP is a microbiome-targeted multi-component complementary medicine, which aims to address the underlying factors related to chronic gastrointestinal conditions that include irritable bowel syndrome (IBS) and inflammatory bowel disease (IBD).
The randomised, double-blind, placebo-controlled trial will use a combination of in-home data collection methods, which will reduce or eliminate the need for follow-up visits to clinics.
Patients will use ObvioHealth's easy-to-use smartphone application to report the severity of IBS-D symptoms, as well as the anticipated relief, quality of life, treatment adherence and changes in health status.
The ObvioHealth platform will gather all the data from the application and allow the research team to monitor the changes in real-time and quickly detect possible adverse events, as well as issues with protocol adherence.
Anatara Lifesciences CEO Steve Lydeamore said: "IBS impacts around one in five Australians at some point in their life with no current definitive cure.
"It is anticipated that GaRP's mechanism of action will relieve symptoms of IBS-D by reducing inflammation and assisting repair of the gut lining, positively influencing the homeostasis and metabolites of the microbiome."
During the clinical trial, a study nurse will pay in-home visits to measure vitals and collect samples.
The use of ObvioHealth's technology helps in virtual data collection and supports enrolment for the study anywhere in Australia and diversifying the study population.
In March, ObvioHealth announced the launch of a Phase II/III study of RedHill Biopharma's RHB-107 (upamostat) in the US for the treatment of Covid-19.
Free Case Study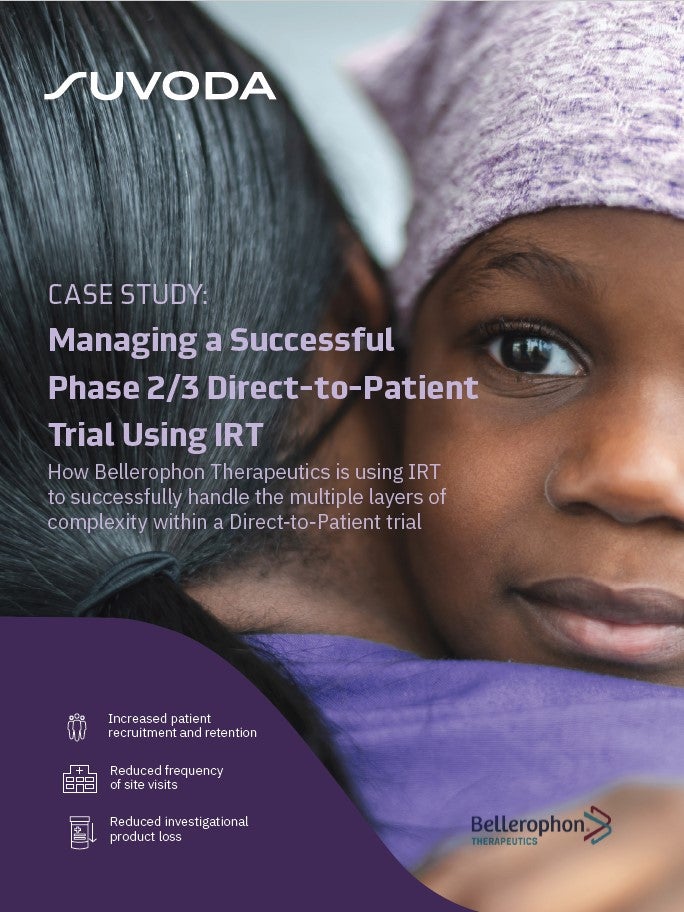 Direct-to-Patient Trials: How IRT Plays an Important Role in Bellerophon's Direct-to-Patient Trials
As the industry strengthens its focus on patient centricity, Direct-to-Patient clinical trials have emerged as a popular trial design that have the potential to increase patient recruitment and retention. IRT plays a crucial role in the success of a Direct-to-Patient trial. Because drug supplies are being managed and shipped from distribution facilities directly to patients' homes, a sponsor must have a high-quality system in place to accurately track the chain of custody, ensure patient-blinding and handle other logistical challenges. What You Will Learn Benefits and challenges associated with the Direct-to-Patient model Bellerophon's top considerations when implementing this trial design How IRT can equip study teams to successfully track chain of custody, ensure patient blinding, and handle logistical challenges
by Suvoda