Octapharma USA has secured regulatory approval to conduct a Phase III clinical trial of Octagam 10% for the potential treatment of Covid-19 patients with severe disease progression.
Free Case Study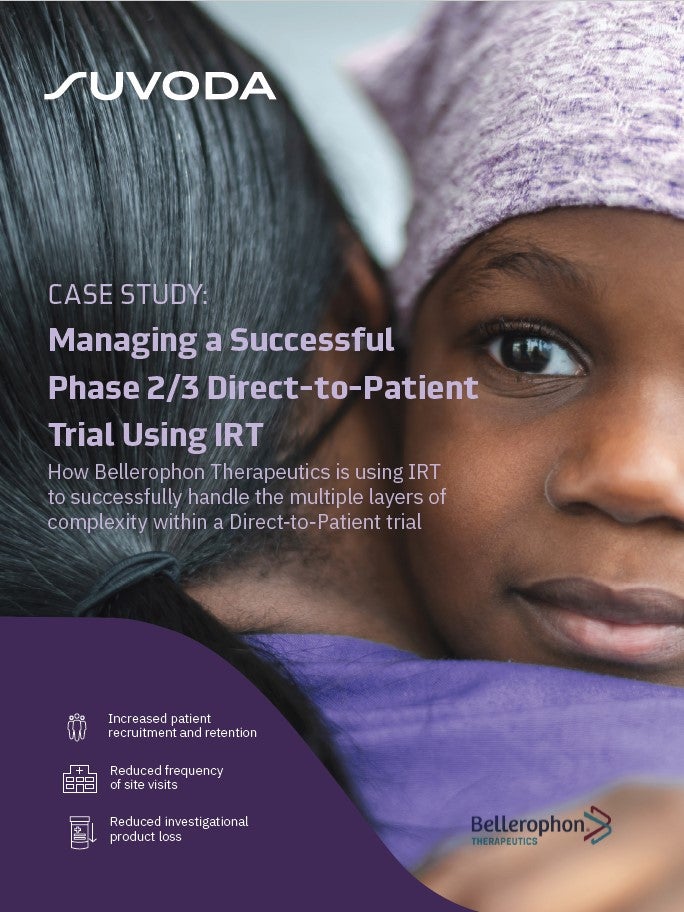 Direct-to-Patient Trials: How IRT Plays an Important Role in Bellerophon's Direct-to-Patient Trials
As the industry strengthens its focus on patient centricity, Direct-to-Patient clinical trials have emerged as a popular trial design that have the potential to increase patient recruitment and retention. IRT plays a crucial role in the success of a Direct-to-Patient trial. Because drug supplies are being managed and shipped from distribution facilities directly to patients' homes, a sponsor must have a high-quality system in place to accurately track the chain of custody, ensure patient-blinding and handle other logistical challenges. What You Will Learn Benefits and challenges associated with the Direct-to-Patient model Bellerophon's top considerations when implementing this trial design How IRT can equip study teams to successfully track chain of custody, ensure patient blinding, and handle logistical challenges
by Suvoda
Octagam 10% is an immune globulin intravenous (human) liquid preparation intended to treat adults with chronic immune thrombocytopenic purpura (ITP).
The randomised, double-blind, placebo-controlled, multi-centre trial will assess the safety and efficacy of the drug. The primary objective is to investigate the ability of a high-dose of Octagam 10% to slow or stop respiratory deterioration.
The trial's secondary objectives are the effects of a high-dose of the drug on slowing or halting Covid-19 clinical progression by improving pulmonary function, quality of life, and correlated impact on metabolic factors.
Octapharma USA president Flemming Nielsen said: "Intravenous immunoglobulin (IVIG), which consists of pooled IgG preparations from thousands of donors, has been used to treat patients with immune-mediated diseases for almost 40 years.
"Our hypothesis is that the use of IVIG in the prophylaxis of severe infections, especially in immunocompromised patients, makes it an attractive therapeutic possibility for Covid-19."
The plan is to commence the trial immediately at around ten US research sites. The aim is to recruit approximately 54 adults with Covid-19 and a resting SpO2 of ≤93% who need oxygen supplementation.
Participants will be given Octagam 10% or a placebo and will be tracked for around 33 days. Patients on the drug candidate will receive a total dose of 2g/kg as an intravenous infusion of 0.5g/kg daily for four consecutive days.
Octapharma Research & Development head Wolfgang Frenzel said: "The effects of the immune-modulating properties of IVIG in severely-ill Covid-19 patients appeared to be demonstrated in the case reports and we are, therefore, hopeful that we will observe improved clinical status in the patients receiving Octagam 10%."
Data from the trial is expected to be reported by the third quarter of this year.
Free Case Study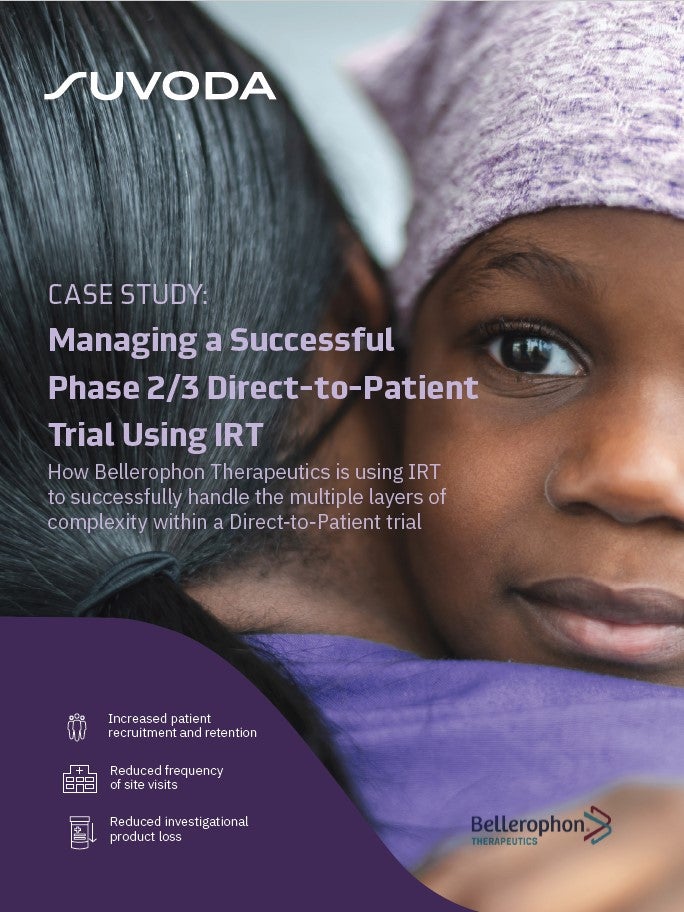 Direct-to-Patient Trials: How IRT Plays an Important Role in Bellerophon's Direct-to-Patient Trials
As the industry strengthens its focus on patient centricity, Direct-to-Patient clinical trials have emerged as a popular trial design that have the potential to increase patient recruitment and retention. IRT plays a crucial role in the success of a Direct-to-Patient trial. Because drug supplies are being managed and shipped from distribution facilities directly to patients' homes, a sponsor must have a high-quality system in place to accurately track the chain of custody, ensure patient-blinding and handle other logistical challenges. What You Will Learn Benefits and challenges associated with the Direct-to-Patient model Bellerophon's top considerations when implementing this trial design How IRT can equip study teams to successfully track chain of custody, ensure patient blinding, and handle logistical challenges
by Suvoda