Bharat Biotech's partner Ocugen has submitted an investigational new drug (IND) application to the US Food and Drug Administration (FDA) seeking approval to start the Phase III clinical trial of Covid-19 vaccine candidate, BBV152.
Free Case Study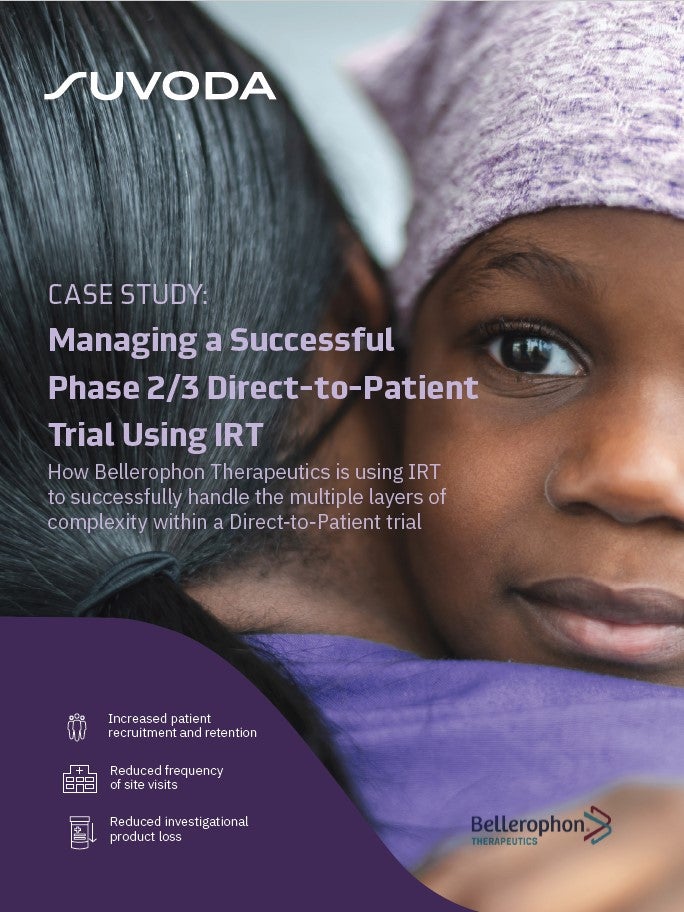 Direct-to-Patient Trials: How IRT Plays an Important Role in Bellerophon's Direct-to-Patient Trials
As the industry strengthens its focus on patient centricity, Direct-to-Patient clinical trials have emerged as a popular trial design that have the potential to increase patient recruitment and retention. IRT plays a crucial role in the success of a Direct-to-Patient trial. Because drug supplies are being managed and shipped from distribution facilities directly to patients' homes, a sponsor must have a high-quality system in place to accurately track the chain of custody, ensure patient-blinding and handle other logistical challenges. What You Will Learn Benefits and challenges associated with the Direct-to-Patient model Bellerophon's top considerations when implementing this trial design How IRT can equip study teams to successfully track chain of custody, ensure patient blinding, and handle logistical challenges
by Suvoda
BBV152 is known as Covaxin outside the US.
Developed by Bharat Biotech in partnership with the Indian Council of Medical Research – National Institute of Virology, Covaxin is a whole-virion inactivated Covid-19 experimental vaccine.
The proposed trial will analyse if the immune response in subjects enrolled in a concluded Phase III efficacy trial in India is comparable to that seen in demographically diverse, healthy adult participants in the US.
These US subjects should have either not been inoculated with the Covid-19 vaccine or have received two doses of a messenger ribonucleic acid (mRNA) shot at least six months previously.
On obtaining the FDA approval, Ocugen's Phase III OCU-002 trial plans to recruit hundreds of healthy adult subjects in the US.
These participants will be categorised to receive either two Covaxin doses or a placebo administered at a gap of 28 days.
The primary goal of the trial is to assess blood-based samples obtained from the US subjects who received the vaccine versus samples of those enrolled in the Phase III efficacy trial in India.
Testing the immunogenic profile of Covaxin will be the secondary goal.
Furthermore, the safety and tolerability of the shot in the US participants will be analysed in the trial.
The company plans to conclude the trial during the first half of next year.
Ocugen co-founder, CEO and board chairman Dr Shankar Musunuri said: "We are very excited to take this next step in the development of Covaxin, which we hope will bring us closer to introducing a different type of Covid-19 vaccine to the American public.
"We are hopeful that the study conducted under the IND, if allowed to proceed, will help demonstrate that the data from India will be applicable to the US population."
According to findings from the Phase III Indian trial, which enrolled 25,798 subjects, the vaccine demonstrated an efficacy of 93.4% against severe Covid-19.
Covaxin was 77.8% and 63.6% effective against symptomatic and asymptomatic Covid-19, respectively.
Free Case Study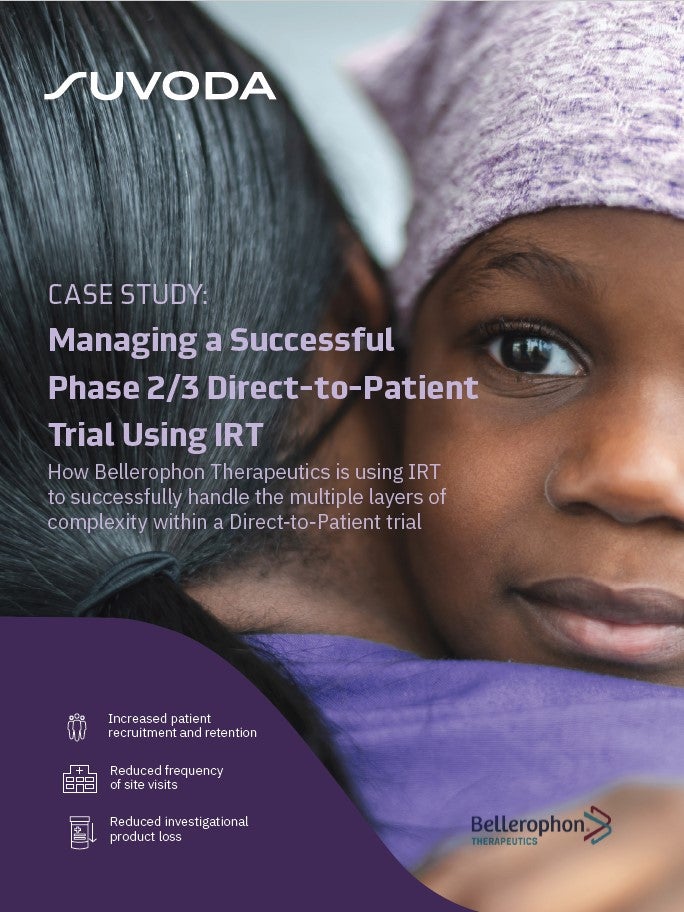 Direct-to-Patient Trials: How IRT Plays an Important Role in Bellerophon's Direct-to-Patient Trials
As the industry strengthens its focus on patient centricity, Direct-to-Patient clinical trials have emerged as a popular trial design that have the potential to increase patient recruitment and retention. IRT plays a crucial role in the success of a Direct-to-Patient trial. Because drug supplies are being managed and shipped from distribution facilities directly to patients' homes, a sponsor must have a high-quality system in place to accurately track the chain of custody, ensure patient-blinding and handle other logistical challenges. What You Will Learn Benefits and challenges associated with the Direct-to-Patient model Bellerophon's top considerations when implementing this trial design How IRT can equip study teams to successfully track chain of custody, ensure patient blinding, and handle logistical challenges
by Suvoda