OncoImmune has reported that Saccovid reduced the risk of death and aided faster recovery in patients with severe or critical Covid-19 in Phase III SAC-COVID trial.
Free Case Study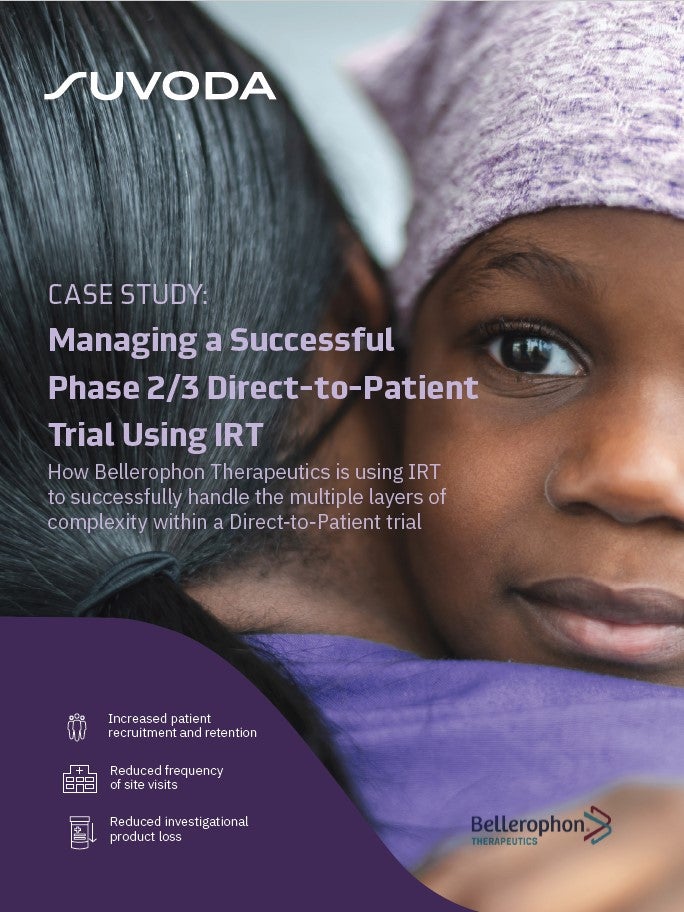 Direct-to-Patient Trials: How IRT Plays an Important Role in Bellerophon's Direct-to-Patient Trials
As the industry strengthens its focus on patient centricity, Direct-to-Patient clinical trials have emerged as a popular trial design that have the potential to increase patient recruitment and retention. IRT plays a crucial role in the success of a Direct-to-Patient trial. Because drug supplies are being managed and shipped from distribution facilities directly to patients' homes, a sponsor must have a high-quality system in place to accurately track the chain of custody, ensure patient-blinding and handle other logistical challenges. What You Will Learn Benefits and challenges associated with the Direct-to-Patient model Bellerophon's top considerations when implementing this trial design How IRT can equip study teams to successfully track chain of custody, ensure patient blinding, and handle logistical challenges
by Suvoda
Saccovid (known as CD24Fc) is an immunomodulator candidate that targets the innate immune system.
The randomised, placebo-controlled and blinded Phase III study was planned to be conducted in 270 Covid-19 patients, but results were obtained with 203 enrolments, OncoImmune said.
Patient recruitment for the trial has concluded and interim efficacy and safety analyses were carried out upon clinical recovery in 146 participants.
In April, the US Food and Drug Administration (FDA) granted approval to conduct the Phase III trial of CD24Fc in 15 centres across the US.
The patients who needed supplemental oxygen, high flow oxygen and non-invasive ventilation were randomly given either standard of care (SOC) plus a single dose of Saccovid or SOC plus placebo.
Data showed that out of 203 participants hospitalised with Covid-19, those who received Saccovid recovered faster and had reduced disease progression to death or respiratory failure by more than 50% versus those on placebo.
The trial included other investigational drug candidates, such as Remdesivir and corticosteroids, including dexamethasone.
According to the results, patients on Saccovid plus Remdesivir recovered seven days earlier than those on Remdesivir and placebo, with the median time to recovery at six days and 13 days, respectively.
Subjects on Saccovidplus corticosteroids recovered ten days earlier than those treated with corticosteroids and placebo. The median time to recovery in this trial population was five days versus 15 days.
OncoImmune co-founder and chief medical officer Dr Pan Zheng said: "The results indicate that patients who received Saccovid had a 60% better chance to achieve clinical recovery than those who received placebo.
"The median time to recovery was six days for patients treated with Saccovid compared with ten days in the placebo group. In addition, the risk of death or respiratory failure is reduced by more than 50%."
The Phase III trial is partially supported by a grant from the National Cancer Institute.
Free Case Study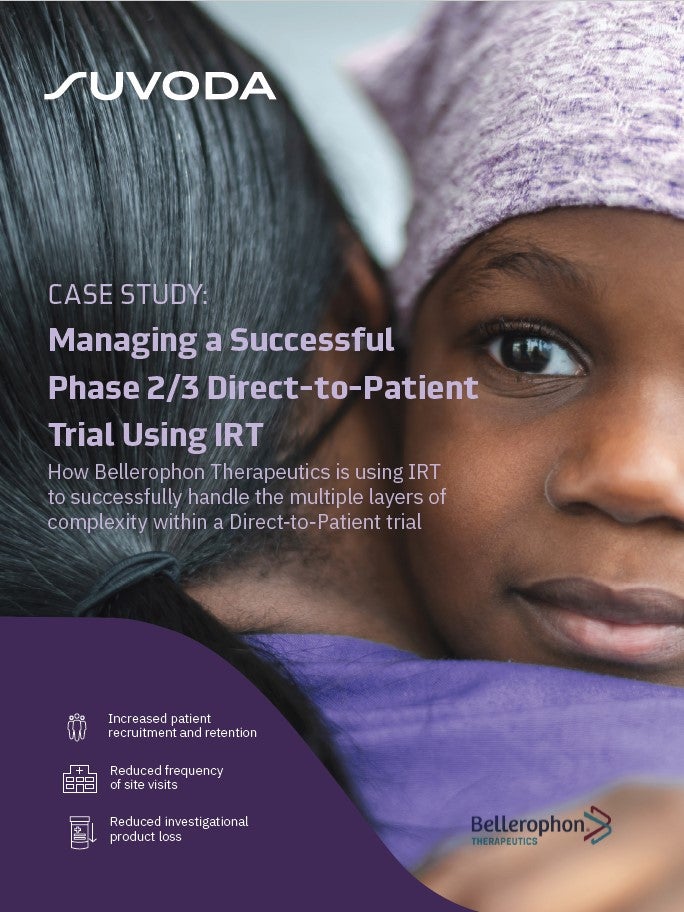 Direct-to-Patient Trials: How IRT Plays an Important Role in Bellerophon's Direct-to-Patient Trials
As the industry strengthens its focus on patient centricity, Direct-to-Patient clinical trials have emerged as a popular trial design that have the potential to increase patient recruitment and retention. IRT plays a crucial role in the success of a Direct-to-Patient trial. Because drug supplies are being managed and shipped from distribution facilities directly to patients' homes, a sponsor must have a high-quality system in place to accurately track the chain of custody, ensure patient-blinding and handle other logistical challenges. What You Will Learn Benefits and challenges associated with the Direct-to-Patient model Bellerophon's top considerations when implementing this trial design How IRT can equip study teams to successfully track chain of custody, ensure patient blinding, and handle logistical challenges
by Suvoda