Oragenics has resumed its Phase ll clinical trial of AG013 for the treatment of oral mucositis (OM), after a positive review carried out by the trial's independent Data Safety Monitoring Board (DSMB).
Free Case Study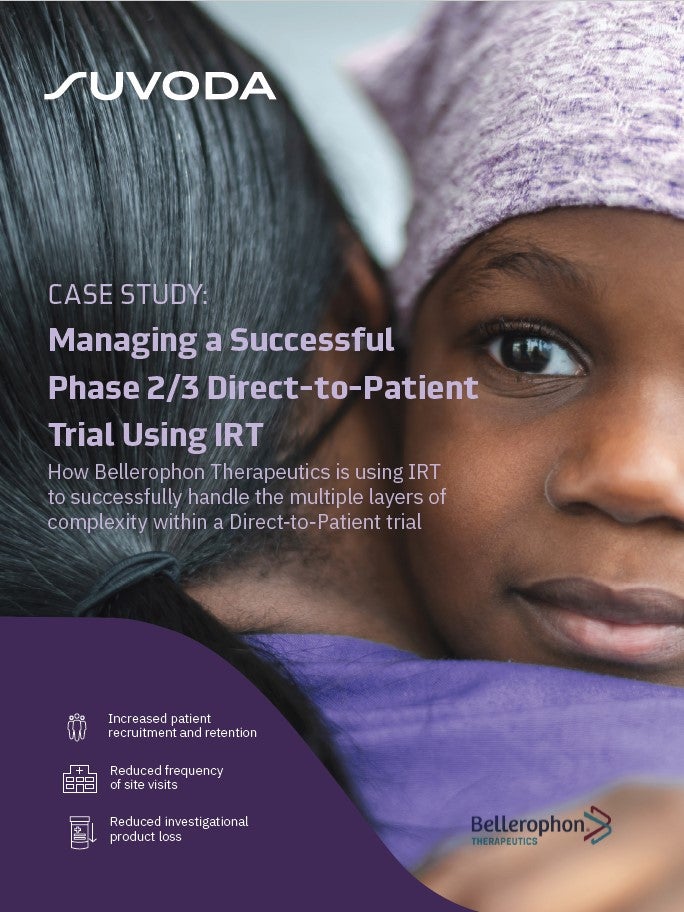 Direct-to-Patient Trials: How IRT Plays an Important Role in Bellerophon's Direct-to-Patient Trials
As the industry strengthens its focus on patient centricity, Direct-to-Patient clinical trials have emerged as a popular trial design that have the potential to increase patient recruitment and retention. IRT plays a crucial role in the success of a Direct-to-Patient trial. Because drug supplies are being managed and shipped from distribution facilities directly to patients' homes, a sponsor must have a high-quality system in place to accurately track the chain of custody, ensure patient-blinding and handle other logistical challenges. What You Will Learn Benefits and challenges associated with the Direct-to-Patient model Bellerophon's top considerations when implementing this trial design How IRT can equip study teams to successfully track chain of custody, ensure patient blinding, and handle logistical challenges
by Suvoda
The review follows the positive interim safety analysis results, which were based on the first 19 patients of the trial and revealed in May this year.
The patients were examined on the basis of treatment-emergent adverse events, vital signs, weight, physical examination, clinical laboratory assessment, as well as the potential presence of AG013 in blood.
Various tolerability measures such as taste, consistency and smell were gathered from patient diaries.
After the positive review, the independent DSMB recommended the trial to proceed with no necessary changes.
"With our reinforced cash position, we look forward to completing the trial next year while concurrently advancing our lantibiotic programme."
Oragenics president and CEO Alan Joslyn said: "Based on the DSMB's positive review, and using funds recently raised through a public offering, we are now expanding our Phase ll trial to up to 45 additional centres in the US and EU in order to rapidly accelerate patient enrolment.
"With our reinforced cash position, we look forward to completing the trial next year while concurrently advancing our lantibiotic programme."
The ongoing Phase ll trial is a double-blind, placebo-controlled, two-arm, multi-centre trial that intends to enrol around 200 patients.
During the course of the trial, the patients will be randomised in a 1:1 ratio to receive either AG013 or placebo.
The trial's objective is to evaluate the safety, tolerability and efficacy of topically administered AG013 compared to placebo for minimising the incidence and severity of OM in patients undergoing traditional chemoradiation for the treatment of head and neck cancer.
Key measures of the trial comprise duration, time to development, and overall incidence of OM as per the World Health Organization scale throughout the active treatment phase, which begins from the start of chemoradiation until two weeks following its completion.
Free Case Study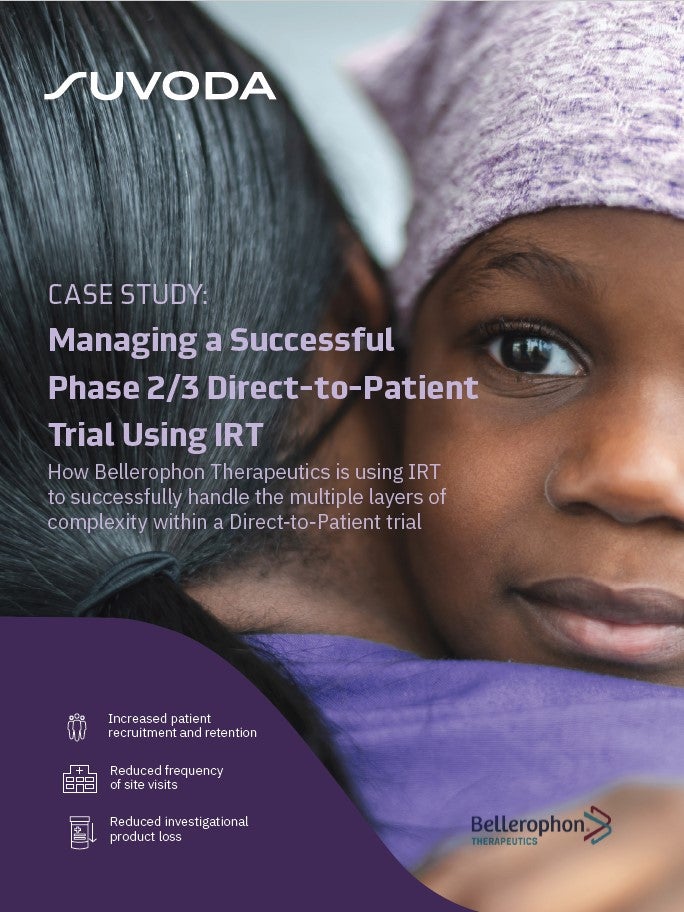 Direct-to-Patient Trials: How IRT Plays an Important Role in Bellerophon's Direct-to-Patient Trials
As the industry strengthens its focus on patient centricity, Direct-to-Patient clinical trials have emerged as a popular trial design that have the potential to increase patient recruitment and retention. IRT plays a crucial role in the success of a Direct-to-Patient trial. Because drug supplies are being managed and shipped from distribution facilities directly to patients' homes, a sponsor must have a high-quality system in place to accurately track the chain of custody, ensure patient-blinding and handle other logistical challenges. What You Will Learn Benefits and challenges associated with the Direct-to-Patient model Bellerophon's top considerations when implementing this trial design How IRT can equip study teams to successfully track chain of custody, ensure patient blinding, and handle logistical challenges
by Suvoda