Oregon Oncology Specialists has signed a strategic collaboration to integrate a Deep Lens' artificial-intelligence (AI)-based clinical trial screening platform to expand patient access to clinical trials.
Free Case Study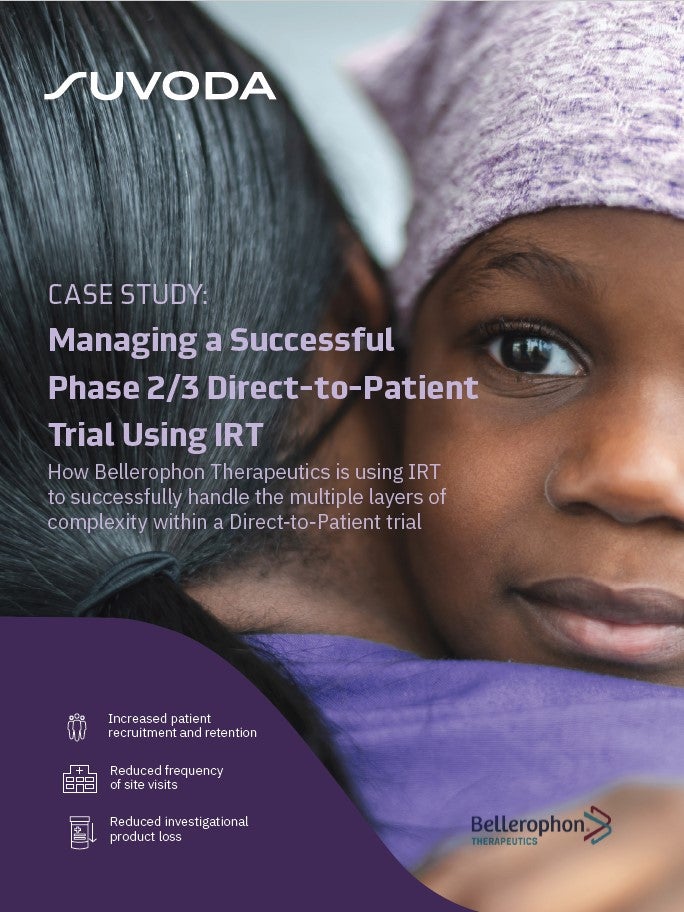 Direct-to-Patient Trials: How IRT Plays an Important Role in Bellerophon's Direct-to-Patient Trials
As the industry strengthens its focus on patient centricity, Direct-to-Patient clinical trials have emerged as a popular trial design that have the potential to increase patient recruitment and retention. IRT plays a crucial role in the success of a Direct-to-Patient trial. Because drug supplies are being managed and shipped from distribution facilities directly to patients' homes, a sponsor must have a high-quality system in place to accurately track the chain of custody, ensure patient-blinding and handle other logistical challenges. What You Will Learn Benefits and challenges associated with the Direct-to-Patient model Bellerophon's top considerations when implementing this trial design How IRT can equip study teams to successfully track chain of custody, ensure patient blinding, and handle logistical challenges
by Suvoda
Under the partnership, Oregon Oncology will integrate VIPER into its community oncology practice network.
The platform will be integrated directly to Oregon Oncology Specialists EMR (iKnowMed), molecular data feeds (Guardant Health and Foundation Medicine), and pathology feeds for the automatic identification of qualified patients for clinical trials.
Using Cloud-based technology, VIPER can facilitate, triage and accelerate the clinical trial recruitment process. The technology will ensure identification of eligible patients quickly in the clinical trial enrolment process.
Oregon Oncology Specialists research medical director Janelle Meyer said: "Recent innovations in the development of cancer therapies have largely been guided by the increase in knowledge about the way specific tumour types manifest themselves in different people based on unique genetic characteristics.
"We are confident that the integration of VIPER will not only help strengthen our clinical trial offerings to patients, but it will also ensure that we are matching patients in real-time to trials for which they are appropriate."
Estimates show that more than 15,000 oncology clinical trials are actively recruiting patients, however, their participation is often as low as 3%.
Deep Lens chief revenue officer Greg Andreola said: "The staff at Oregon Oncology Specialists has an excellent track record of adopting the newest, most current technologies and treatment options for their patient community.
"VIPER's automated and comprehensive 'matchmaking' process will significantly expand the clinical trial programme for Oregon patients and ensure that the right patients are being matched to the right trials in real-time, based on their specific diagnosis and needs."
Free Case Study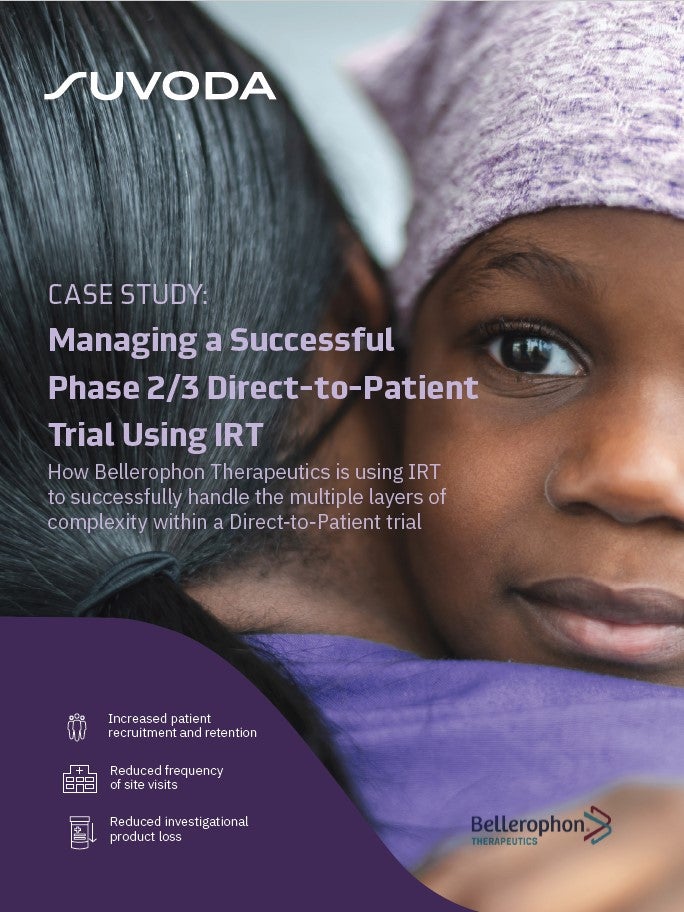 Direct-to-Patient Trials: How IRT Plays an Important Role in Bellerophon's Direct-to-Patient Trials
As the industry strengthens its focus on patient centricity, Direct-to-Patient clinical trials have emerged as a popular trial design that have the potential to increase patient recruitment and retention. IRT plays a crucial role in the success of a Direct-to-Patient trial. Because drug supplies are being managed and shipped from distribution facilities directly to patients' homes, a sponsor must have a high-quality system in place to accurately track the chain of custody, ensure patient-blinding and handle other logistical challenges. What You Will Learn Benefits and challenges associated with the Direct-to-Patient model Bellerophon's top considerations when implementing this trial design How IRT can equip study teams to successfully track chain of custody, ensure patient blinding, and handle logistical challenges
by Suvoda