Organicell Regenerative Medicine has concluded patient enrolment for its expanded access trial for investigational product Zofin to treat Covid-19.
Free Case Study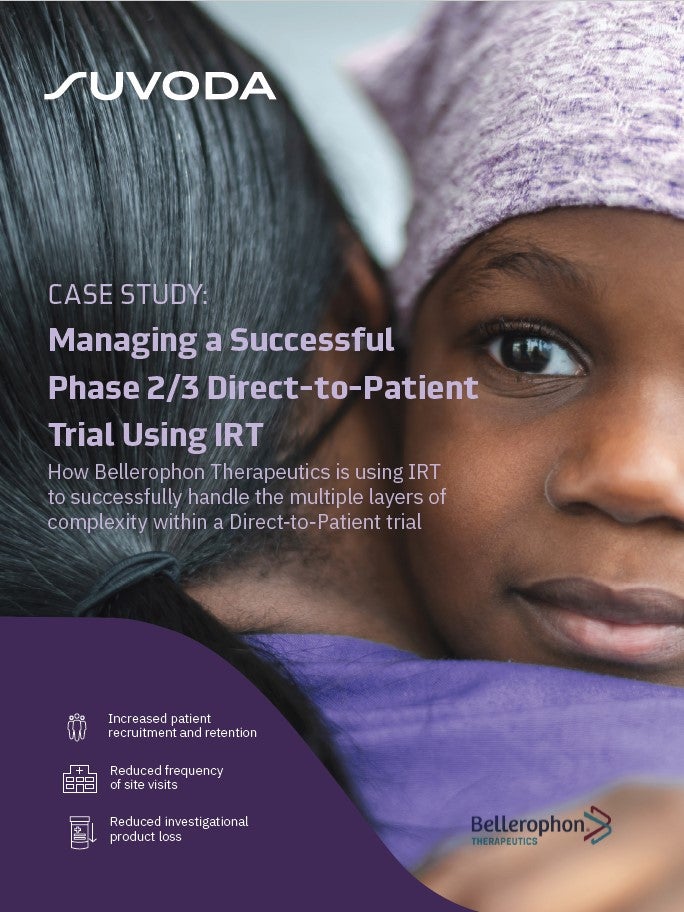 Direct-to-Patient Trials: How IRT Plays an Important Role in Bellerophon's Direct-to-Patient Trials
As the industry strengthens its focus on patient centricity, Direct-to-Patient clinical trials have emerged as a popular trial design that have the potential to increase patient recruitment and retention. IRT plays a crucial role in the success of a Direct-to-Patient trial. Because drug supplies are being managed and shipped from distribution facilities directly to patients' homes, a sponsor must have a high-quality system in place to accurately track the chain of custody, ensure patient-blinding and handle other logistical challenges. What You Will Learn Benefits and challenges associated with the Direct-to-Patient model Bellerophon's top considerations when implementing this trial design How IRT can equip study teams to successfully track chain of custody, ensure patient blinding, and handle logistical challenges
by Suvoda
The US Food and Drug Administration granted expanded access to the trial, which is being conducted at the United Memorial Medical Center in Houston, Texas.
The expanded access protocol provided access to the acellular biologic therapeutic Zofin for SARS-CoV-2-infected patients in outpatient and inpatient facilities and have mild to moderate Covid-19 infection.
Organicell Regenerative Medicine CEO Albert Mitrani said: "Covid-19 has affected the lives of millions of people over the last year and unfortunately will be with us for many years to come.
"Organicell is hoping to help patients that currently do not have an approved therapy."
The company plans to analyse the trial data next quarter.
Initial trial data evaluation will begin in approximately 75 days, with conclusion to occur 90 days after dosing the last patient, which is expected sometime in the third quarter of this year.
Zofin, which is derived from perinatal sources, has more than 300 growth factors, cytokines, and chemokines in addition to extracellular vesicles/nanoparticles derived from perinatal tissues.
Organicell is currently evaluating the safety and potential efficacy of intravenous infusion of Zofin in a Phase I/II randomised, double blinded, placebo trial for the treatment of moderate to SARS related to Covid-19.
Separately, Can-Fite BioPharma has announced the expansion of its Phase II randomised, double blind, placebo-controlled Covid-19 study of Piclidenoson, to Romania and Bulgaria.
In this study, the benefits of treatment of the drug plus standard supportive care (SSC) vs placebo plus SSC are evaluated in patients hospitalised with moderate to severe Covid-19.
The robust anti-inflammatory effect of Piclidenoson can treat Covid-19 and its mutations.
Free Case Study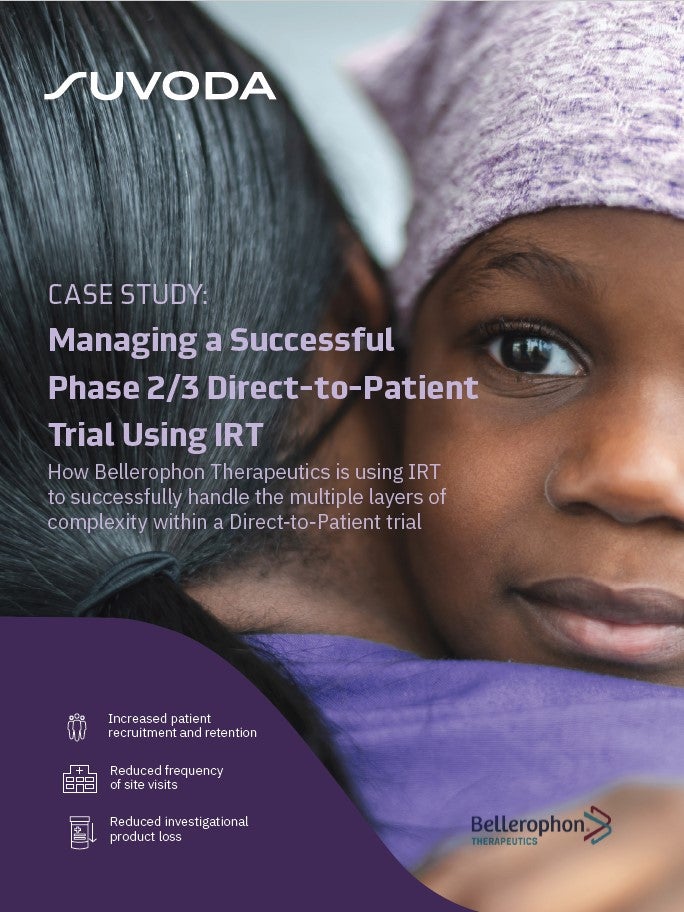 Direct-to-Patient Trials: How IRT Plays an Important Role in Bellerophon's Direct-to-Patient Trials
As the industry strengthens its focus on patient centricity, Direct-to-Patient clinical trials have emerged as a popular trial design that have the potential to increase patient recruitment and retention. IRT plays a crucial role in the success of a Direct-to-Patient trial. Because drug supplies are being managed and shipped from distribution facilities directly to patients' homes, a sponsor must have a high-quality system in place to accurately track the chain of custody, ensure patient-blinding and handle other logistical challenges. What You Will Learn Benefits and challenges associated with the Direct-to-Patient model Bellerophon's top considerations when implementing this trial design How IRT can equip study teams to successfully track chain of custody, ensure patient blinding, and handle logistical challenges
by Suvoda