Researchers at the University of Oxford in the UK have commenced enrolment of healthy volunteers for a clinical trial of the Covid-19 vaccine candidate ChAdOx1 nCoV-19.
Free Case Study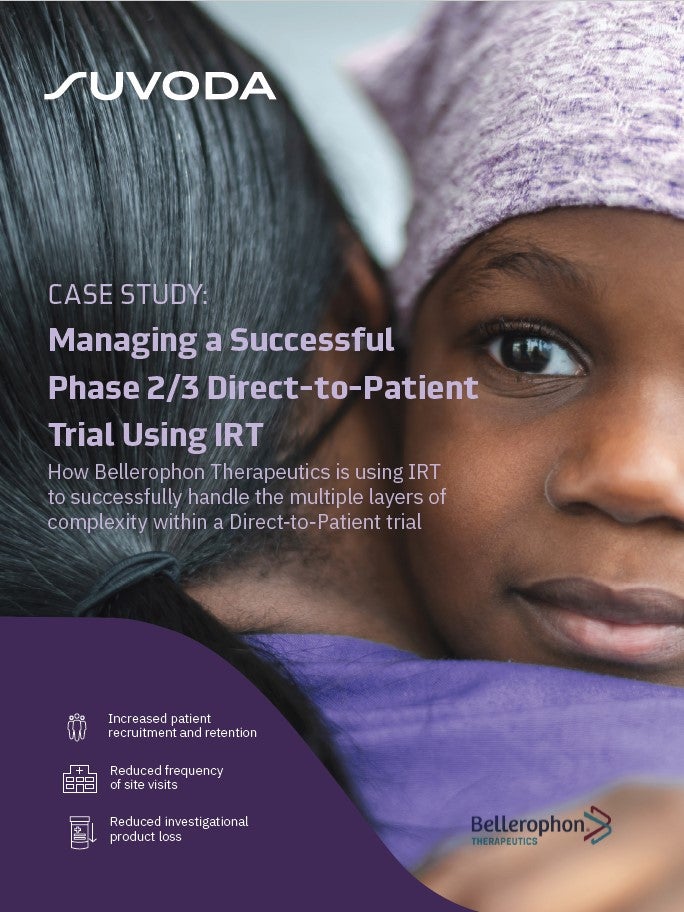 Direct-to-Patient Trials: How IRT Plays an Important Role in Bellerophon's Direct-to-Patient Trials
As the industry strengthens its focus on patient centricity, Direct-to-Patient clinical trials have emerged as a popular trial design that have the potential to increase patient recruitment and retention. IRT plays a crucial role in the success of a Direct-to-Patient trial. Because drug supplies are being managed and shipped from distribution facilities directly to patients' homes, a sponsor must have a high-quality system in place to accurately track the chain of custody, ensure patient-blinding and handle other logistical challenges. What You Will Learn Benefits and challenges associated with the Direct-to-Patient model Bellerophon's top considerations when implementing this trial design How IRT can equip study teams to successfully track chain of custody, ensure patient blinding, and handle logistical challenges
by Suvoda
The vaccine is based on an adenovirus vaccine vector and the SARS-CoV-2 spike protein. It is currently in production at the university's Clinical Biomanufacturing Facility and is expected to be ready in the coming weeks.
The trial is designed to enrol up to 510 participants aged 18 to 55 and is being conducted by the university's Jenner Institute and Oxford Vaccine Group.
The study will assess the vaccine candidate's safety and ability to induce an immune response against the novel coronavirus. ChAdOx1 nCoV-19 will be compared to a control injection.
The University of Oxford noted that the vaccine will undergo additional preclinical tests and will be manufactured in large quantities before entering the trial.
Jenner Institute director Adrian Hill said: "The Oxford team had exceptional experience of a rapid vaccine response, such as to the Ebola outbreak in West Africa in 2014. This is an even greater challenge.
"Vaccines are being designed from scratch and progressed at an unprecedented rate. The upcoming trial will be critical for assessing the feasibility of vaccination against Covid-19 and could lead to early deployment."
Researchers are scaling up the vaccine's production for larger trials and potential future development.
Vaccine manufacturing scale-up project lead Dr Sandy Douglas said: "The scale of this epidemic poses a huge challenge for vaccine manufacturing. We need to follow rigorous safety standards and that takes time.
"By starting work on large-scale manufacturing immediately, we hope to accelerate the availability of a high quality, safe vaccine."
Last week, a research team at the university initiated the RECOVERY clinical trial to assess different drugs as potential Covid-19 treatments.
To be conducted in hospitalised adult patients, RECOVERY will initially evaluate HIV drugs lopinavir and ritonavir and anti-inflammation medication dexamethasone.
Free Case Study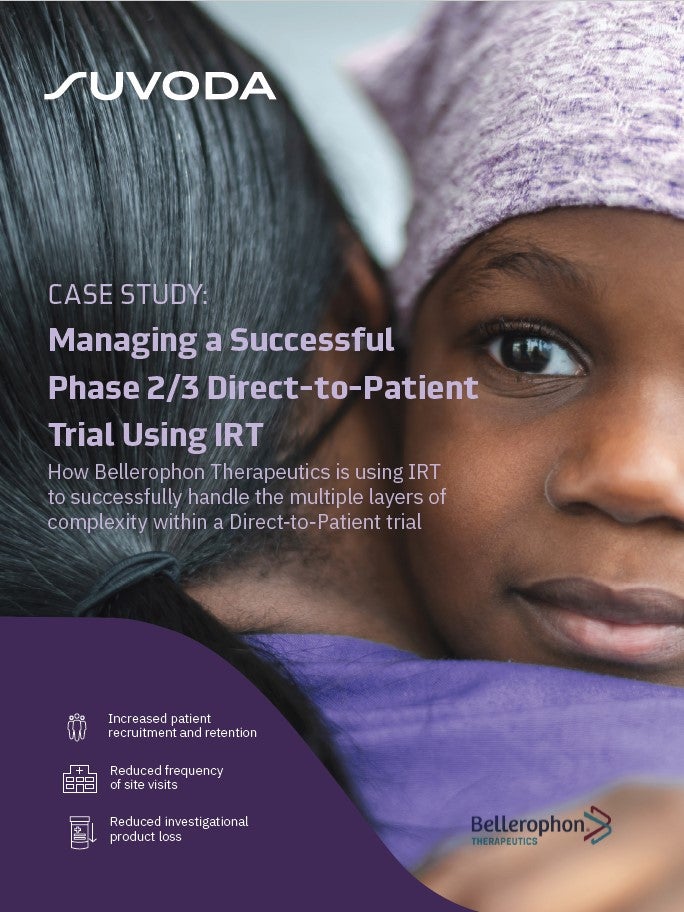 Direct-to-Patient Trials: How IRT Plays an Important Role in Bellerophon's Direct-to-Patient Trials
As the industry strengthens its focus on patient centricity, Direct-to-Patient clinical trials have emerged as a popular trial design that have the potential to increase patient recruitment and retention. IRT plays a crucial role in the success of a Direct-to-Patient trial. Because drug supplies are being managed and shipped from distribution facilities directly to patients' homes, a sponsor must have a high-quality system in place to accurately track the chain of custody, ensure patient-blinding and handle other logistical challenges. What You Will Learn Benefits and challenges associated with the Direct-to-Patient model Bellerophon's top considerations when implementing this trial design How IRT can equip study teams to successfully track chain of custody, ensure patient blinding, and handle logistical challenges
by Suvoda