Passage Bio has dosed the first subject in the Phase I/II upliFT-D clinical trial of gene therapy, PBFT02, to treat frontotemporal dementia (FTD) patients with granulin (GRN) mutations.
The multicentre, international, open-label, dose-escalation study trial will analyse two dose levels of PBFT02 given as a single injection into the cisterna magna in early symptomatic FTD-GRN patients of the age 35 to 75 years.
Subject enrolment is underway in the trial with two cohorts and based on the findings from these cohorts, an optional third dose level cohort may be enrolled.
Analysing the safety and tolerability of PBFT02 is the primary endpoint while disease biomarkers and clinical outcome measures will comprise the secondary endpoints of the trial.
Furthermore, the two-year trial with a three-year safety extension has obtained CTA acceptance for Clinical Trial Application (CTA) in the US, Brazil and Canada.
PBFT02 uses an adeno-associated virus (AAV) viral vector for delivering a functional GRN gene to patients with gene mutations that encode for PGRN, through ICM administration.
This vector and delivery strategy intends to offer more than usual PGRN protein levels to the CNS for alleviating the progranulin deficiency in GRN gene mutation carriers.
A kind of early onset dementia, FTD has no disease-modifying treatments approved currently.
Passage Bio chief medical officer Mark Forman said: "FTD-GRN is a devastating disease with no approved disease-modifying therapies, and we are hopeful this trial will provide evidence that PBFT02 could become a meaningful treatment option for adults living with FTD-GRN.
"Our approach, which employs the AAV1 vector and ICM administration, provides a potential opportunity to achieve higher than normal levels of PGRN in the CNS, thereby overcoming the PGRN deficiency in GRN mutation carriers with a diagnosis of early symptomatic FTD-GRN."
Cell & Gene Therapy coverage on Clinical Trials Arena is supported by Cytiva.
Editorial content is independently produced and follows the highest standards of journalistic integrity. Topic sponsors are not involved in the creation of editorial content.
Free Whitepaper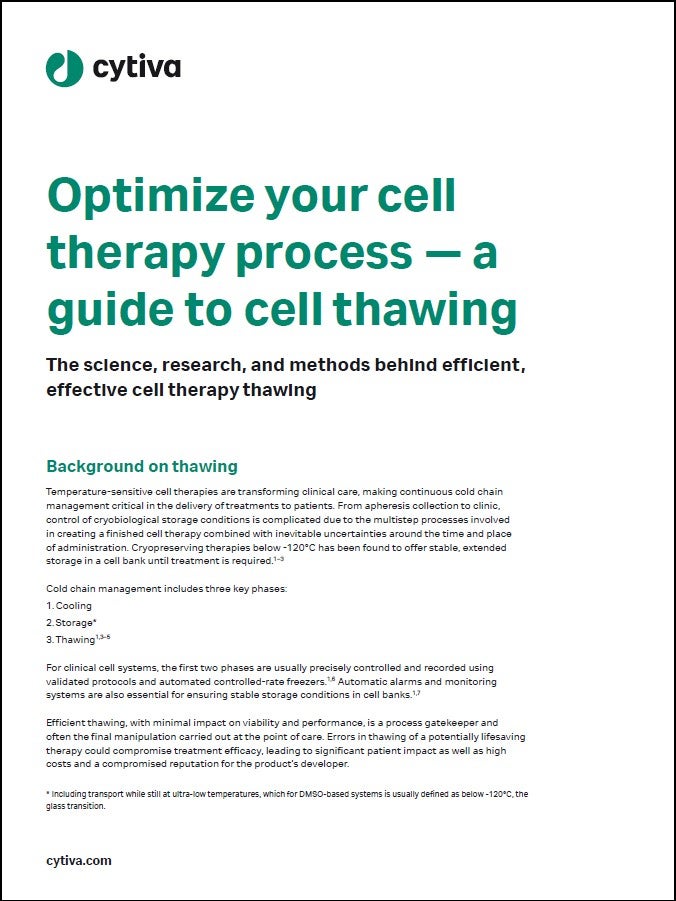 Optimise your cell therapy process: a guide to cell thawing
Typically carried out at the point of care, errors in cell therapy thawing could compromise treatment efficacy, leading to significant patient impact as well as high costs and a compromised reputation for the product's developer. This guide addresses how cell thawing has historically developed into the new techniques used today, along with the physical and biological implications of key metrics and components such as warming rate and ice structure. Also included are reviews of key studies from scientific literature and a consideration of the interactions between cooling and warming rates, as applicable to cell and gene therapies.
by Cytiva Thematic
By clicking the Download Free Whitepaper button, you accept the terms and conditions and acknowledge that your data will be used as described in the Cytiva Thematic privacy policy By downloading this Whitepaper, you acknowledge that we may share your information with our white paper partners/sponsors who may contact you directly with information on their products and services.

Visit our privacy policy for more information about our services, how we may use, process and share your personal data, including information on your rights in respect of your personal data and how you can unsubscribe from future marketing communications. Our services are intended for corporate subscribers and you warrant that the email address submitted is your corporate email address.