PathAI and Labcorp have expanded their strategic collaboration, which will enable the deployment of the former's algorithms in prospective clinical trials of cancer and other diseases.
Free Case Study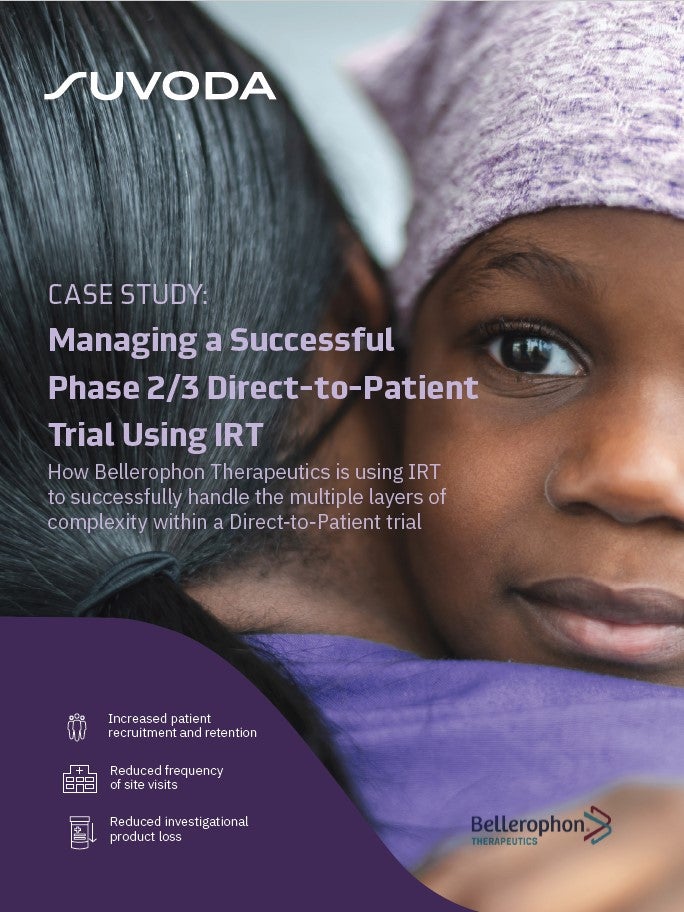 Direct-to-Patient Trials: How IRT Plays an Important Role in Bellerophon's Direct-to-Patient Trials
As the industry strengthens its focus on patient centricity, Direct-to-Patient clinical trials have emerged as a popular trial design that have the potential to increase patient recruitment and retention. IRT plays a crucial role in the success of a Direct-to-Patient trial. Because drug supplies are being managed and shipped from distribution facilities directly to patients' homes, a sponsor must have a high-quality system in place to accurately track the chain of custody, ensure patient-blinding and handle other logistical challenges. What You Will Learn Benefits and challenges associated with the Direct-to-Patient model Bellerophon's top considerations when implementing this trial design How IRT can equip study teams to successfully track chain of custody, ensure patient blinding, and handle logistical challenges
by Suvoda
Developed using Good Clinical Laboratory Practice (GCLP) guidelines and process controls, the PathAI algorithms will be deployed in the broad portfolio of programmes managed by Labcorp Drug Development.
The latest move builds on Labcorp's previous investment in PathAI and aims to accelerate the use of artificial intelligence (AI)-powered pathology.
PathAI algorithms are locked and validated as fit for purpose and can also be further extended for development and commercialisation of companion diagnostic (CDx) device.
With many potential additional uses, they can also be integrated in retrospective or prospective clinical trials to quantify tissue-based biomarkers and support patient stratification and selection.
PathAI CEO Andy Beck said: "We are very impressed with the vision that Labcorp has for the future of AI-powered pathology in drug development and diagnostics, and we look forward to joining forces to enable our bio-pharma partners to obtain the most accurate, standardized, and data-rich set of pathology readouts from clinical trials to help advance drug development.
"After exploring successful initial projects with Labcorp, we are excited to leverage the scale of its network to grow the reach of digital and computational pathology with the goal of ultimately improving patient outcomes."
As part of the collaboration, the two companies are also planning to explore bridging the use of AI-powered algorithms from translational research into a clinical laboratory setting.
Labcorp Drug Development CEO Paul Kirchgraber said: "This collaboration will provide our bio-pharma partners a differentiated understanding of relevant patient characteristics through applying leading AI-driven algorithms to support clinical trials from novel biomarker development through patient stratification and companion diagnostic development."
Free Case Study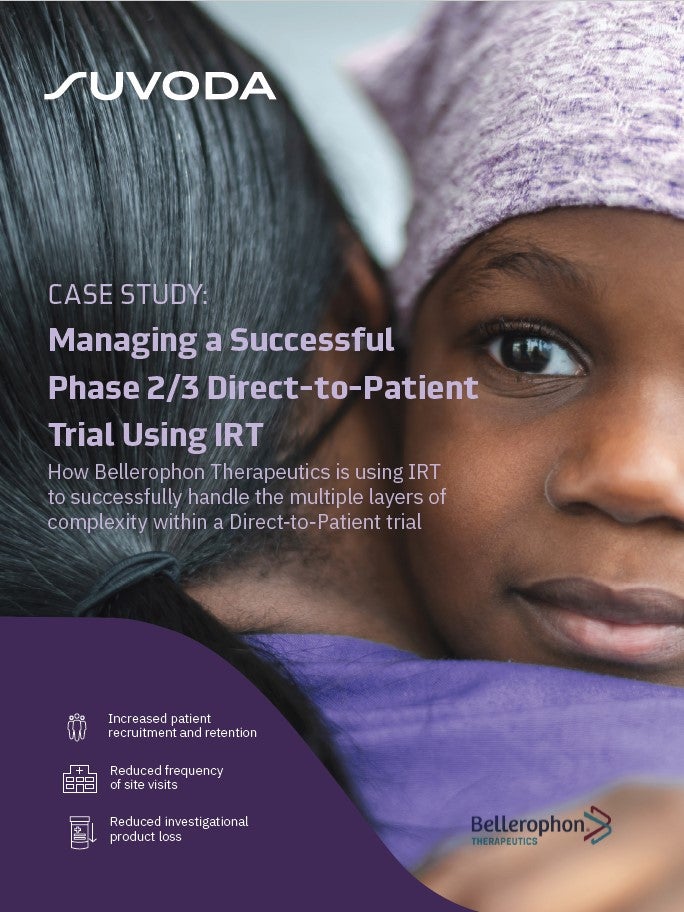 Direct-to-Patient Trials: How IRT Plays an Important Role in Bellerophon's Direct-to-Patient Trials
As the industry strengthens its focus on patient centricity, Direct-to-Patient clinical trials have emerged as a popular trial design that have the potential to increase patient recruitment and retention. IRT plays a crucial role in the success of a Direct-to-Patient trial. Because drug supplies are being managed and shipped from distribution facilities directly to patients' homes, a sponsor must have a high-quality system in place to accurately track the chain of custody, ensure patient-blinding and handle other logistical challenges. What You Will Learn Benefits and challenges associated with the Direct-to-Patient model Bellerophon's top considerations when implementing this trial design How IRT can equip study teams to successfully track chain of custody, ensure patient blinding, and handle logistical challenges
by Suvoda