Peloton Therapeutics has dosed the first patient in a Phase ll trial investigating the efficacy and safety of PT2977 for the treatment of von Hippel-Lindau (VHL) disease-associated kidney cancer.
Free Case Study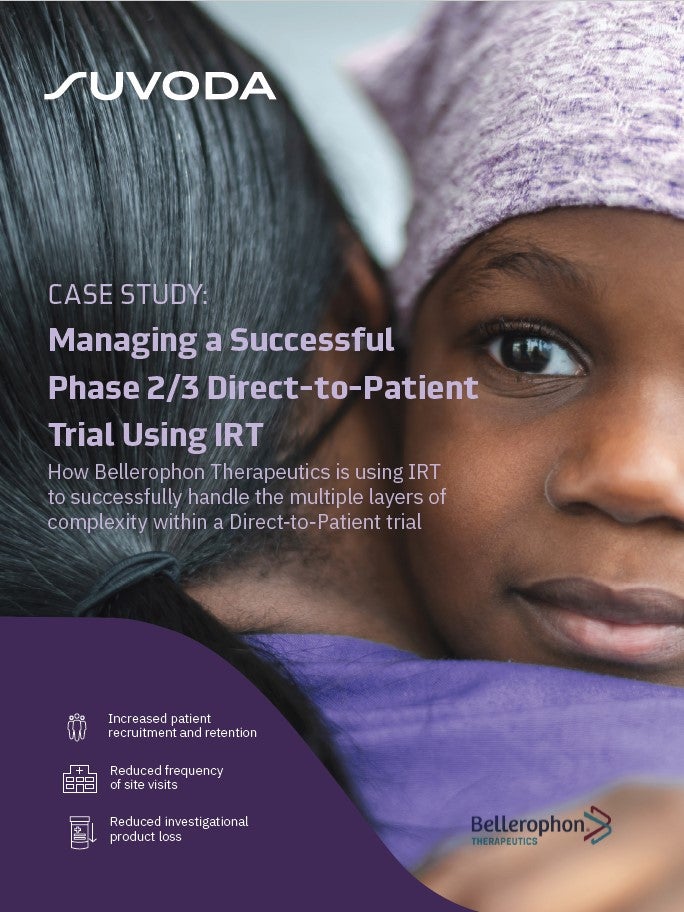 Direct-to-Patient Trials: How IRT Plays an Important Role in Bellerophon's Direct-to-Patient Trials
As the industry strengthens its focus on patient centricity, Direct-to-Patient clinical trials have emerged as a popular trial design that have the potential to increase patient recruitment and retention. IRT plays a crucial role in the success of a Direct-to-Patient trial. Because drug supplies are being managed and shipped from distribution facilities directly to patients' homes, a sponsor must have a high-quality system in place to accurately track the chain of custody, ensure patient-blinding and handle other logistical challenges. What You Will Learn Benefits and challenges associated with the Direct-to-Patient model Bellerophon's top considerations when implementing this trial design How IRT can equip study teams to successfully track chain of custody, ensure patient blinding, and handle logistical challenges
by Suvoda
VHL is a rare, hereditary cancer syndrome in which patients have a mutation and/or deletion of the tumour suppressor VHL gene and are at risk for the development of multiple tumours, including renal cell cancer. There are currently no approved systemic therapies for VHL disease.
Peloton's Phase ll open-label, single-group assignment trial intends to enrol 50 patients at various clinical trial centres across the US and Europe.
The trial's primary objective is to examine the efficacy of PT2977 to treat VHL disease-associated renal tumours as measured by overall response rate.
Its secondary objectives comprise duration of response, time to response, progression free survival, and time to surgery for VHL disease-associated renal tumours.
"During the course of the trial, patients will be examined radiologically around every 12 weeks."
The trial also aims to evaluate the efficacy of PT2977 in other VHL disease-associated tumour types and its safety and pharmacokinetics.
During the course of the trial, patients will be examined radiologically around every 12 weeks.
Peloton Therapeutics chief medical officer Mohammad Hirmand said: "The safety, pharmacokinetics, and clinical activity that we have observed in a Phase l trial of PT2977 provides insights into its potential to improve outcomes for patients with kidney cancer."
PT2977 is a once-daily, orally active agent that is capable of blocking hypoxia-inducible factor-2α (HIF-2α).
It previously showed anti-tumour activity with a favourable safety profile in an early stage clinical study in patients with solid tumours.
Free Case Study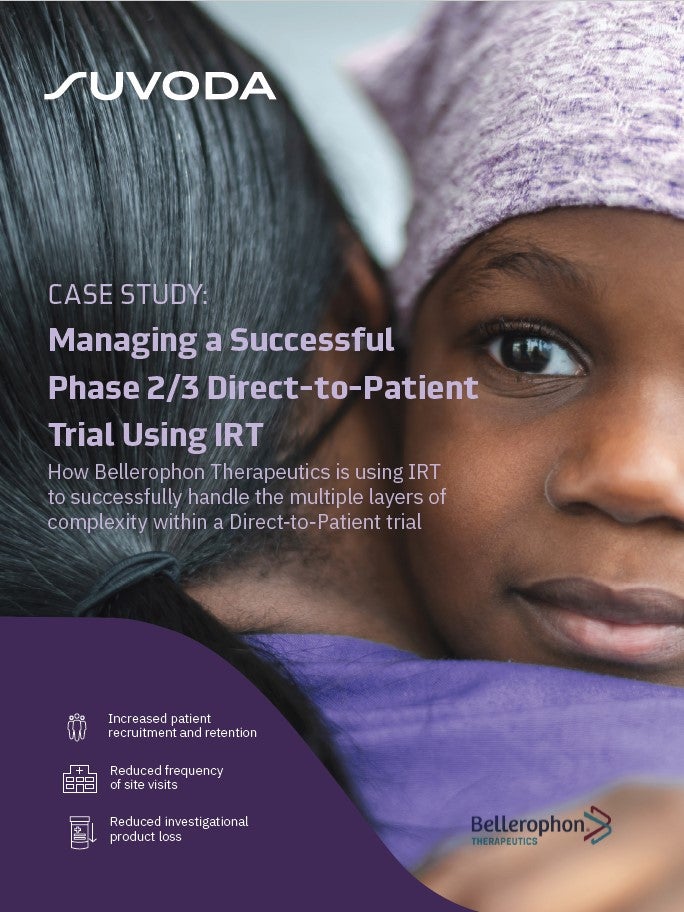 Direct-to-Patient Trials: How IRT Plays an Important Role in Bellerophon's Direct-to-Patient Trials
As the industry strengthens its focus on patient centricity, Direct-to-Patient clinical trials have emerged as a popular trial design that have the potential to increase patient recruitment and retention. IRT plays a crucial role in the success of a Direct-to-Patient trial. Because drug supplies are being managed and shipped from distribution facilities directly to patients' homes, a sponsor must have a high-quality system in place to accurately track the chain of custody, ensure patient-blinding and handle other logistical challenges. What You Will Learn Benefits and challenges associated with the Direct-to-Patient model Bellerophon's top considerations when implementing this trial design How IRT can equip study teams to successfully track chain of custody, ensure patient blinding, and handle logistical challenges
by Suvoda