PEP-Therapy and France-based cancer centre Institut Curie have dosed the first subjects in a Phase Ia/b CleverPeptide clinical trial of the former's therapy, PEP-010, to treat advanced solid tumours.
Free Case Study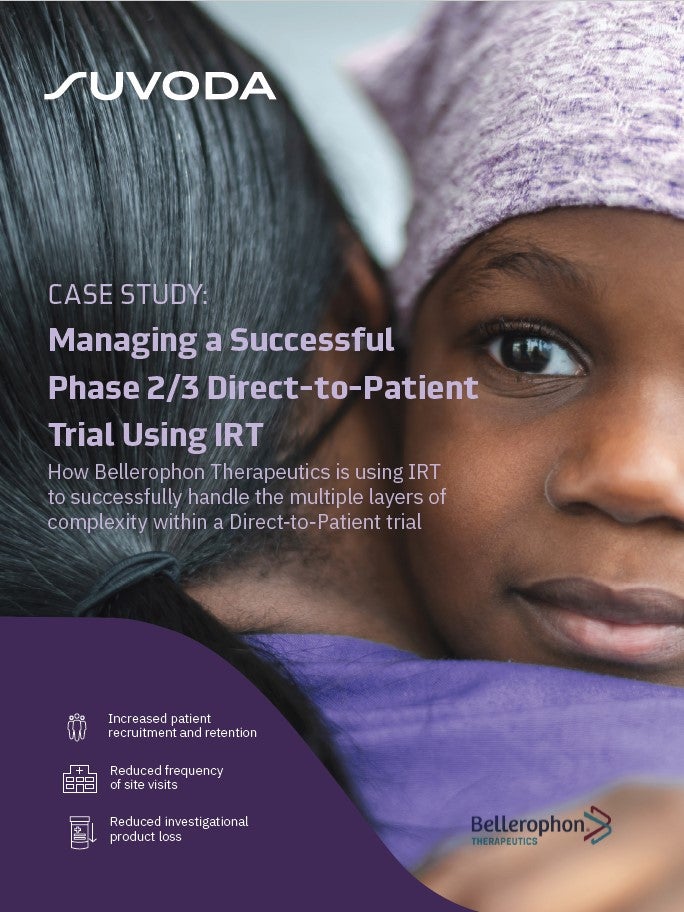 Direct-to-Patient Trials: How IRT Plays an Important Role in Bellerophon's Direct-to-Patient Trials
As the industry strengthens its focus on patient centricity, Direct-to-Patient clinical trials have emerged as a popular trial design that have the potential to increase patient recruitment and retention. IRT plays a crucial role in the success of a Direct-to-Patient trial. Because drug supplies are being managed and shipped from distribution facilities directly to patients' homes, a sponsor must have a high-quality system in place to accurately track the chain of custody, ensure patient-blinding and handle other logistical challenges. What You Will Learn Benefits and challenges associated with the Direct-to-Patient model Bellerophon's top considerations when implementing this trial design How IRT can equip study teams to successfully track chain of custody, ensure patient blinding, and handle logistical challenges
by Suvoda
Based on Cell Penetrating and Interfering Peptides technology of PEP-Therapy, PEP-010 is the first among the novel class of treatment peptides.
These molecules infiltrate cells to hinder vital intracellular protein to protein interactions.
This process causes crucial pathological mechanism inhibition without changing physiological mechanisms.
The non-controlled, open-label, multicentre, dose-escalation trial (Phase Ia) with an expansion phase (Phase Ib) is being carried out at Institut Curie.
It will assess the safety, tolerability, pharmacokinetics and initial antitumor activity of intravenous dose of PEP-010 as monotherapy and along with paclitaxel to treat recurrent and/or metastatic solid tumour patients.
Paclitaxel is a taxoid chemotherapeutic agent, the company said.
This trial will focus on tumours including triple-negative breast cancer and ovarian cancer, enrolling 56 adult subjects.
Increasing doses of PEP-010 as a single agent will be assessed and then, along with paclitaxel, to detect a maximum tolerated dose (MTD).
The trial will have two expansion arms assessing the MTD to validate safety results and analyse the initial efficacy, PEP-Therapy noted.
Two clinical oncology centres in France, Gustave Roussy and the François Baclesse Center, will enrol subjects, who will be given the further dose levels of PEP-010.
PEP-Therapy CEO and co-founder Antoine Prestat said: "The initiation of this study represents another significant milestone for PEP-Therapy, following the successful Series A fundraising announced earlier this year.
"PEP-010 is the first clinical programme to emerge from our innovative Cell Penetrating and Interfering Peptides technology."
The initial safety and tolerability results from the trial are anticipated next year.
A pro-apoptotic agent, PEP-010 was found to have anti-tumour efficacy in various pre-clinical models and a favourable safety profile.
Free Case Study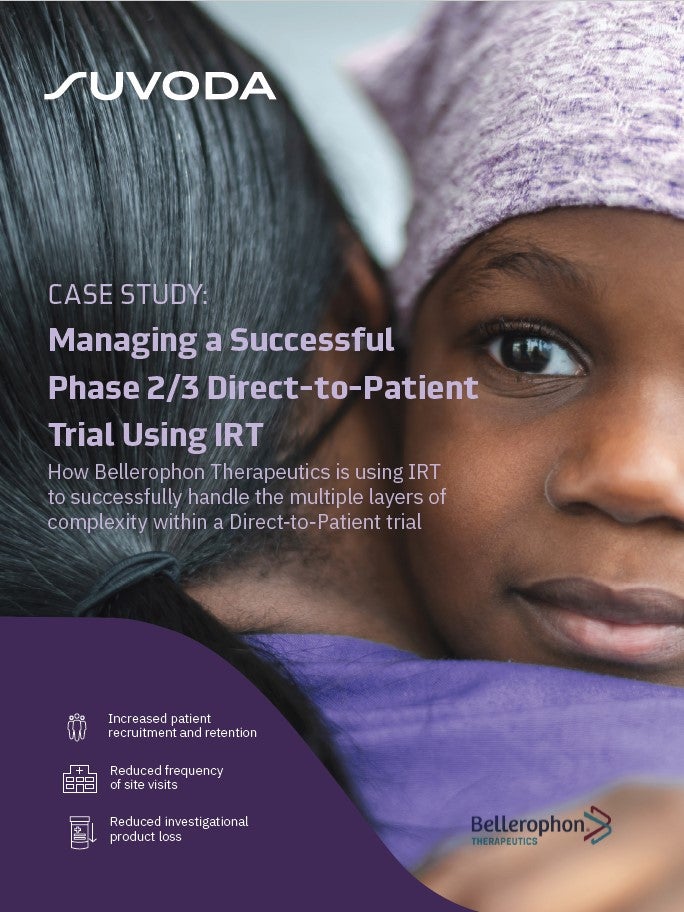 Direct-to-Patient Trials: How IRT Plays an Important Role in Bellerophon's Direct-to-Patient Trials
As the industry strengthens its focus on patient centricity, Direct-to-Patient clinical trials have emerged as a popular trial design that have the potential to increase patient recruitment and retention. IRT plays a crucial role in the success of a Direct-to-Patient trial. Because drug supplies are being managed and shipped from distribution facilities directly to patients' homes, a sponsor must have a high-quality system in place to accurately track the chain of custody, ensure patient-blinding and handle other logistical challenges. What You Will Learn Benefits and challenges associated with the Direct-to-Patient model Bellerophon's top considerations when implementing this trial design How IRT can equip study teams to successfully track chain of custody, ensure patient blinding, and handle logistical challenges
by Suvoda