Pfizer has dosed the first subject in Phase II/III clinical trial of its experimental oral antiviral drug, PF-07321332, for Covid-19 in non-hospitalised patients who have symptoms but are at low risk of progression to severe disease.
Free Case Study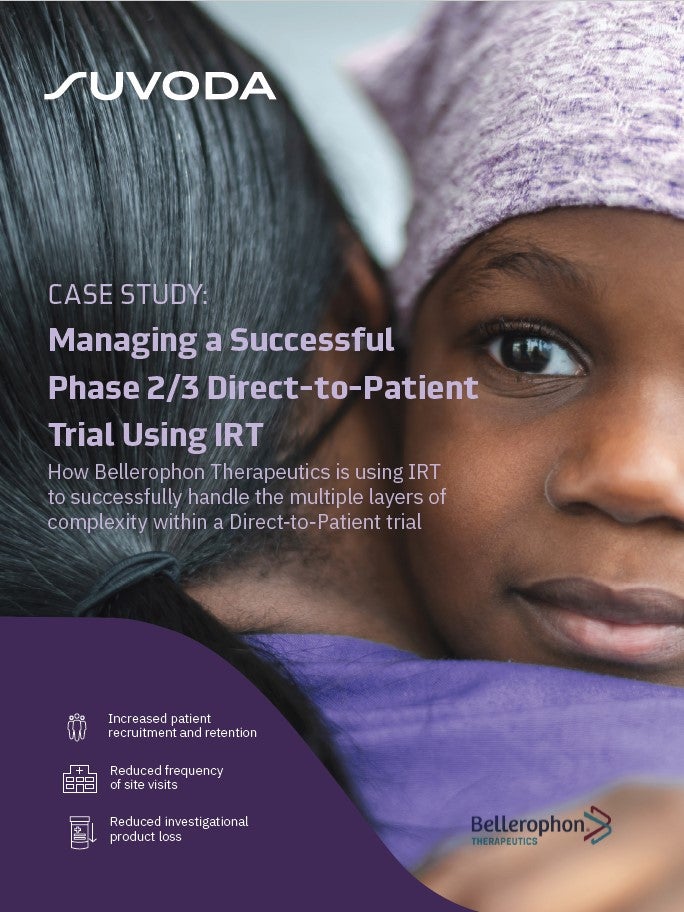 Direct-to-Patient Trials: How IRT Plays an Important Role in Bellerophon's Direct-to-Patient Trials
As the industry strengthens its focus on patient centricity, Direct-to-Patient clinical trials have emerged as a popular trial design that have the potential to increase patient recruitment and retention. IRT plays a crucial role in the success of a Direct-to-Patient trial. Because drug supplies are being managed and shipped from distribution facilities directly to patients' homes, a sponsor must have a high-quality system in place to accurately track the chain of custody, ensure patient-blinding and handle other logistical challenges. What You Will Learn Benefits and challenges associated with the Direct-to-Patient model Bellerophon's top considerations when implementing this trial design How IRT can equip study teams to successfully track chain of custody, ensure patient blinding, and handle logistical challenges
by Suvoda
A protease inhibitor, PF-07321332 is meant to hinder the activity of the main protease enzyme that the SARS-CoV-2 virus requires for replication.
When given in combination with a low dose of ritonavir, the antiviral's metabolism or breakdown is expected to slow down, allowing it to stay longer in the body at higher concentrations.
This long-term action inside the body could facilitate a continuous fight against the virus, Pfizer said.
Previously, ritonavir was administered along with other antivirals for a similar slowing of metabolism.
The latest double-blind Phase II/III trial will randomise nearly 1,140 subjects to receive either oral PF07321332 plus ritonavir or placebo every 12 hours over five days.
It is a global, two-arm study designed to assess the treatment's safety and efficacy in symptomatic outpatients aged 18 years or above who are not at risk of developing severe illness.
The trial is expected to complete next year.
Time to continued mitigation of all targeted signs and symptoms of Covid-19 is the primary outcome.
Secondary outcomes include adverse events, serious adverse events, severe Covid-19-related signs and symptoms, number of medical visits, hospital and intensive care unit duration among others.
The trial falls under a global clinical development programme that comprises several ongoing and planned trials to analyse PF-07321332 as an early intervention, outpatient therapeutic to potentially treat a wide patient population.
PF-07321332 plus ritonavir is also being studied in another Phase II/III trial in non-hospitalised, symptomatic adult Covid-19 patients who are at high risk of severe disease.
In a statement, Pfizer said: "If successful, PF-07321332/ritonavir has the potential to address a significant unmet medical need, providing patients with a novel oral therapy that could be prescribed at the first sign of infection, without requiring hospitalisation."
Last month, Pfizer and its partner BioNTech secured the first full US Food and Drug Administration approval for their Covid-19 vaccine, Comirnaty.
Free Case Study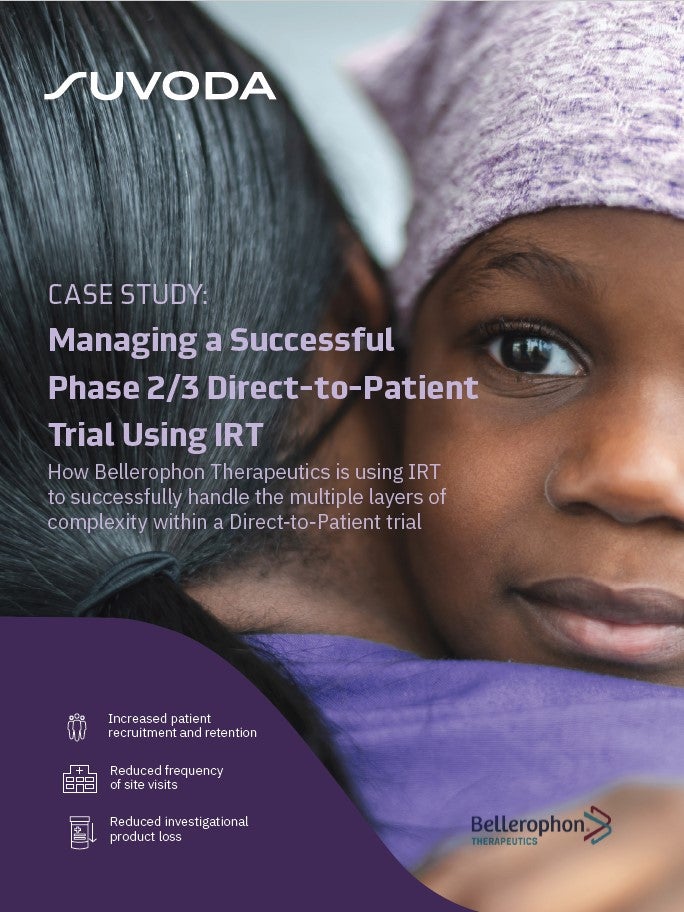 Direct-to-Patient Trials: How IRT Plays an Important Role in Bellerophon's Direct-to-Patient Trials
As the industry strengthens its focus on patient centricity, Direct-to-Patient clinical trials have emerged as a popular trial design that have the potential to increase patient recruitment and retention. IRT plays a crucial role in the success of a Direct-to-Patient trial. Because drug supplies are being managed and shipped from distribution facilities directly to patients' homes, a sponsor must have a high-quality system in place to accurately track the chain of custody, ensure patient-blinding and handle other logistical challenges. What You Will Learn Benefits and challenges associated with the Direct-to-Patient model Bellerophon's top considerations when implementing this trial design How IRT can equip study teams to successfully track chain of custody, ensure patient blinding, and handle logistical challenges
by Suvoda