Pfizer and BioNTech have reported long-term analysis data from a Phase III clinical trial of their Covid-19 vaccine in adolescents aged 12 to 15 years.
Free Case Study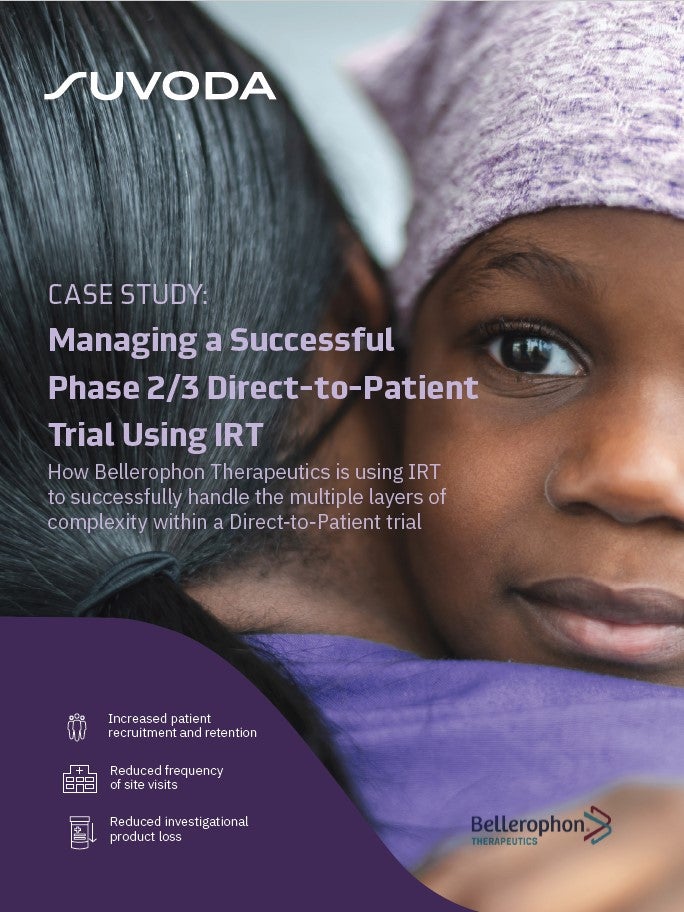 Direct-to-Patient Trials: How IRT Plays an Important Role in Bellerophon's Direct-to-Patient Trials
As the industry strengthens its focus on patient centricity, Direct-to-Patient clinical trials have emerged as a popular trial design that have the potential to increase patient recruitment and retention. IRT plays a crucial role in the success of a Direct-to-Patient trial. Because drug supplies are being managed and shipped from distribution facilities directly to patients' homes, a sponsor must have a high-quality system in place to accurately track the chain of custody, ensure patient-blinding and handle other logistical challenges. What You Will Learn Benefits and challenges associated with the Direct-to-Patient model Bellerophon's top considerations when implementing this trial design How IRT can equip study teams to successfully track chain of custody, ensure patient blinding, and handle logistical challenges
by Suvoda
According to the findings, two doses of the vaccine demonstrated to be completely effective against Covid-19, as assessed seven days after more than four months of receiving the second shot.
The US Food and Drug Administration had granted Emergency Use Authorization (EUA) for the vaccine to be used as a preliminary two-dose regimen in children.
Results from the latest analysis, which assessed the safety and efficacy of the vaccine in 2,228 subjects aged 12 to 15 years, showed robust protection against Covid-19 and confirm already reported data.
Furthermore, 30 Covid-19 cases were reported in the placebo arm while no cases were observed in a group of subjects who received the vaccine, signifying 100% efficacy.
In the trial, the adverse event profile of the shot was comparable with existing clinical safety results without any severe safety issues reported in people after a follow-up period of at least six months following the second vaccine.
BioNTech CEO and co-founder Ugur Sahin said: "These are the first and only disclosed longer-term data demonstrating the safety and efficacy of a Covid-19 vaccine in individuals 12 submitting through 15 years of age.
"The growing body of data we have compiled from clinical trials and real-world surveillance to date strengthen the base of evidence supporting the strong efficacy and favourable safety profile of our Covid-19 vaccine across adolescent and adult populations."
The companies anticipate submitting these results to the FDA as well as various regulatory agencies.
Pfizer noted that these follow-up results would serve as the foundation for a proposed supplemental Biologics License Application to be filed with the FDA for approval of the vaccine usage in people aged 12 years and above.
Free Case Study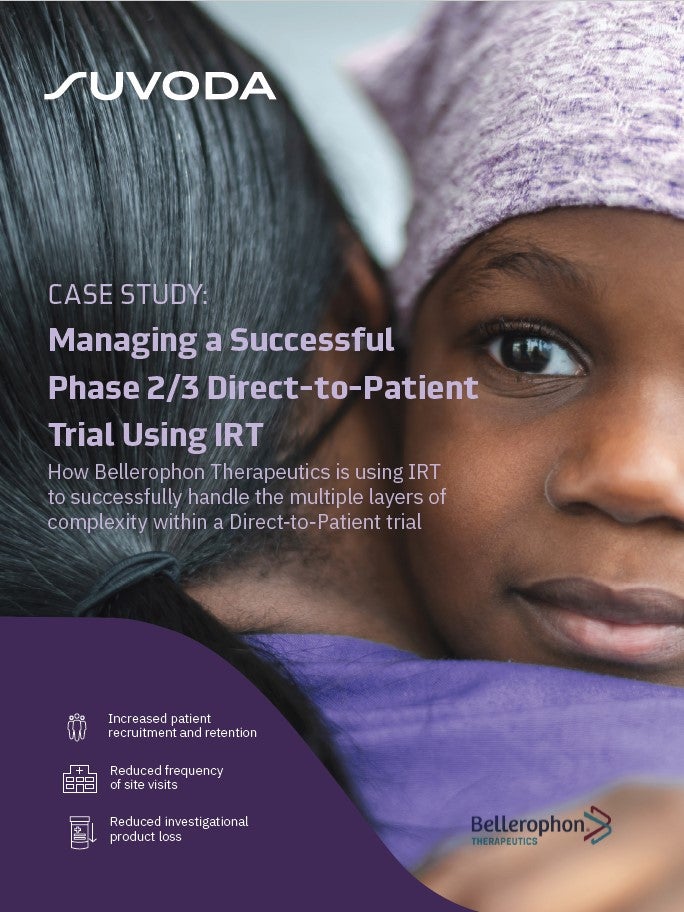 Direct-to-Patient Trials: How IRT Plays an Important Role in Bellerophon's Direct-to-Patient Trials
As the industry strengthens its focus on patient centricity, Direct-to-Patient clinical trials have emerged as a popular trial design that have the potential to increase patient recruitment and retention. IRT plays a crucial role in the success of a Direct-to-Patient trial. Because drug supplies are being managed and shipped from distribution facilities directly to patients' homes, a sponsor must have a high-quality system in place to accurately track the chain of custody, ensure patient-blinding and handle other logistical challenges. What You Will Learn Benefits and challenges associated with the Direct-to-Patient model Bellerophon's top considerations when implementing this trial design How IRT can equip study teams to successfully track chain of custody, ensure patient blinding, and handle logistical challenges
by Suvoda