Pfizer has reported that JADE COMPARE (B7451029) Phase III trial of abrocitinib for moderate to severe atopic dermatitis (AD) met its co-primary efficacy endpoints.
Free Case Study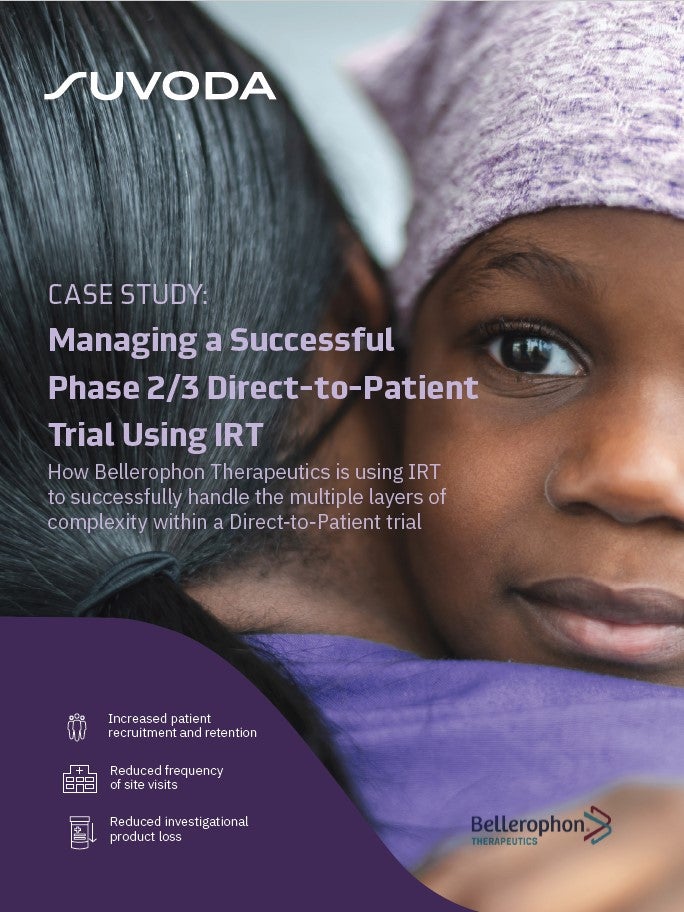 Direct-to-Patient Trials: How IRT Plays an Important Role in Bellerophon's Direct-to-Patient Trials
As the industry strengthens its focus on patient centricity, Direct-to-Patient clinical trials have emerged as a popular trial design that have the potential to increase patient recruitment and retention. IRT plays a crucial role in the success of a Direct-to-Patient trial. Because drug supplies are being managed and shipped from distribution facilities directly to patients' homes, a sponsor must have a high-quality system in place to accurately track the chain of custody, ensure patient-blinding and handle other logistical challenges. What You Will Learn Benefits and challenges associated with the Direct-to-Patient model Bellerophon's top considerations when implementing this trial design How IRT can equip study teams to successfully track chain of custody, ensure patient blinding, and handle logistical challenges
by Suvoda
The study evaluated the safety and efficacy of abrocitinib, an investigational oral once-daily Janus kinase 1 (JAK1) inhibitor, in adults with moderate to severe atopic dermatitis who were also on background topical therapy.
It also included an active control arm, which compared dupilumab, a biologic treatment administered by subcutaneous injection, with placebo.
Pfizer Global Product Development, Inflammation & Immunology chief development officer Michael Corbo said: "It was helpful to study abrocitinib in combination with topical therapies to provide data relevant to the real-world setting.
"The addition of an active control was also important to better understand the significance of this potential new medicine and we're encouraged by the positive data from this trial."
The study noted that the percentage of patients achieving each co-primary efficacy endpoint at week 12 was statistically superior with both doses of abrocitinib than with placebo. Superiority to placebo with both doses was maintained at week 16.
It was also found that the percentage of patients who had a clinically significant reduction in itch by week two of treatment was statistically superior and numerically higher for the 200mg abrocitinib dose compared to dupilumab.
However, the percentage was not statistically significantly higher for the 100mg abrocitinib dose compared to dupilumab.
The safety profile seen with abrocitinib was consistent with previous studies.
AD is a chronic skin disease characterised by inflammation of the skin and skin barrier defects. It is one of the most common, chronic, relapsing childhood dermatoses globally, affecting around 10% of adults and 20% of children.
Free Case Study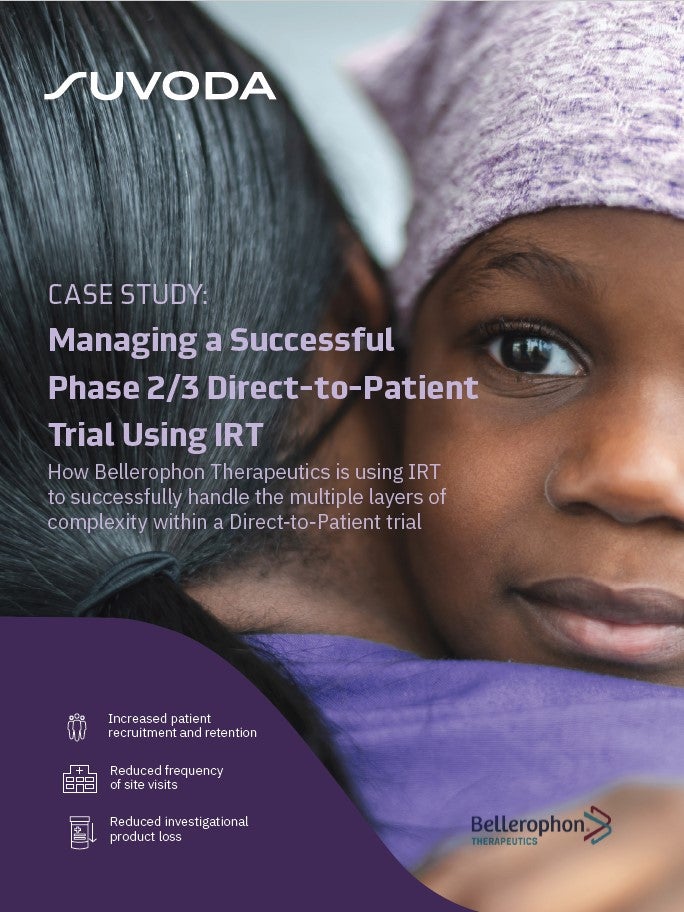 Direct-to-Patient Trials: How IRT Plays an Important Role in Bellerophon's Direct-to-Patient Trials
As the industry strengthens its focus on patient centricity, Direct-to-Patient clinical trials have emerged as a popular trial design that have the potential to increase patient recruitment and retention. IRT plays a crucial role in the success of a Direct-to-Patient trial. Because drug supplies are being managed and shipped from distribution facilities directly to patients' homes, a sponsor must have a high-quality system in place to accurately track the chain of custody, ensure patient-blinding and handle other logistical challenges. What You Will Learn Benefits and challenges associated with the Direct-to-Patient model Bellerophon's top considerations when implementing this trial design How IRT can equip study teams to successfully track chain of custody, ensure patient blinding, and handle logistical challenges
by Suvoda