Pfizer and genomic medicines company Sangamo Therapeutics have started dosing in the Phase III AFFINE trial of giroctocogene fitelparvovec (SB-525) for the treatment of haemophilia A patients.
Free Case Study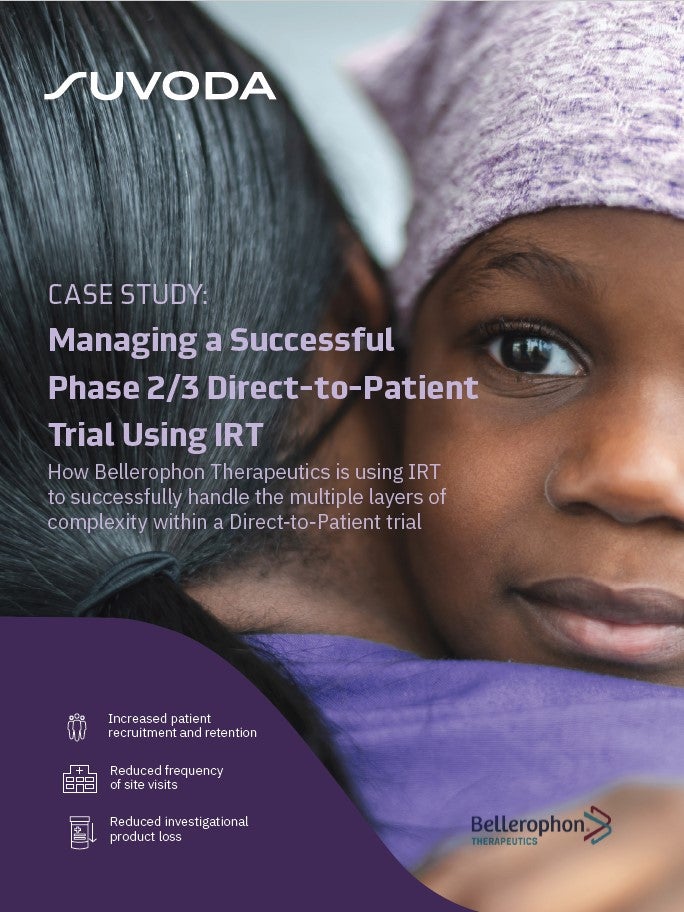 Direct-to-Patient Trials: How IRT Plays an Important Role in Bellerophon's Direct-to-Patient Trials
As the industry strengthens its focus on patient centricity, Direct-to-Patient clinical trials have emerged as a popular trial design that have the potential to increase patient recruitment and retention. IRT plays a crucial role in the success of a Direct-to-Patient trial. Because drug supplies are being managed and shipped from distribution facilities directly to patients' homes, a sponsor must have a high-quality system in place to accurately track the chain of custody, ensure patient-blinding and handle other logistical challenges. What You Will Learn Benefits and challenges associated with the Direct-to-Patient model Bellerophon's top considerations when implementing this trial design How IRT can equip study teams to successfully track chain of custody, ensure patient blinding, and handle logistical challenges
by Suvoda
Giroctocogene fitelparvovec is made up of a recombinant adeno-associated virus serotype 6 vector (AAV6) that encodes the complementary deoxyribonucleic acid for B domain deleted human clotting factor VIII (FVIII).
Haemophilia, a genetic haematological rare condition, leads to deficiency of a blood clotting protein. Patients with haemophilia A are deficient in FVIII.
The global, open-label, multi-centre, single-arm AFFINE trial will assess the efficacy and safety of giroctocogene fitelparvovec in more than 60 adults with moderately severe to severe haemophilia A.
Annual bleed rate (ABR) over 12 months after receiving the investigational gene therapy will be the trial's primary endpoint. This will be compared to ABR on FVIII replacement therapy obtained in the Phase III lead-in trial period.
After a single dosing, participants will be assessed for a period of five years to analyse the drug candidate's durability and efficacy.
Results from the Phase III lead-in trial will be taken as a baseline for the AFFINE trial.
Recent data from the Phase I/II Alta trial showed clinically meaningful factor levels and decreased bleeds, with giroctocogene fitelparvovec generally well tolerated.
Pfizer global product development rare disease chief development officer Brenda Cooperstone said: "Enrolment in the lead-in study is progressing well and recruitment is on track for Phase III.
"Given the Phase I/II study findings to date, we believe that giroctocogene fitelparvovec has the potential to sustain factor levels and reduce annual bleed rates, suggesting this one-time gene therapy could potentially transform the standard of care for eligible patients worldwide."
Pfizer and Sangamo entered into giroctocogene fitelparvovec partnership in May 2017. As part of the collaboration, Sangamo has now received $30m in milestone payment.
Free Case Study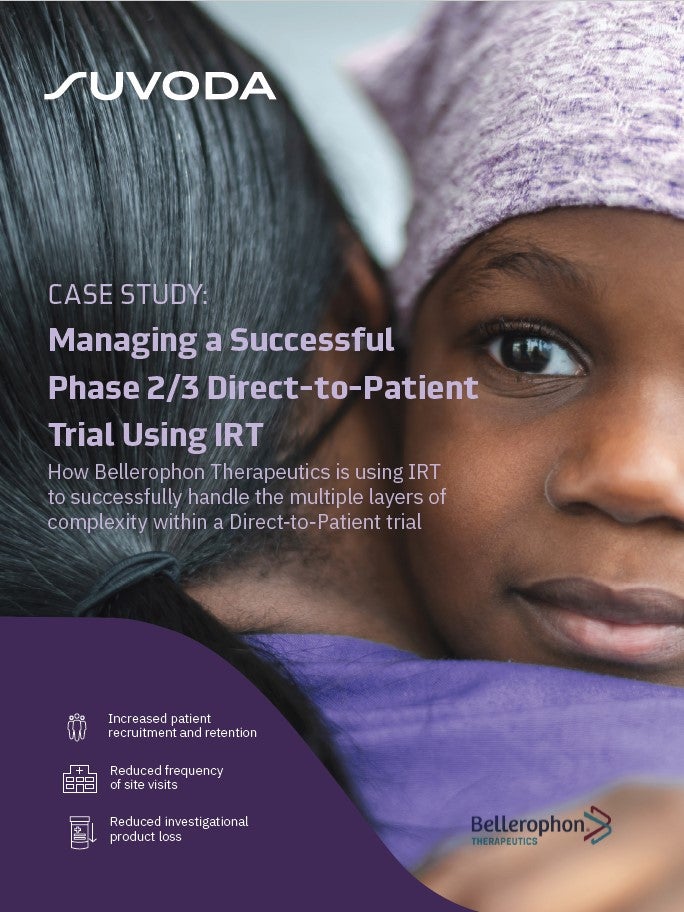 Direct-to-Patient Trials: How IRT Plays an Important Role in Bellerophon's Direct-to-Patient Trials
As the industry strengthens its focus on patient centricity, Direct-to-Patient clinical trials have emerged as a popular trial design that have the potential to increase patient recruitment and retention. IRT plays a crucial role in the success of a Direct-to-Patient trial. Because drug supplies are being managed and shipped from distribution facilities directly to patients' homes, a sponsor must have a high-quality system in place to accurately track the chain of custody, ensure patient-blinding and handle other logistical challenges. What You Will Learn Benefits and challenges associated with the Direct-to-Patient model Bellerophon's top considerations when implementing this trial design How IRT can equip study teams to successfully track chain of custody, ensure patient blinding, and handle logistical challenges
by Suvoda