The French National Agency for the Safety of Medicines and Health Products has granted clearance for a clinical trial of Phio Pharmaceuticals' lead product candidate PH-762 for melanoma, according to an announcement.
Free Case Study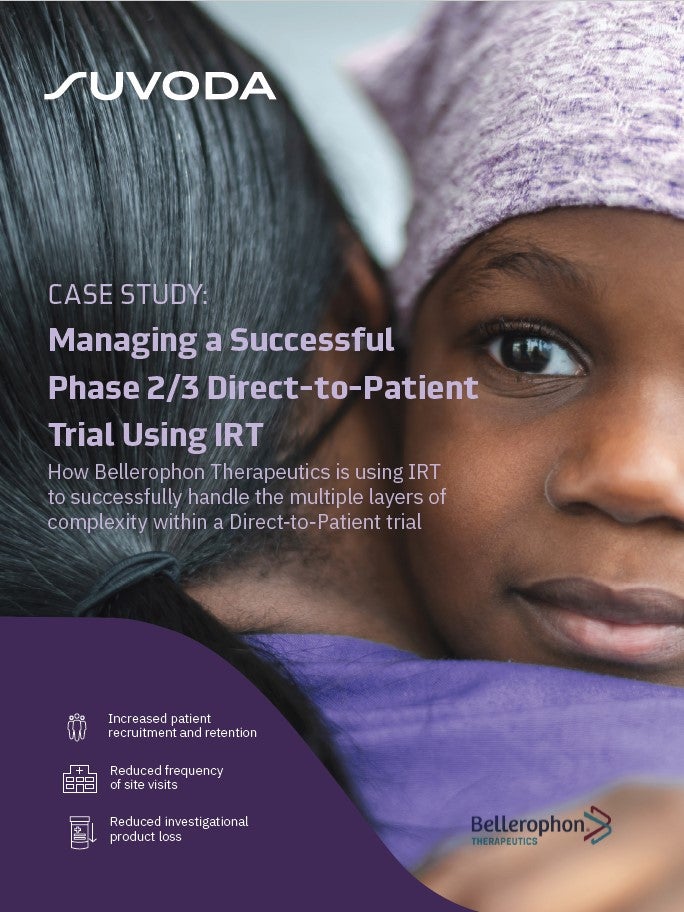 Direct-to-Patient Trials: How IRT Plays an Important Role in Bellerophon's Direct-to-Patient Trials
As the industry strengthens its focus on patient centricity, Direct-to-Patient clinical trials have emerged as a popular trial design that have the potential to increase patient recruitment and retention. IRT plays a crucial role in the success of a Direct-to-Patient trial. Because drug supplies are being managed and shipped from distribution facilities directly to patients' homes, a sponsor must have a high-quality system in place to accurately track the chain of custody, ensure patient-blinding and handle other logistical challenges. What You Will Learn Benefits and challenges associated with the Direct-to-Patient model Bellerophon's top considerations when implementing this trial design How IRT can equip study teams to successfully track chain of custody, ensure patient blinding, and handle logistical challenges
by Suvoda
With the clinical trial authorisation (CTA), the company will start a first-in-human trial for PH-762 in melanoma patients at the Gustave Roussy Institute. 
The first subject is expected to be dosed in the first quarter of this year.
The Phase Ib trial will analyse PH-762's tolerability, safety, pharmacokinetics and anti-tumour activity in advanced melanoma patients in a neoadjuvant setting.
Presently, there exist no approved neoadjuvant therapy options for individuals with melanoma.
This trial will have a dose escalation of PH-762 single agent and is intended to enable a data-driven assessment of the recommended dose for the Phase II trial.  
PH-762 stimulates immune cells, allowing them to better detect and destroy cancer cells.
It accomplishes this by decreasing the programmed cell death protein 1 (PD-1) expression, a clinically established immunotherapy target. 
Expressed by T cells, PD-1 prevents them from destroying other cancer cells. The reduction in this expression can lower the cancer cells' ability to avoid the detection and killing of T-cells.
Phio Pharmaceuticals president and CEO Dr Gerrit Dispersyn said: "Receiving this clinical trial authorisation is an important milestone for Phio as it is the first clinical study of a new generation of immuno-oncology therapeutics based on our INTASYL self-delivering RNAi platform. 
"This milestone is the first of several planned for this year, as we continue to accelerate our development of our clinical and preclinical product candidates."
In preclinical studies, PH-762 demonstrated it can induce an abscopal effect or systemic immune response following local administration.
Free Case Study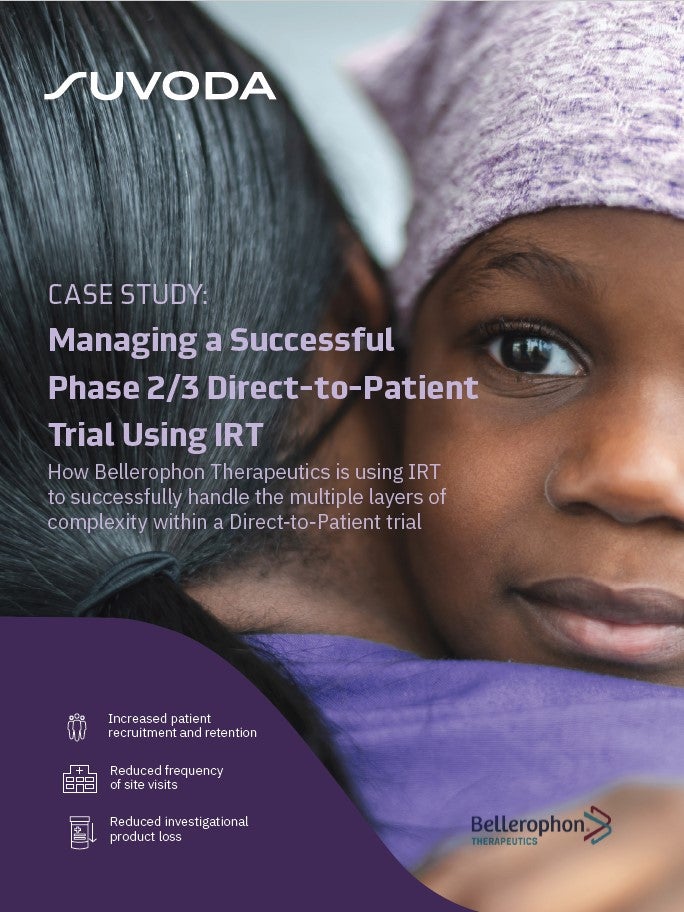 Direct-to-Patient Trials: How IRT Plays an Important Role in Bellerophon's Direct-to-Patient Trials
As the industry strengthens its focus on patient centricity, Direct-to-Patient clinical trials have emerged as a popular trial design that have the potential to increase patient recruitment and retention. IRT plays a crucial role in the success of a Direct-to-Patient trial. Because drug supplies are being managed and shipped from distribution facilities directly to patients' homes, a sponsor must have a high-quality system in place to accurately track the chain of custody, ensure patient-blinding and handle other logistical challenges. What You Will Learn Benefits and challenges associated with the Direct-to-Patient model Bellerophon's top considerations when implementing this trial design How IRT can equip study teams to successfully track chain of custody, ensure patient blinding, and handle logistical challenges
by Suvoda