Biotechnology company Pinteon Therapeutics has announced results from its Phase I study of novel tau antibody, PNT001, in treating neurodegenerative tauopathies.
Free Case Study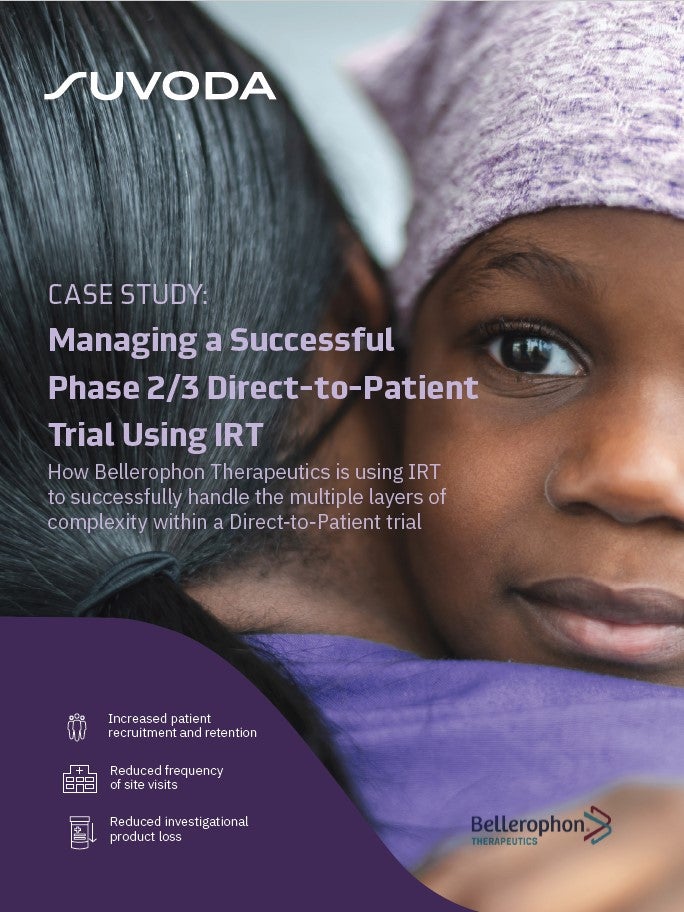 Direct-to-Patient Trials: How IRT Plays an Important Role in Bellerophon's Direct-to-Patient Trials
As the industry strengthens its focus on patient centricity, Direct-to-Patient clinical trials have emerged as a popular trial design that have the potential to increase patient recruitment and retention. IRT plays a crucial role in the success of a Direct-to-Patient trial. Because drug supplies are being managed and shipped from distribution facilities directly to patients' homes, a sponsor must have a high-quality system in place to accurately track the chain of custody, ensure patient-blinding and handle other logistical challenges. What You Will Learn Benefits and challenges associated with the Direct-to-Patient model Bellerophon's top considerations when implementing this trial design How IRT can equip study teams to successfully track chain of custody, ensure patient blinding, and handle logistical challenges
by Suvoda
The monoclonal antibody targets a neurotoxic epitope, cis-pT231 tau.
PNT001 is the lead asset of Pinteon and is the only antibody being developed to target cis-pT231 tau.
The Phase I study assessed the safety, tolerability, pharmacokinetics and immunogenicity of intravenously administered PNT001 in healthy adult volunteers.
It enrolled 49 subjects across six dose cohorts (up to 4,000mg) and were randomly given a single dose of PNT001 or placebo. They were followed up for 16 weeks.
According to the data, PNT001 was demonstrated to be well-tolerated in healthy volunteers at doses that suggest a potential therapeutic drug concentration in the cerebrospinal fluid (CSF).
In addition, no maximum tolerated dose was detected and no premature discontinuations, dose reductions or dose interruptions due to treatment-related adverse events were observed in the trial.
The company noted that these doses will be analysed in multiple ascending dose studies in patients with traumatic brain injury, as well as other tauopathies.
Pinteon Therapeutics CEO Martin Jefson said: "Traumatic brain injury and other tauopathies can have devastating effects on cognitive function and quality of life, yet there are currently no therapies that can halt or slow the rate of decline in these patients.
"We are pleased by the encouraging results from our first Phase I study, which give us a strong foundation to advance PNT001 into patient populations as we work to develop a treatment that can reduce the acute, neurotoxic effects of cis-pT231 tau, as well as stop the spread of pathologic tau and preserve function in patients living with tauopathies."
Free Case Study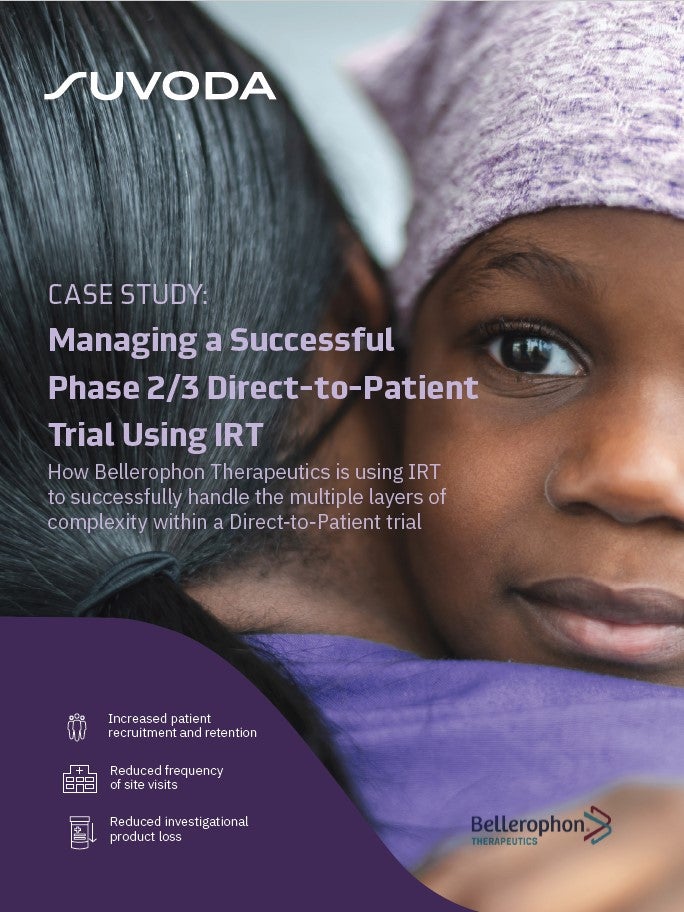 Direct-to-Patient Trials: How IRT Plays an Important Role in Bellerophon's Direct-to-Patient Trials
As the industry strengthens its focus on patient centricity, Direct-to-Patient clinical trials have emerged as a popular trial design that have the potential to increase patient recruitment and retention. IRT plays a crucial role in the success of a Direct-to-Patient trial. Because drug supplies are being managed and shipped from distribution facilities directly to patients' homes, a sponsor must have a high-quality system in place to accurately track the chain of custody, ensure patient-blinding and handle other logistical challenges. What You Will Learn Benefits and challenges associated with the Direct-to-Patient model Bellerophon's top considerations when implementing this trial design How IRT can equip study teams to successfully track chain of custody, ensure patient blinding, and handle logistical challenges
by Suvoda