Pionyr Immunotherapeutics has dosed the first subject in the Phase Ib expansion trial of its monoclonal antibody PY314 to treat solid tumour patients.
Free Case Study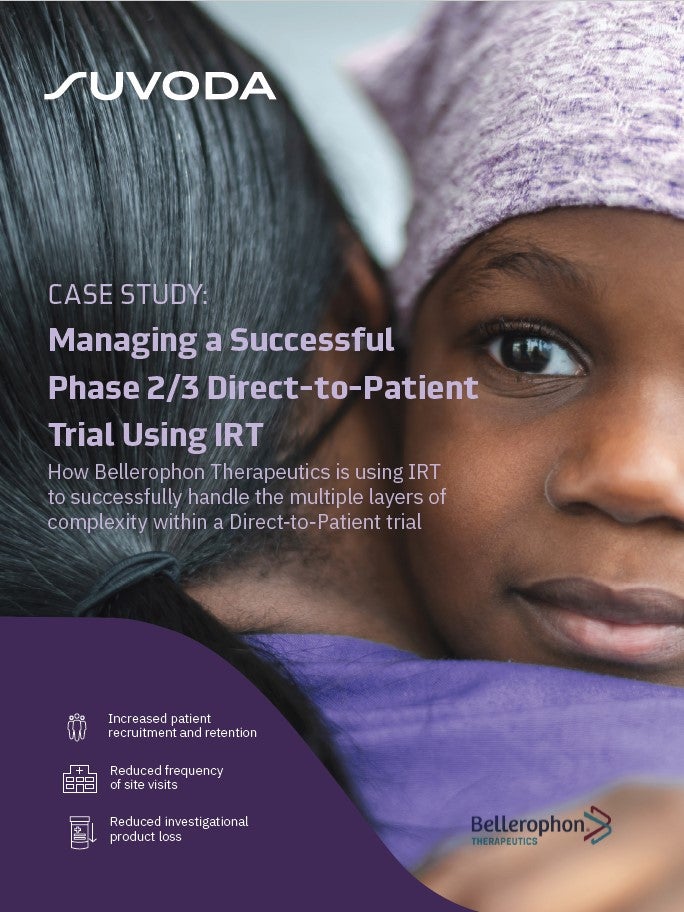 Direct-to-Patient Trials: How IRT Plays an Important Role in Bellerophon's Direct-to-Patient Trials
As the industry strengthens its focus on patient centricity, Direct-to-Patient clinical trials have emerged as a popular trial design that have the potential to increase patient recruitment and retention. IRT plays a crucial role in the success of a Direct-to-Patient trial. Because drug supplies are being managed and shipped from distribution facilities directly to patients' homes, a sponsor must have a high-quality system in place to accurately track the chain of custody, ensure patient-blinding and handle other logistical challenges. What You Will Learn Benefits and challenges associated with the Direct-to-Patient model Bellerophon's top considerations when implementing this trial design How IRT can equip study teams to successfully track chain of custody, ensure patient blinding, and handle logistical challenges
by Suvoda
PY314 attaches to Triggering Receptor Expressed on Myeloid Cells 2 (TREM2) on the immunosuppressive, pro-tumour myeloid cell surface.
It can potentially reduce TREM2-expressing tumour-associated macrophages (TAMs), offering productive anti-tumour immunity.
The Phase Ib expansion trial will analyse PY314 as monotherapy and along with pembrolizumab to treat predefined tumour types, including breast, ovarian, colorectal, lung and renal cancers.
The first subject who was dosed in the trial received PY314 as a monotherapy for advanced ovarian cancer while the combination arms of the trial commenced enrolment.
In this trial, anti-tumour activity, safety, tolerability and pharmacokinetics of PY314 will be analysed.
Furthermore, additional exploratory biomarkers, including the assessment of TREM2-expressing macrophages in tumour biopsy samples, will be evaluated.
The Phase Ib trial comes after the Phase Ia dose-escalation study that analysed the safety and tolerability of PY314 as monotherapy and with pembrolizumab for various solid tumours.
The multicentre Phase 1a trial in the US concluded subject enrolment and determined the recommended dose for the Phase Ib trial.
Pionyr Immunotherapeutics executive vice-president and chief medical officer Leonard Reyno said: "Dosing the first patient in our Phase Ib expansion study is an important milestone for the clinical development of PY314, having passed the first safety analysis and identifying a recommended dose for further evaluation.
"PY314 represents an opportunity to expand immunotherapy options for patients with advanced solid tumours, which continues to represent a major unmet need, especially among patients with checkpoint resistant tumours."
The company signed a transformational collaboration in July 2020 through which Gilead Sciences obtained its minority interest.
Free Case Study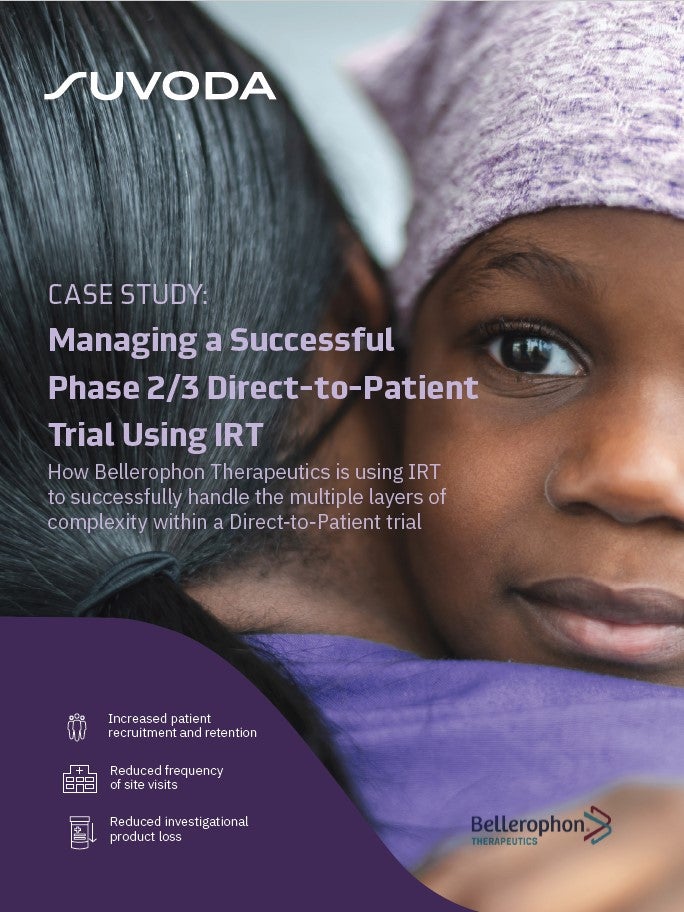 Direct-to-Patient Trials: How IRT Plays an Important Role in Bellerophon's Direct-to-Patient Trials
As the industry strengthens its focus on patient centricity, Direct-to-Patient clinical trials have emerged as a popular trial design that have the potential to increase patient recruitment and retention. IRT plays a crucial role in the success of a Direct-to-Patient trial. Because drug supplies are being managed and shipped from distribution facilities directly to patients' homes, a sponsor must have a high-quality system in place to accurately track the chain of custody, ensure patient-blinding and handle other logistical challenges. What You Will Learn Benefits and challenges associated with the Direct-to-Patient model Bellerophon's top considerations when implementing this trial design How IRT can equip study teams to successfully track chain of custody, ensure patient blinding, and handle logistical challenges
by Suvoda