Pipeline Therapeutics has reported positive results from the Phase I clinical trial in healthy subjects assessing PIPE-307, which is being developed to potentially treat multiple sclerosis (MS).
Free Case Study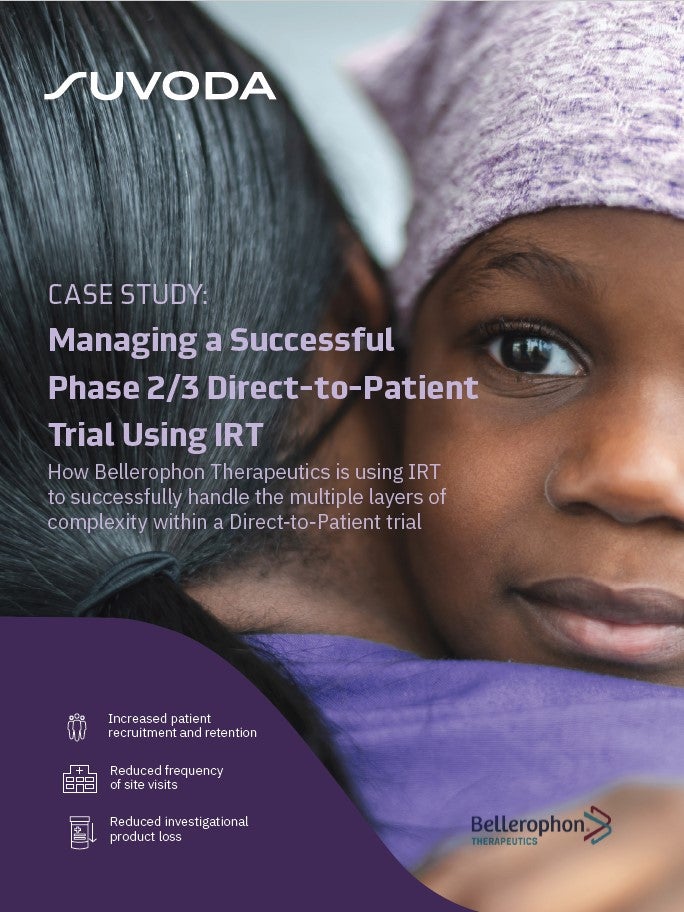 Direct-to-Patient Trials: How IRT Plays an Important Role in Bellerophon's Direct-to-Patient Trials
As the industry strengthens its focus on patient centricity, Direct-to-Patient clinical trials have emerged as a popular trial design that have the potential to increase patient recruitment and retention. IRT plays a crucial role in the success of a Direct-to-Patient trial. Because drug supplies are being managed and shipped from distribution facilities directly to patients' homes, a sponsor must have a high-quality system in place to accurately track the chain of custody, ensure patient-blinding and handle other logistical challenges. What You Will Learn Benefits and challenges associated with the Direct-to-Patient model Bellerophon's top considerations when implementing this trial design How IRT can equip study teams to successfully track chain of custody, ensure patient blinding, and handle logistical challenges
by Suvoda
A lead programme of the company for myelin restoration, PIPE-307 is an oral, selective antagonist of the muscarinic M1 receptor.
The double-blind, randomised, placebo-controlled trial analysed the safety and tolerability of PIPE-307 in 70 healthy adult subjects enrolled at a single site in Australia.
It was carried out in three parts: a single ascending dose (SAD) study, a multiple ascending dose (MAD) study and a selected SAD arm to assess the impact of food on PIPE-307 bioavailability.
Assessing the safety and tolerability of PIPE-307 was the trial's primary endpoint while the secondary endpoint analysed the therapy's effect on pharmacokinetics.
According to the trial findings, the oral therapy demonstrated to possess favourable safety and pharmacokinetic (PK) profile and met the primary and secondary endpoints.
Furthermore, PIPE-307 was found to have pharmacokinetic (PK) data in line with preclinical modelling and was well tolerated across all tested doses.
The trial included various neuropsychological assessments, including tests for psychomotor, attention, learning, and executive function.
No substantial PK or dose associated effects on cognitive function were observed.
Pipeline Therapeutics Clinical Development chief medical officer and senior vice-president Stephen Huhn said: "The results of the single- and multiple-ascending dose cohorts from the completed Phase I study demonstrate a favourable safety and PK profile, and we are pleased to have met our primary and secondary endpoints in this study.
"These encouraging Phase I results give us great confidence to advance PIPE-307 into clinical studies with MS patients as soon as possible."
Free Case Study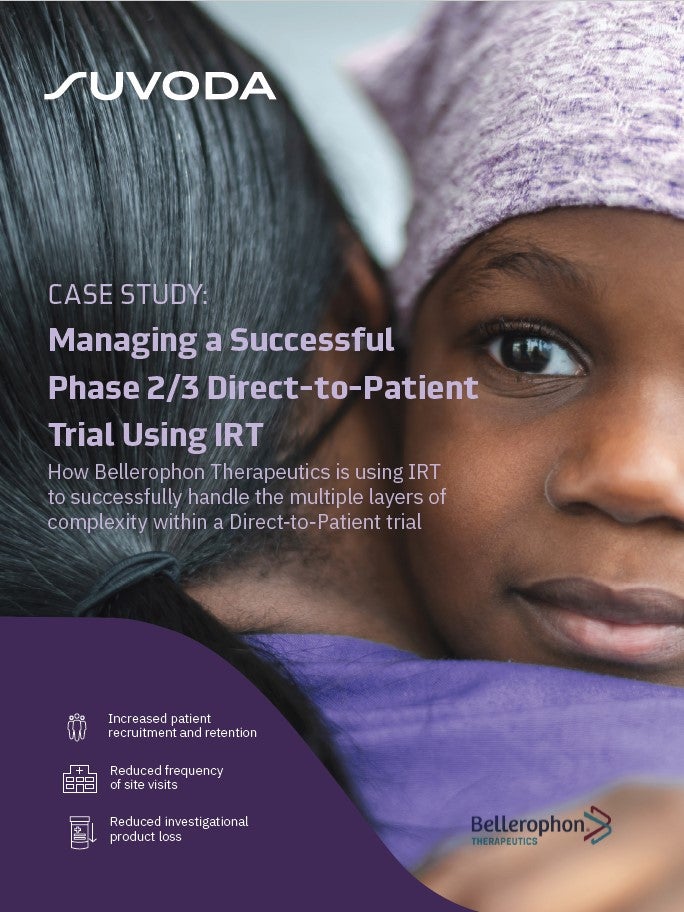 Direct-to-Patient Trials: How IRT Plays an Important Role in Bellerophon's Direct-to-Patient Trials
As the industry strengthens its focus on patient centricity, Direct-to-Patient clinical trials have emerged as a popular trial design that have the potential to increase patient recruitment and retention. IRT plays a crucial role in the success of a Direct-to-Patient trial. Because drug supplies are being managed and shipped from distribution facilities directly to patients' homes, a sponsor must have a high-quality system in place to accurately track the chain of custody, ensure patient-blinding and handle other logistical challenges. What You Will Learn Benefits and challenges associated with the Direct-to-Patient model Bellerophon's top considerations when implementing this trial design How IRT can equip study teams to successfully track chain of custody, ensure patient blinding, and handle logistical challenges
by Suvoda