Pneumagen has commenced the Phase I clinical trial of its intranasal drug, Neumifil, in healthy subjects for viral respiratory tract infection (RTI) prophylaxis and treatment.
Free Case Study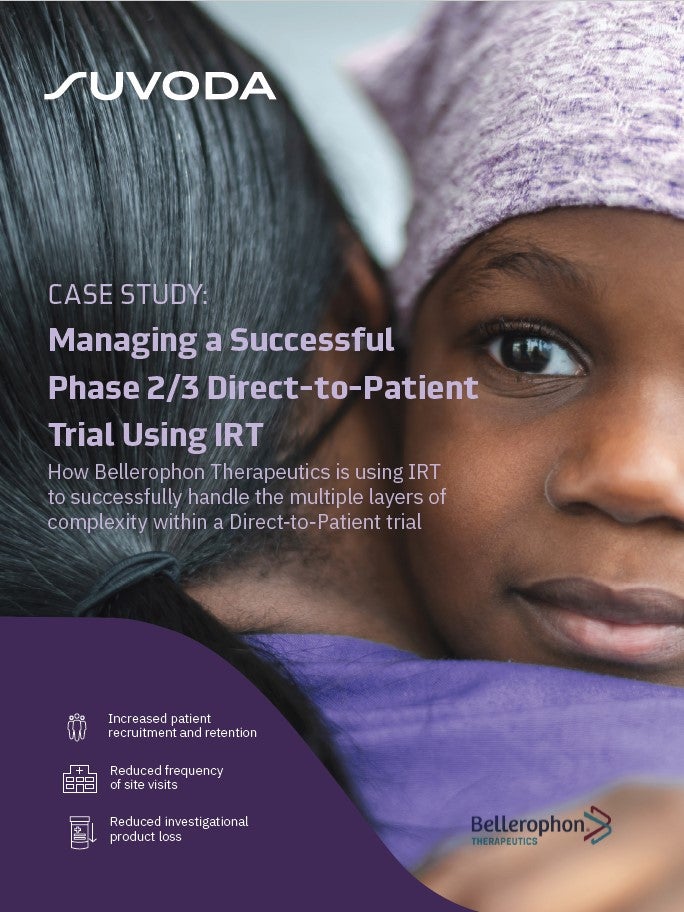 Direct-to-Patient Trials: How IRT Plays an Important Role in Bellerophon's Direct-to-Patient Trials
As the industry strengthens its focus on patient centricity, Direct-to-Patient clinical trials have emerged as a popular trial design that have the potential to increase patient recruitment and retention. IRT plays a crucial role in the success of a Direct-to-Patient trial. Because drug supplies are being managed and shipped from distribution facilities directly to patients' homes, a sponsor must have a high-quality system in place to accurately track the chain of custody, ensure patient-blinding and handle other logistical challenges. What You Will Learn Benefits and challenges associated with the Direct-to-Patient model Bellerophon's top considerations when implementing this trial design How IRT can equip study teams to successfully track chain of custody, ensure patient blinding, and handle logistical challenges
by Suvoda
Generated using the company's GlycoTarge technology, Neumifil is a new engineered multivalent carbohydrate-binding molecule (mCBM).
Designed as a self-administered nasal spray, the drug works by preventing the viruses from entering cells and migrating to the lungs.
Pneumagen is developing the therapy for various viral RTIs such as influenza and Covid-19.
The two-part, single-centre, double-blind, randomised, placebo-controlled trial will analyse the safety and tolerability of the universal drug in study subjects.
The safety and tolerability of single ascending intranasal doses of Neumifil will be analysed in Part A of the dose-escalating trial whereas Part B will investigate the safety and tolerability of the drug's multiple ascending doses.
Pneumagen CEO Douglas Thomson said: "As an easy-to-use nasal spray that could be prescribed to those at risk of viral exacerbations, Neumifil has the potential to prevent more serious disease, hospitalisation and the need for critical care for patients.
"Neumifil is being developed as a safe, effective and convenient to self-administer option with the potential to transform the treatment of viral pandemics and infectious diseases."
The company anticipates top-line data from the trial in the first half of next year.
Neumifil was found to be beneficial in the prevention, treatment and post-exposure prophylaxis of influenza and respiratory syncytial virus infection, without any toxicity reported in preclinical studies.
In animal models, the drug demonstrated efficacy against Covid-19 by substantially reducing clinical signs.
In April 2020, Pneumagen reported positive data from three in-vitro studies of Neumifil and other mCBMs to prevent Covid-19.
Free Case Study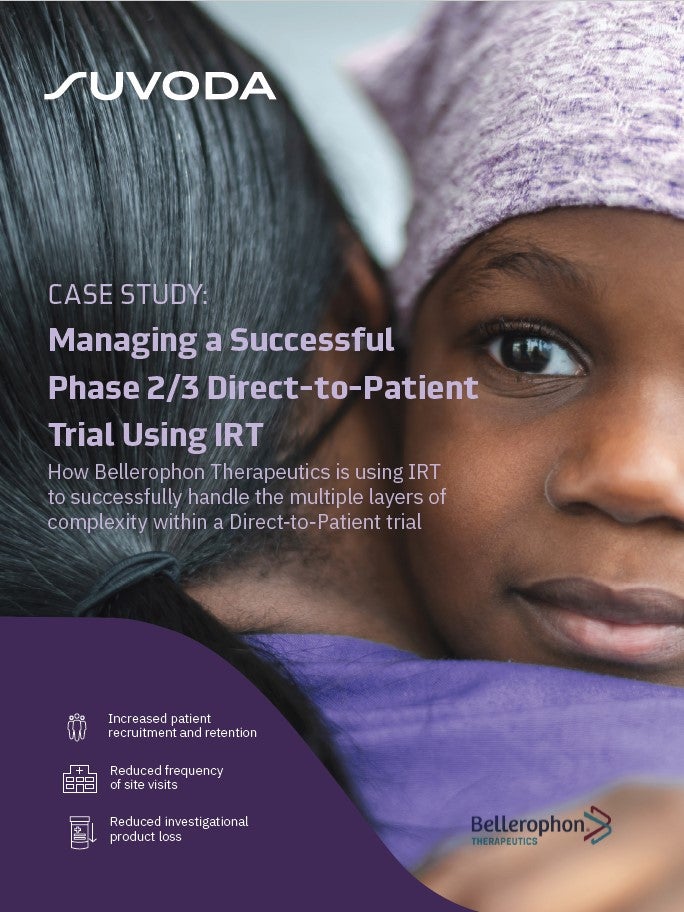 Direct-to-Patient Trials: How IRT Plays an Important Role in Bellerophon's Direct-to-Patient Trials
As the industry strengthens its focus on patient centricity, Direct-to-Patient clinical trials have emerged as a popular trial design that have the potential to increase patient recruitment and retention. IRT plays a crucial role in the success of a Direct-to-Patient trial. Because drug supplies are being managed and shipped from distribution facilities directly to patients' homes, a sponsor must have a high-quality system in place to accurately track the chain of custody, ensure patient-blinding and handle other logistical challenges. What You Will Learn Benefits and challenges associated with the Direct-to-Patient model Bellerophon's top considerations when implementing this trial design How IRT can equip study teams to successfully track chain of custody, ensure patient blinding, and handle logistical challenges
by Suvoda