Global contract research organisation PPD has extended its digital clinical trial capabilities to support biopharmaceutical firms' research continuity initiatives in response to the Covid-19 pandemic.
Free Case Study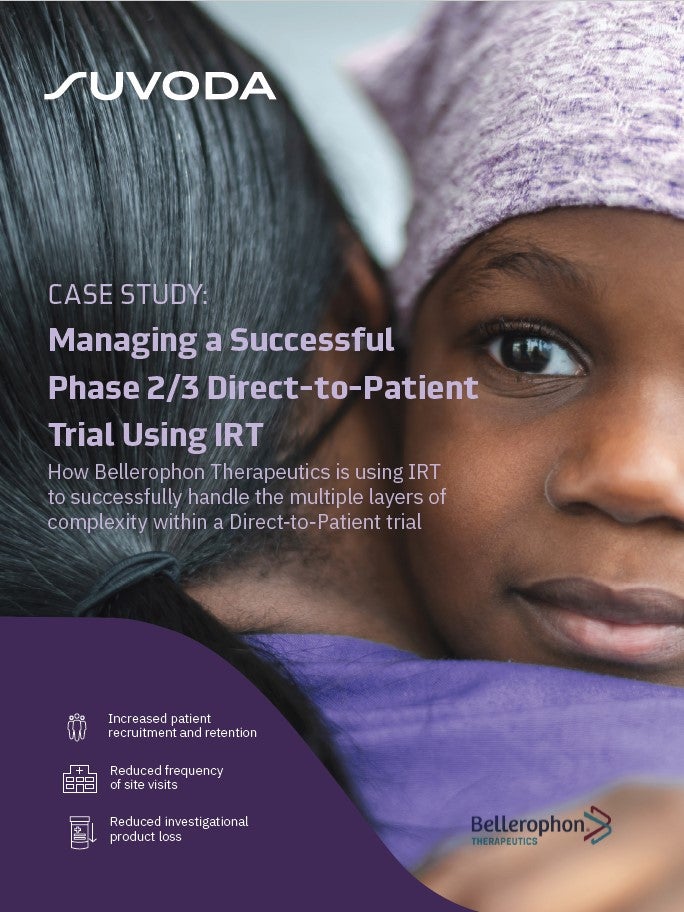 Direct-to-Patient Trials: How IRT Plays an Important Role in Bellerophon's Direct-to-Patient Trials
As the industry strengthens its focus on patient centricity, Direct-to-Patient clinical trials have emerged as a popular trial design that have the potential to increase patient recruitment and retention. IRT plays a crucial role in the success of a Direct-to-Patient trial. Because drug supplies are being managed and shipped from distribution facilities directly to patients' homes, a sponsor must have a high-quality system in place to accurately track the chain of custody, ensure patient-blinding and handle other logistical challenges. What You Will Learn Benefits and challenges associated with the Direct-to-Patient model Bellerophon's top considerations when implementing this trial design How IRT can equip study teams to successfully track chain of custody, ensure patient blinding, and handle logistical challenges
by Suvoda
The coronavirus outbreak is posing many challenges in the designing and conducting of clinical trials, majorly the inability of patients to visit research sites due to government-mandated lockdowns.
As part of the company's digital strategy, PPD is collaborating with customers, regulatory authorities and business partners in order to deploy digital and virtual solutions.
PPD is investing in new clinical study models designed to improve the patient experience by reducing the number of in-person visits in favour of remote and digitally enabled participation of the study.
PPD digital services senior vice-president Niklas Morton said: "The pandemic's impact is driving a new consensus that the need is now for expanded use of digitally enabled trials.
"Our flexible customer solutions across the digital spectrum are designed to increase trial-participation access for patients and enhance their experience, resulting in time-efficiency and data-quality improvements for our customers.
"In today's challenging environment, our digital solutions can contribute to minimising trial disruptions and helping our customers keep their drug development programmes on track."
In the wake of the Covid-19 impact on ongoing studies, PPD has partnered with Medable and Science 37 for virtual trials and is deploying new mobile applications that enable patients to connect visually with their clinical study sites, as well as allow investigators to complete safety assessments more efficiently.
Last month, ZyVersa Therapeutics engaged PPD to manage its upcoming Phase IIa focal segmental glomerulosclerosis (FSGS) study. FSGS is a leading cause of kidney failure in adults.
In December last year, PPD added significant neuroscience and ethno-bridging expertise, expanding its early development research services for its clinical research units (CRUs).
Free Case Study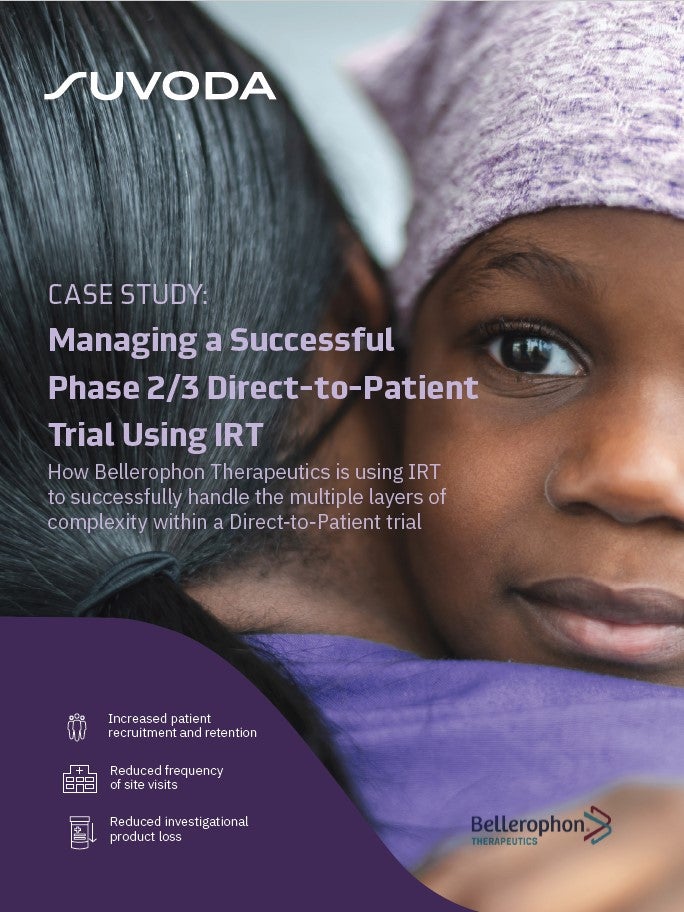 Direct-to-Patient Trials: How IRT Plays an Important Role in Bellerophon's Direct-to-Patient Trials
As the industry strengthens its focus on patient centricity, Direct-to-Patient clinical trials have emerged as a popular trial design that have the potential to increase patient recruitment and retention. IRT plays a crucial role in the success of a Direct-to-Patient trial. Because drug supplies are being managed and shipped from distribution facilities directly to patients' homes, a sponsor must have a high-quality system in place to accurately track the chain of custody, ensure patient-blinding and handle other logistical challenges. What You Will Learn Benefits and challenges associated with the Direct-to-Patient model Bellerophon's top considerations when implementing this trial design How IRT can equip study teams to successfully track chain of custody, ensure patient blinding, and handle logistical challenges
by Suvoda