ProJenX has dosed the first subject in the first-in-human Phase 1 PRO-101 clinical trial of its investigational new drug, prosetin, in healthy subjects and amyotrophic lateral sclerosis (ALS) patients.
Free Case Study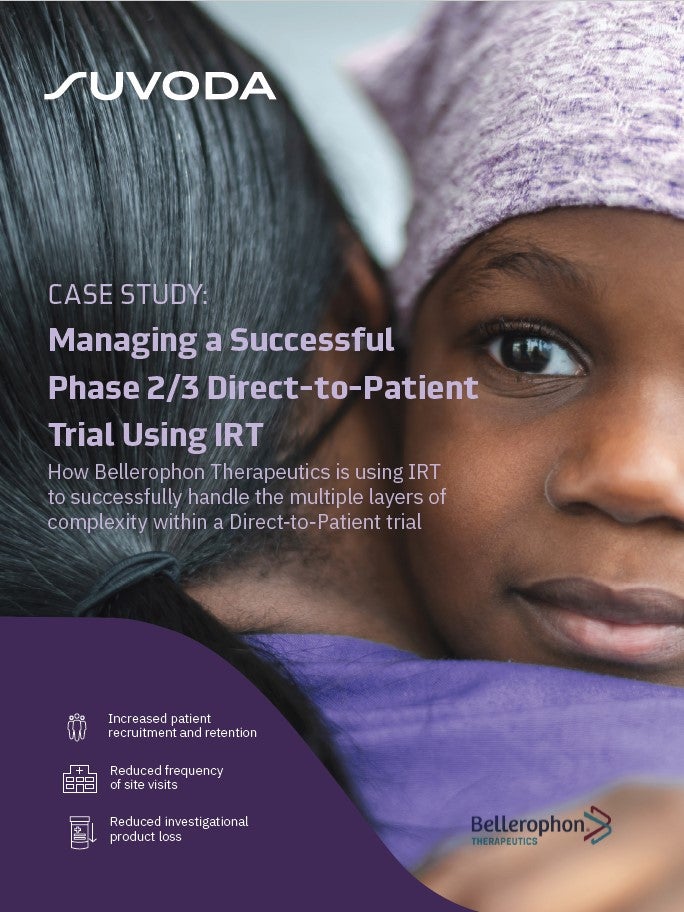 Direct-to-Patient Trials: How IRT Plays an Important Role in Bellerophon's Direct-to-Patient Trials
As the industry strengthens its focus on patient centricity, Direct-to-Patient clinical trials have emerged as a popular trial design that have the potential to increase patient recruitment and retention. IRT plays a crucial role in the success of a Direct-to-Patient trial. Because drug supplies are being managed and shipped from distribution facilities directly to patients' homes, a sponsor must have a high-quality system in place to accurately track the chain of custody, ensure patient-blinding and handle other logistical challenges. What You Will Learn Benefits and challenges associated with the Direct-to-Patient model Bellerophon's top considerations when implementing this trial design How IRT can equip study teams to successfully track chain of custody, ensure patient blinding, and handle logistical challenges
by Suvoda
An oral, brain-penetrant, mitogen-activated protein kinase kinase kinase kinase (MAP4K) inhibitor, prosetin acts on endoplasmic reticulum (ER) stress.
ER stress is a common characteristic of ALS' sporadic and familial forms.
In a patient-specific, cell-based discovery platform developed by Columbia University scientists, MAP4Ks were detected as the crucial ER stress-mediated motor neuron loss regulators.
The three-part, hybrid trial will analyse the safety, tolerability, pharmacokinetics and pharmacodynamics of the drug in healthy subjects and individuals with ALS.
Parts 1a and 1b will be double-blind, randomised, placebo-controlled, dose-escalating studies for assessing the safety, tolerability and pharmacokinetics of single ascending and multiple doses of prosetin in healthy subjects.
On evaluating data from these parts, Part 1c of the trial will assess the drug's safety, tolerability, pharmacokinetics, and pharmacodynamics in patients with ALS.
The PRO-101 trial was designed following talks with the Food and Drug Administration (FDA), various clinicians and community advisors for ALS.
It seeks to validate the safety and biomarker data required for selecting the dose and designing late-stage trials.
ProJenX co-founder and Operations senior director Erin Fleming said: "We are excited to advance prosetin, a potential first-in-class treatment for ALS and related neurodegenerative diseases, into the clinic.
"PRO-101 will provide essential safety, pharmacokinetic, and biomarker data about prosetin to inform our decisions on future clinical testing, including potential registrational studies." Project ALS, a nonprofit organisation funded the preclinical development of prosetin. 
Clinical Trials Arena previously looked into how to build a clinical trial in ALS for approval.
Free Case Study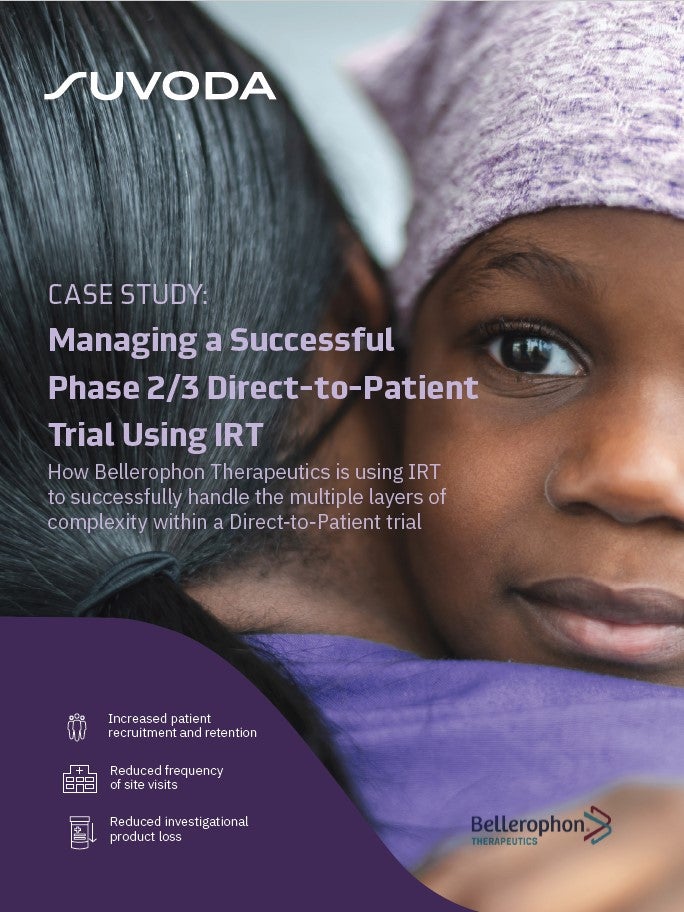 Direct-to-Patient Trials: How IRT Plays an Important Role in Bellerophon's Direct-to-Patient Trials
As the industry strengthens its focus on patient centricity, Direct-to-Patient clinical trials have emerged as a popular trial design that have the potential to increase patient recruitment and retention. IRT plays a crucial role in the success of a Direct-to-Patient trial. Because drug supplies are being managed and shipped from distribution facilities directly to patients' homes, a sponsor must have a high-quality system in place to accurately track the chain of custody, ensure patient-blinding and handle other logistical challenges. What You Will Learn Benefits and challenges associated with the Direct-to-Patient model Bellerophon's top considerations when implementing this trial design How IRT can equip study teams to successfully track chain of custody, ensure patient blinding, and handle logistical challenges
by Suvoda