Clinical research organisation (CRO) ProTrials Research has selected eClinical and regulatory solutions and services provider Calyx as the approved partner to boost clinical trial outcomes data.
Free Case Study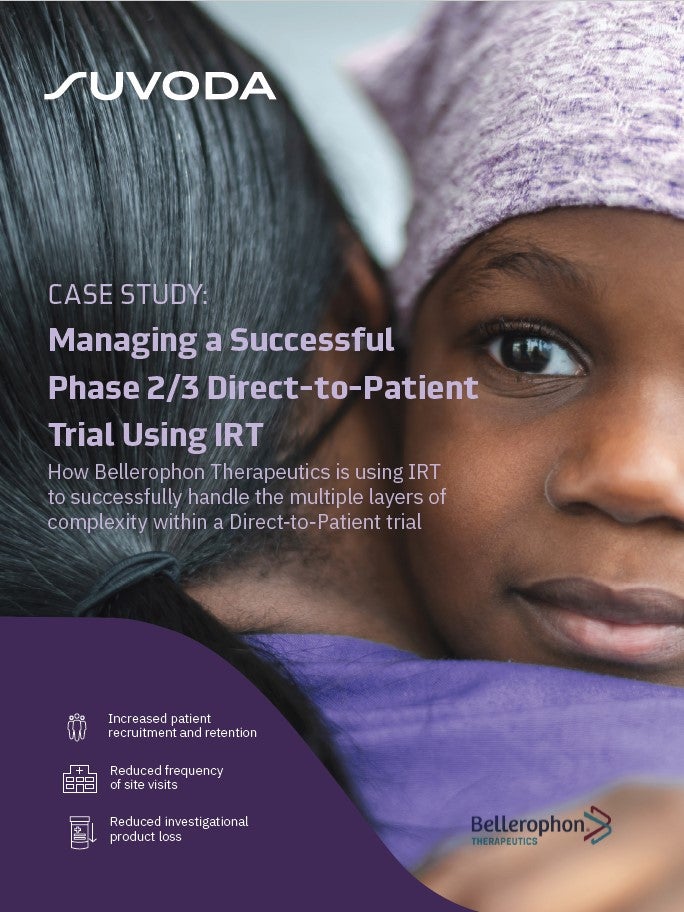 Direct-to-Patient Trials: How IRT Plays an Important Role in Bellerophon's Direct-to-Patient Trials
As the industry strengthens its focus on patient centricity, Direct-to-Patient clinical trials have emerged as a popular trial design that have the potential to increase patient recruitment and retention. IRT plays a crucial role in the success of a Direct-to-Patient trial. Because drug supplies are being managed and shipped from distribution facilities directly to patients' homes, a sponsor must have a high-quality system in place to accurately track the chain of custody, ensure patient-blinding and handle other logistical challenges. What You Will Learn Benefits and challenges associated with the Direct-to-Patient model Bellerophon's top considerations when implementing this trial design How IRT can equip study teams to successfully track chain of custody, ensure patient blinding, and handle logistical challenges
by Suvoda
Through the collaboration, Calyx will expand its established interactive response technology (IRT), medical imaging, electronic data capture (EDC) solutions and services to aid global clients of ProTrials attain clinical development goals.
Clients of ProTrials will use the new technology of Calyx to enhance the clinical trial outcomes data. This eventually enables them to offer safe medical therapeutics to patients.
ProTrials focuses on offering clinical operations services to the pharmaceutical, biotechnology and medical device sectors.
The company provides trial management, grant services, investigative site monitoring and linked clinical development services, among others.
ProTrials Research Quality Assurance director Christy Meyer said: "We're pleased to partner with Calyx and are confident that our customers will benefit from the scientific, medical, and clinical expertise they have honed during their 30 years of delivering reliable eClinical solutions to the clinical development industry."
Calyx has clinical development expertise and supports trial sponsors and CROs.
Leveraging intelligence and expertise in solving complicated problems, Calyx provides rapid insights and aids in bringing new therapies to market.
Calyx Technical Solutions vice-president Elizabeth Dalton said: "We look forward to delivering the important imaging and eClinical data ProTrials' customers rely on as they evaluate the safety and efficacy of often life-saving medical treatments.
"We're honoured that ProTrials selected Calyx to support them as they deliver on their commitment to improve the health and extend the lives of patients worldwide."
Free Case Study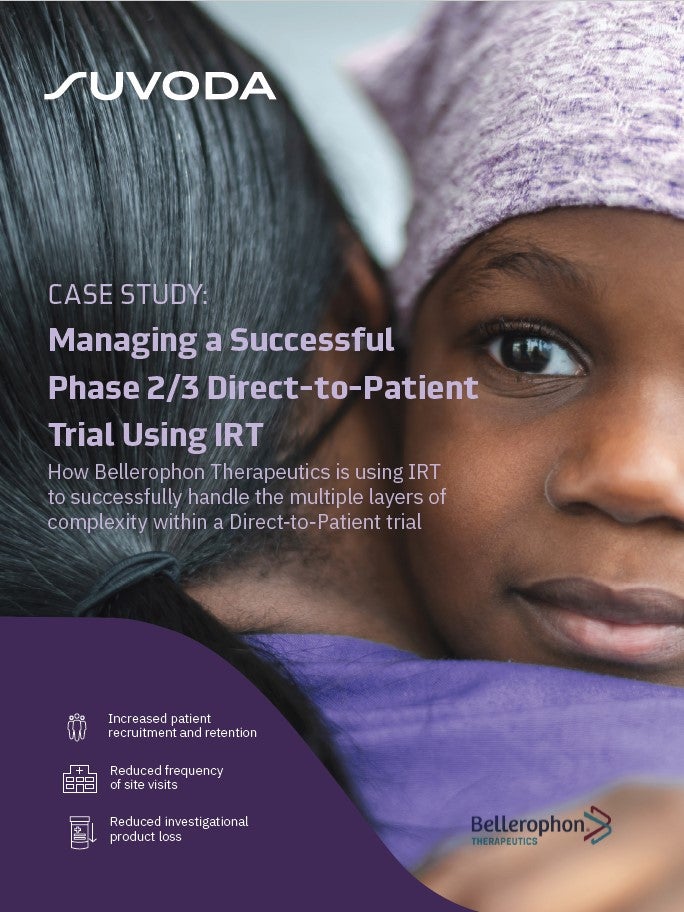 Direct-to-Patient Trials: How IRT Plays an Important Role in Bellerophon's Direct-to-Patient Trials
As the industry strengthens its focus on patient centricity, Direct-to-Patient clinical trials have emerged as a popular trial design that have the potential to increase patient recruitment and retention. IRT plays a crucial role in the success of a Direct-to-Patient trial. Because drug supplies are being managed and shipped from distribution facilities directly to patients' homes, a sponsor must have a high-quality system in place to accurately track the chain of custody, ensure patient-blinding and handle other logistical challenges. What You Will Learn Benefits and challenges associated with the Direct-to-Patient model Bellerophon's top considerations when implementing this trial design How IRT can equip study teams to successfully track chain of custody, ensure patient blinding, and handle logistical challenges
by Suvoda