BridgeBio Pharma subsidiary QED Therapeutics has dosed the first patients separately in Phase III and II clinical trials of Infigratinib in oncology indications.
Free Case Study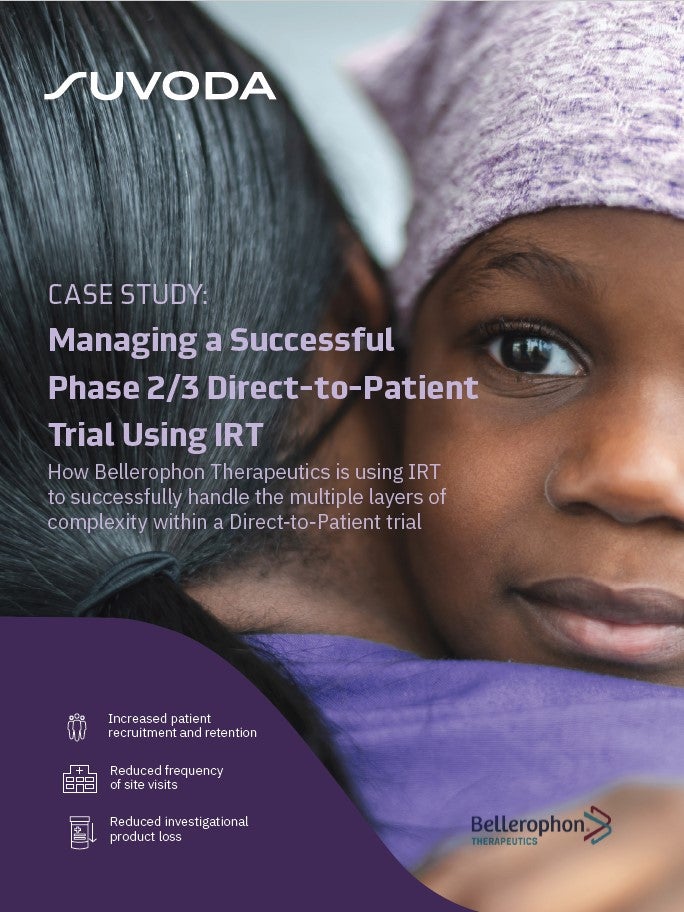 Direct-to-Patient Trials: How IRT Plays an Important Role in Bellerophon's Direct-to-Patient Trials
As the industry strengthens its focus on patient centricity, Direct-to-Patient clinical trials have emerged as a popular trial design that have the potential to increase patient recruitment and retention. IRT plays a crucial role in the success of a Direct-to-Patient trial. Because drug supplies are being managed and shipped from distribution facilities directly to patients' homes, a sponsor must have a high-quality system in place to accurately track the chain of custody, ensure patient-blinding and handle other logistical challenges. What You Will Learn Benefits and challenges associated with the Direct-to-Patient model Bellerophon's top considerations when implementing this trial design How IRT can equip study teams to successfully track chain of custody, ensure patient blinding, and handle logistical challenges
by Suvoda
In the Phase III PROOF 302 trial, infigratinib will be evaluated for the adjuvant (post-surgery) treatment of invasive urothelial carcinoma.
The trial has enrolled subjects with invasive urothelial cancer harboring susceptible FGFR3 genetic alterations with high-risk of recurrence following surgical resection. They will be randomised 1:1 to receive once-daily oral infigratinib or placebo.
The primary outcome of the trial is disease-free survival, while secondary outcomes include metastasis-free survival, overall survival, and safety and tolerability measures.
A second, investigator-initiated trial is studying infigratinib for the treatment of advanced and metastatic solid tumours with confirmed FGFR gene fusions/translocations or other FGFR alterations.
It is led by Sameek Roychowdhury of the Ohio State University (OSU) Comprehensive Cancer Center.
This Phase II open-label study will evaluate the efficacy of infigratinib in patients who have advanced or metastatic solid tumours that are positive for FGFR1-3 gene fusions/translocations or other FGFR alterations.
The primary outcome of this study, which is conducted at OSU and selected sites within the Oncology Research Information Exchange Network (ORIEN), is the overall response rate.
Progression-free survival, best overall response, disease control rate, overall survival, and measures of safety and tolerability are the secondary outcomes.
Commenting on the trial, Roychowdhury said: "Increasingly, oncologists are learning to classify their patients' cancers based on genetic mutations, going beyond the origin of the tumour.
"Given the activity we have seen with infigratinib in FGFR2-fusion-driven bile duct cancers and FGFR3-altered urothelial carcinoma, our hope is that infigratinib will demonstrate similar activity in additional cancers that appear to be driven by alterations in FGFR."
Free Case Study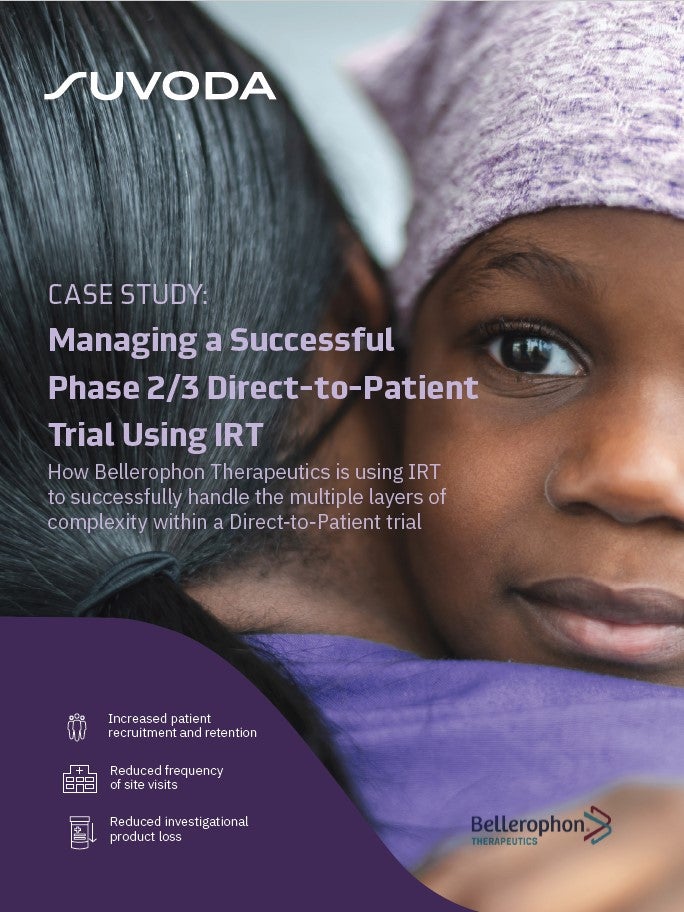 Direct-to-Patient Trials: How IRT Plays an Important Role in Bellerophon's Direct-to-Patient Trials
As the industry strengthens its focus on patient centricity, Direct-to-Patient clinical trials have emerged as a popular trial design that have the potential to increase patient recruitment and retention. IRT plays a crucial role in the success of a Direct-to-Patient trial. Because drug supplies are being managed and shipped from distribution facilities directly to patients' homes, a sponsor must have a high-quality system in place to accurately track the chain of custody, ensure patient-blinding and handle other logistical challenges. What You Will Learn Benefits and challenges associated with the Direct-to-Patient model Bellerophon's top considerations when implementing this trial design How IRT can equip study teams to successfully track chain of custody, ensure patient blinding, and handle logistical challenges
by Suvoda