Data from a RECOVERY clinical trial being conducted in the UK has demonstrated no benefit with lopinavir-ritonavir, a common HIV medicine marketed by AbbVie, in patients hospitalised with Covid-19.
Free Case Study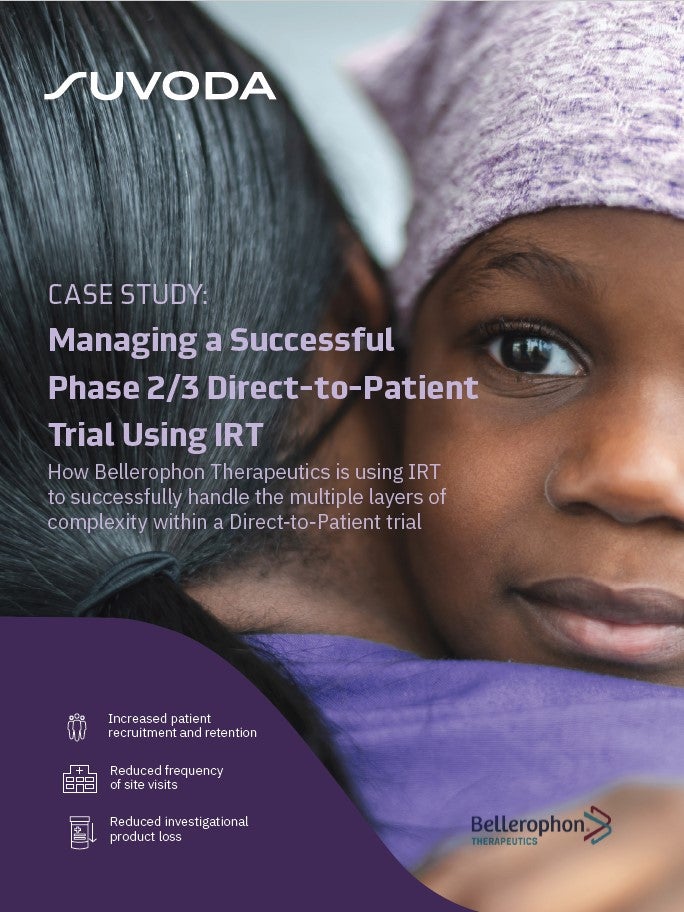 Direct-to-Patient Trials: How IRT Plays an Important Role in Bellerophon's Direct-to-Patient Trials
As the industry strengthens its focus on patient centricity, Direct-to-Patient clinical trials have emerged as a popular trial design that have the potential to increase patient recruitment and retention. IRT plays a crucial role in the success of a Direct-to-Patient trial. Because drug supplies are being managed and shipped from distribution facilities directly to patients' homes, a sponsor must have a high-quality system in place to accurately track the chain of custody, ensure patient-blinding and handle other logistical challenges. What You Will Learn Benefits and challenges associated with the Direct-to-Patient model Bellerophon's top considerations when implementing this trial design How IRT can equip study teams to successfully track chain of custody, ensure patient blinding, and handle logistical challenges
by Suvoda
RECOVERY was launched to assess multiple Covid-19 drug candidates. To date, more than 11,800 patients have been recruited from 176 NHS hospitals in the UK.
On 25 June, the trial's independent Data Monitoring Committee performed a routine review of the captured data. It recommended that the chief investigators can be unblinded to the lopinavir-ritonavir arm results.
The trial Steering Committee concluded on 29 June that the medication has no beneficial effect in hospitalised Covid-19 patients and stopped randomisation to that arm.
According to the researchers, a total of 1,596 patients were enrolled in the lopinavir-ritonavir group and were compared to 3,376 patients on usual care alone.
Of these participants, 4% needed invasive mechanical ventilation at the time of entry into the trial, 70% required oxygen alone and 26% did not need any respiratory intervention.
Results showed no significant difference in the primary endpoint of 28-day mortality, with consistent data across patient subgroups. Researchers also reported no evidence of beneficial impact on the risk of progression to mechanical ventilation or duration of hospital stay.
The researchers said: "These data convincingly rule out any meaningful mortality benefit of lopinavir-ritonavir in the hospitalised Covid-19 patients we studied.
"We were unable to study a large number of patients on invasive mechanical ventilation because of difficulty administering the drug to patients on ventilators.
"As such, we cannot make conclusions about the effectiveness in mechanically ventilated patients. Full results will be made available as soon as possible."
Apart from lopinavir-ritonavir, the low-dose dexamethasone arm of the RECOVERY trial was stopped due to clear evidence of benefit in adult Covid-19 patients, along with the hydroxychloroquine arm due to lack of efficacy.
Free Case Study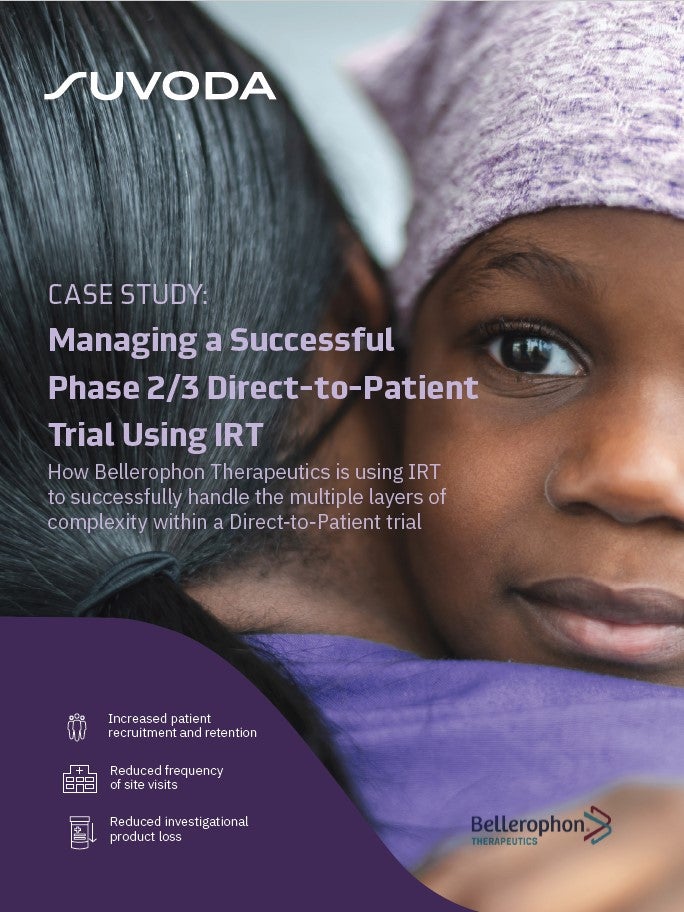 Direct-to-Patient Trials: How IRT Plays an Important Role in Bellerophon's Direct-to-Patient Trials
As the industry strengthens its focus on patient centricity, Direct-to-Patient clinical trials have emerged as a popular trial design that have the potential to increase patient recruitment and retention. IRT plays a crucial role in the success of a Direct-to-Patient trial. Because drug supplies are being managed and shipped from distribution facilities directly to patients' homes, a sponsor must have a high-quality system in place to accurately track the chain of custody, ensure patient-blinding and handle other logistical challenges. What You Will Learn Benefits and challenges associated with the Direct-to-Patient model Bellerophon's top considerations when implementing this trial design How IRT can equip study teams to successfully track chain of custody, ensure patient blinding, and handle logistical challenges
by Suvoda