Israeli firm RedHill Biopharma has received the US Food and Drug Administration (FDA) approval to conduct a Phase IIa clinical trial of opaganib (Yeliva, ABC294640) to treat moderate-to-severe Covid-19.
Free Case Study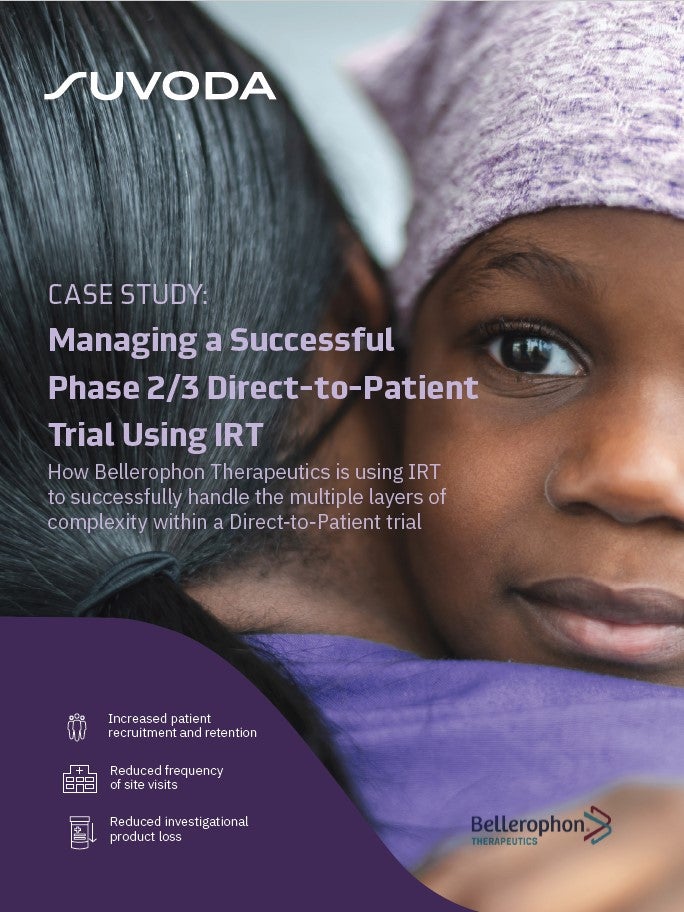 Direct-to-Patient Trials: How IRT Plays an Important Role in Bellerophon's Direct-to-Patient Trials
As the industry strengthens its focus on patient centricity, Direct-to-Patient clinical trials have emerged as a popular trial design that have the potential to increase patient recruitment and retention. IRT plays a crucial role in the success of a Direct-to-Patient trial. Because drug supplies are being managed and shipped from distribution facilities directly to patients' homes, a sponsor must have a high-quality system in place to accurately track the chain of custody, ensure patient-blinding and handle other logistical challenges. What You Will Learn Benefits and challenges associated with the Direct-to-Patient model Bellerophon's top considerations when implementing this trial design How IRT can equip study teams to successfully track chain of custody, ensure patient blinding, and handle logistical challenges
by Suvoda
Opaganib is an investigational, oral sphingosine kinase-2 (SK2) selective inhibitor with anticancer, anti-inflammatory and anti-viral properties.
The randomised, double-blind, placebo-controlled Phase IIa trial will enrol up to 40 moderate-to-severe Covid-19 and pneumonia patients who require hospitalisation and supplemental oxygenation.
Participants will be given opaganib or placebo along with standard of care. The primary objective is the decrease in total oxygen requirement over the treatment duration for up to 14 days.
Secondary endpoints of the trial include time to 50% decrease in oxygen requirements, the proportion of patients without fever at day 14, and the proportion with negative nasal swabs at day 14.
RedHill Biopharma medical director Mark Levitt said: "There is a strong scientific rationale for the potential efficacy of opaganib in the treatment of Covid-19, including pre-clinical data demonstrating that opaganib may inhibit viral replication and reduce levels of IL-6 and TNF-alpha, important mediators of inflammation that are elevated in moderate-to-severe Covid-19 patients.
"This is coupled with encouraging preliminary data from the compassionate use programme in Israel, which demonstrated objective measurable clinical improvement in all six patients analysed, including a decrease in required supplemental oxygenation, higher lymphocyte counts, and decreased CRP levels."
Preliminary data from six patients with moderate-to-severe Covid-19 who received opaganib under compassionate use in Israel have found significant measurable clinical improvement within days after treatment initiation with the drug.
All six patients were weaned from oxygen and discharged from the hospital. The drug was observed to be well-tolerated and demonstrated clinical improvement with and without hydroxychloroquine.
Free Case Study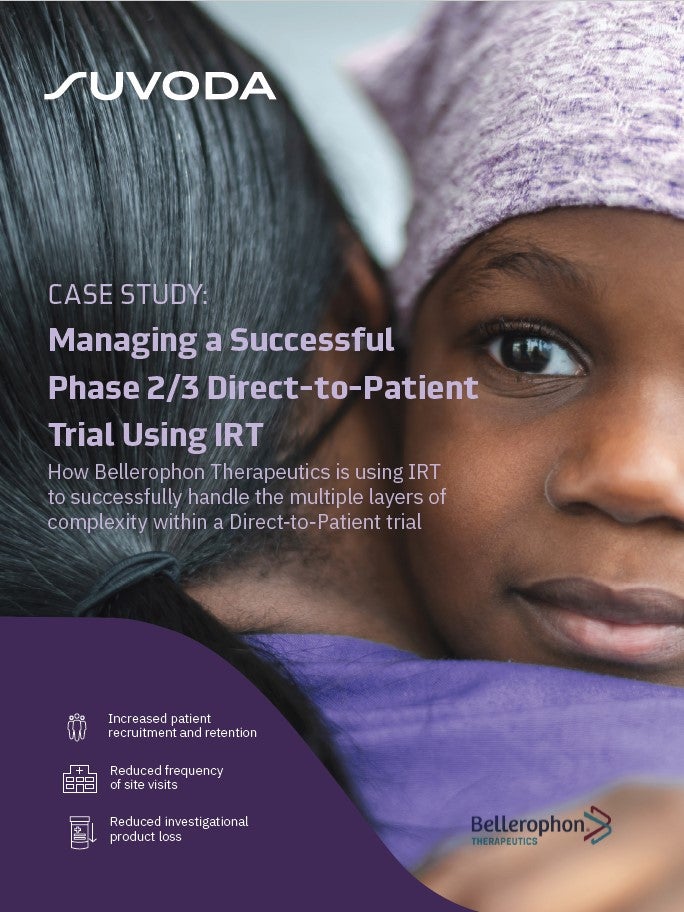 Direct-to-Patient Trials: How IRT Plays an Important Role in Bellerophon's Direct-to-Patient Trials
As the industry strengthens its focus on patient centricity, Direct-to-Patient clinical trials have emerged as a popular trial design that have the potential to increase patient recruitment and retention. IRT plays a crucial role in the success of a Direct-to-Patient trial. Because drug supplies are being managed and shipped from distribution facilities directly to patients' homes, a sponsor must have a high-quality system in place to accurately track the chain of custody, ensure patient-blinding and handle other logistical challenges. What You Will Learn Benefits and challenges associated with the Direct-to-Patient model Bellerophon's top considerations when implementing this trial design How IRT can equip study teams to successfully track chain of custody, ensure patient blinding, and handle logistical challenges
by Suvoda