Redhill Biopharma has reported positive data from the Phase II part of the Phase II/III study of its drug RHB-107 (upamostat) conducted in nonhospitalised symptomatic Covid-19 patients.
Free Case Study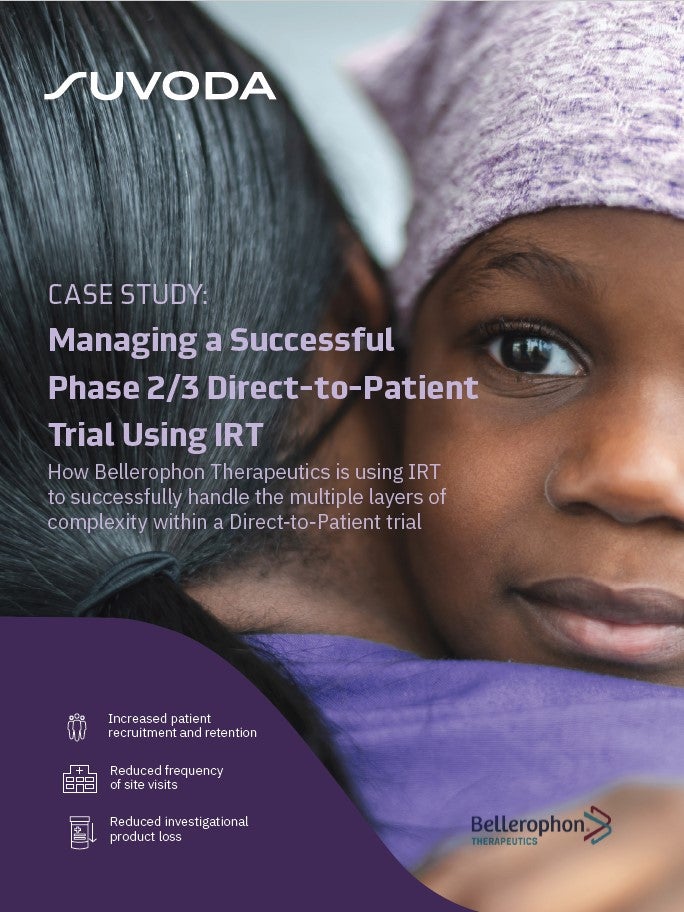 Direct-to-Patient Trials: How IRT Plays an Important Role in Bellerophon's Direct-to-Patient Trials
As the industry strengthens its focus on patient centricity, Direct-to-Patient clinical trials have emerged as a popular trial design that have the potential to increase patient recruitment and retention. IRT plays a crucial role in the success of a Direct-to-Patient trial. Because drug supplies are being managed and shipped from distribution facilities directly to patients' homes, a sponsor must have a high-quality system in place to accurately track the chain of custody, ensure patient-blinding and handle other logistical challenges. What You Will Learn Benefits and challenges associated with the Direct-to-Patient model Bellerophon's top considerations when implementing this trial design How IRT can equip study teams to successfully track chain of custody, ensure patient blinding, and handle logistical challenges
by Suvoda
RHB-107 is an orally administered, investigational new drug, which targets human serine proteases that are involved in spike protein preparation for the entry of virus into target cells.
The randomised, placebo-controlled, multicentre, double-blind, parallel-group Phase II/III study (NCT04723527) is designed to assess treatment for symptomatic Covid-19 patients in the early-stage of the disease.
In the study, RHB-107 is being assessed as a once-daily oral treatment which can be prescribed and used to treat non-hospitalised patients.
The study's Phase II part assessed RHB-107's safety for dose selection and to provide initial assessment of parameters that will be used for efficacy evaluation in Part B.
Mainly conducted in the US and South Africa, the study met the primary endpoint and showed the drug's favourable safety and tolerability profile.
The most common variant found in subjects who participated in the study was Delta.
The findings from the study showed 100% reduction in hospitalisation due to Covid-19, with zero patients in RHB-107 treated group hospitalised compared to 15% hospitalised on the placebo-controlled arm.
Furthermore, 87.8% reduction was reported in new severe Covid-19 symptoms following the initiation of treatment, with one patient in the RHB-107 treated group compared to 20% patients in the placebo-controlled arm.
Redhill Biopharma medical director Terry Plasse said: "Coupling the efficacy results with successfully meeting the primary endpoint of good safety and tolerability and convenient once-daily dosing, positions oral RHB-107 as a potential highly beneficial treatment for Covid-19 outpatients early in the course of disease in order to reduce symptom severity and prevent disease progression and hospitalisation.
"Given the limitations of current options for early treatment of Covid-19, we are excited to progress the development of RHB-107, subject to additional discussions with regulatory authorities."
Free Case Study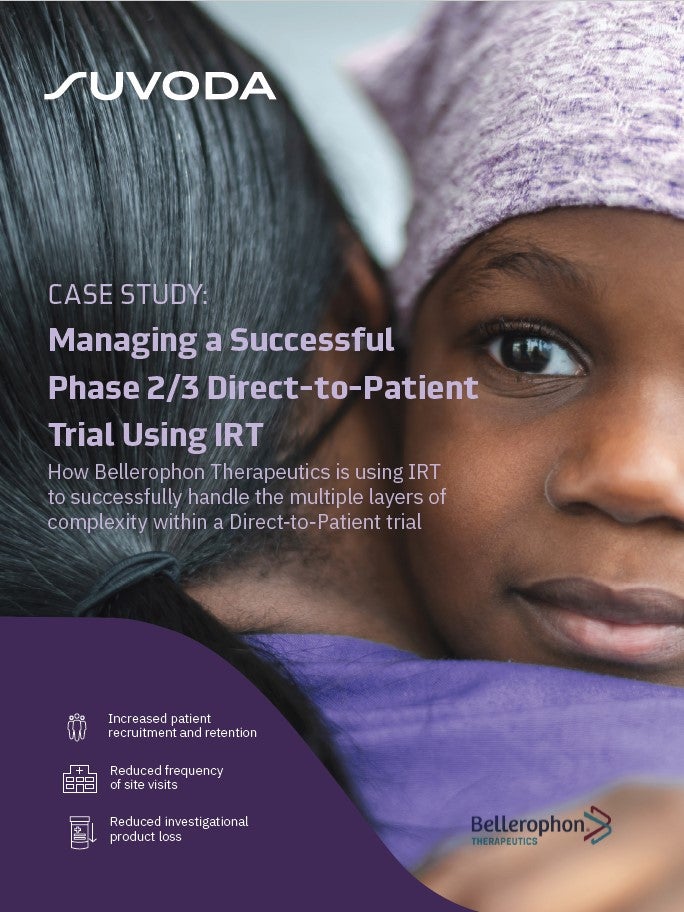 Direct-to-Patient Trials: How IRT Plays an Important Role in Bellerophon's Direct-to-Patient Trials
As the industry strengthens its focus on patient centricity, Direct-to-Patient clinical trials have emerged as a popular trial design that have the potential to increase patient recruitment and retention. IRT plays a crucial role in the success of a Direct-to-Patient trial. Because drug supplies are being managed and shipped from distribution facilities directly to patients' homes, a sponsor must have a high-quality system in place to accurately track the chain of custody, ensure patient-blinding and handle other logistical challenges. What You Will Learn Benefits and challenges associated with the Direct-to-Patient model Bellerophon's top considerations when implementing this trial design How IRT can equip study teams to successfully track chain of custody, ensure patient blinding, and handle logistical challenges
by Suvoda