The US National Institutes of Health (NIH) has launched the ACTT 3 clinical trial to evaluate Gilead Sciences' remdesivir in combination with interferon beta-1a, an immunomodulator, to treat Covid-19 in hospitalised patients.
Free Case Study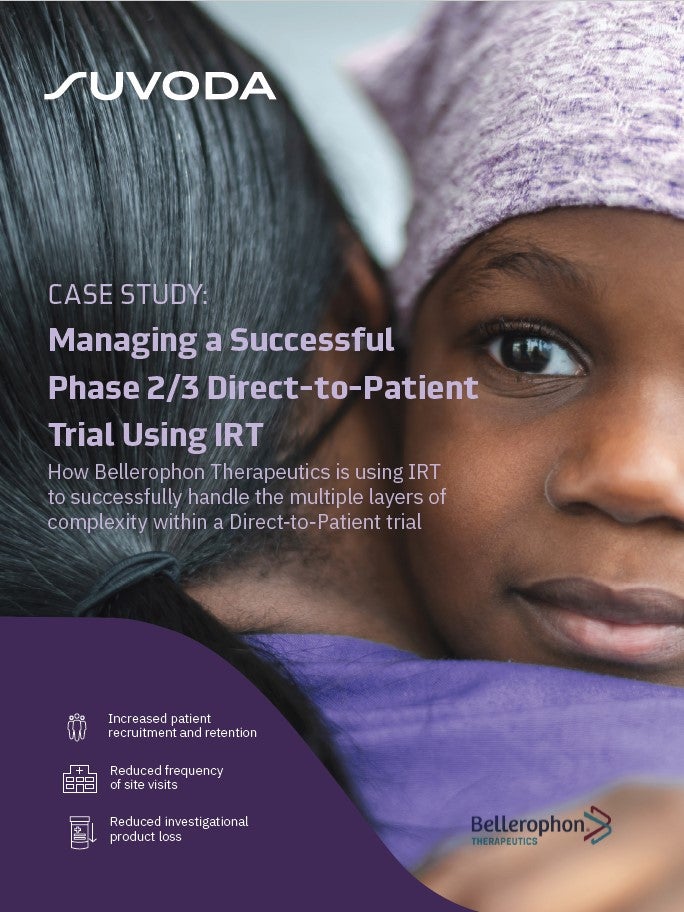 Direct-to-Patient Trials: How IRT Plays an Important Role in Bellerophon's Direct-to-Patient Trials
As the industry strengthens its focus on patient centricity, Direct-to-Patient clinical trials have emerged as a popular trial design that have the potential to increase patient recruitment and retention. IRT plays a crucial role in the success of a Direct-to-Patient trial. Because drug supplies are being managed and shipped from distribution facilities directly to patients' homes, a sponsor must have a high-quality system in place to accurately track the chain of custody, ensure patient-blinding and handle other logistical challenges. What You Will Learn Benefits and challenges associated with the Direct-to-Patient model Bellerophon's top considerations when implementing this trial design How IRT can equip study teams to successfully track chain of custody, ensure patient blinding, and handle logistical challenges
by Suvoda
The study will enrol more than 1,000 adult patients at approximately 100 sites in the US and internationally.
In February, the NIH initiated the ACTT study to assess remdesivir as a monotherapy for Covid-19 patients. A preliminary analysis of the ACTT data showed a statistically significant shorter time to recovery with Gilead's drug compared to placebo.
Manufactured by Merck in Darmstadt, Germany, interferon beta-1a is indicated to treat multiple sclerosis. Interferon beta-1a comprises the same amino acid sequence as naturally occurring interferon beta, which is known to possess antiviral and anti-inflammatory activity.
According to findings from laboratory studies, the normal interferon response is suppressed in certain Covid-19 patients.
Type 1 interferon was found to inhibit SARS-CoV-2 and two closely related viruses in the laboratory. Two small randomised controlled trials also indicated that interferon beta treatment may benefit Covid-19 patients.
Patients with lung involvement, including a need for supplemental oxygen, abnormal chest X-rays, or a need for mechanical ventilation, will be enrolled for the ACTT 3 study.
It will compare remdesivir plus interferon beta-1a to remdesivir alone. Investigators will track the time to recovery in both treatment groups up to day 29.
A key secondary objective is patient outcomes at day 15, determined using an ordinal eight-point scale that ranges from fully recovered to death. The trial will also assess other secondary outcomes, including mortality alone.
An independent data and safety monitoring board (DSMB) will track ongoing data. Preliminary results are expected in the coming months.
Last month, the NIH launched a new clinical trials network for testing potential vaccines and monoclonal antibodies against Covid-19.
Called the COVID-19 Prevention Trials Network (COVPN), it was designed to enrol thousands of participants across large-scale trials.
Free Case Study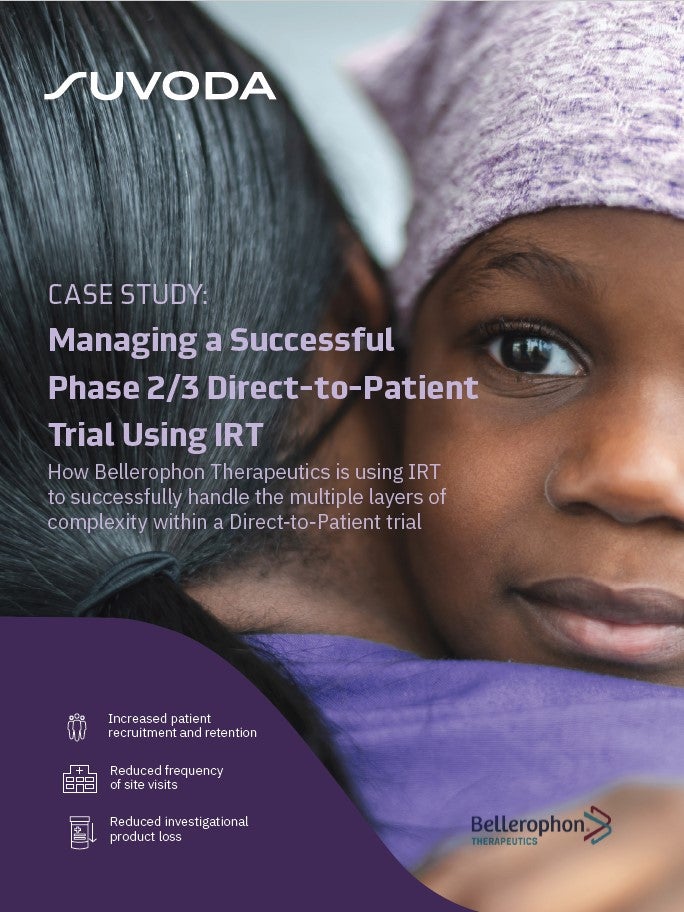 Direct-to-Patient Trials: How IRT Plays an Important Role in Bellerophon's Direct-to-Patient Trials
As the industry strengthens its focus on patient centricity, Direct-to-Patient clinical trials have emerged as a popular trial design that have the potential to increase patient recruitment and retention. IRT plays a crucial role in the success of a Direct-to-Patient trial. Because drug supplies are being managed and shipped from distribution facilities directly to patients' homes, a sponsor must have a high-quality system in place to accurately track the chain of custody, ensure patient-blinding and handle other logistical challenges. What You Will Learn Benefits and challenges associated with the Direct-to-Patient model Bellerophon's top considerations when implementing this trial design How IRT can equip study teams to successfully track chain of custody, ensure patient blinding, and handle logistical challenges
by Suvoda